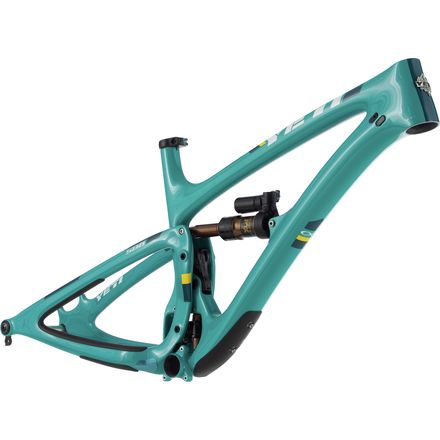 Colors

Detail Images
Big foot.
Yeti's 2017 SB6 Turq Mountain Bike Frame brings back the Boost axle and hard-charging awesomeness we loved in last year's version, trades up for a Fox Float X Factory shock, and sets a new standard for carbon construction to make this frame stand out as a flagship enduro sled that'll bring new meaning to grippy fun through ever-gnarlier terrain. This frameset carries Yeti's new Turq designation, which it says represents the most advanced frames it can create at any given time. For the SB6 Turq, that means a more precise carbon layup, molded to reinforce key stress points along the frame without adding bulk and rumored to reduce weight by 265g from the regular version. This process results in strength where you need it, and lightness where you don't.
The Switch Infinity suspension system is a key driver behind the SB6's versatility. Switch Infinity originally replaced the Switch Link design, which experiences a momentary harshness when rapidly successive hits kept it hovering above the 30% stroke point. The new design has a more linear travel arc, so the eccentric link changes direction without getting caught in that minute dead spot. Of course, 95% of all riders won't ever push the Switch Link hard enough to experience this dead spot, but Yeti (being Yeti) went ahead and fixed it anyway. For those of us who are our own mechanics, Yeti also simplified maintaining the Switch Infinity by including easily accessible grease ports, which do away with the need for time-consuming rebuilds.
Aside from those changes, the two suspension systems are fairly similar. Like the Switch Link, the Switch Infinity slider travels upward under the first phase of compression, when the SB6 is settling into its sag point. As the rear end compresses deeper, the direction changes, and the DH-inspired slider travels down toward the bottom bracket shell to maintain a steady pedaling platform. This change of direction is smoother, without the above-mentioned dead space, but the effect is the same. Deep in the stroke, it works in conjunction with the upper pivot to produce a vertical wheel path that effortlessly flattens big, square-edged impacts.
Yeti's carbon fiber ethos involves maintaining a focus on increased efficiency and decreased weight while dialing the geometry to its signature enduro standards. This involves dropping the head tube angle to a slack 65.5 degrees—down a full degree-and-a-half from Yeti's more trail-minded SB5. That, combined with the long top tube, makes for a long, low ride that can handle steep, lumpy terrain with ease and speed.
Yeti's flagship enduro sled sheds some weight
6in of responsive Switch Infinity suspension
Long, slack geometry for sending big lines
Turq carbon maintains stiffness while dropping weight
Boost rear axle increases stiffness while punching over cruxes
Slay the Sand & Stone
Familiarity:

I've used it several times
I had a chance to ride the Yeti SB6 Turq in Moab, Utah at the biannual bike extravaganza known as Outerbike. Everyone there wanted to test the new SB5+ so the SB6 was easier to get my hands on. I have tested older models of this bike but with the updated Boost hub spacing, Eagle 1x12 drivetrain and forever evolving Switch Infinity pedaling platform this is by far the best iteration to date. We rode Magnificent 7 which has a little of everything that Moab has to offer: smooth/buff berms, drops, slickrock, technical climbs and rocky, loose descents. I have been working on a modified rating system for all the bikes I have tested and here is my breakdown for the SB6:

Plowability - 9

Climbability - 7.5

Maneuverability - 8.5

Wheelie Rating - 7.5

Closest Competitors: Santa Cruz Bronson, Pivot Mach 6

Feel free to contact me directly with any questions on the SB6, Turq frames or any other Yeti bikes. If you are interested, I would be glad to help you build your next dream bike from the frame up. Also check out my article on "How to Choose a Mountain Bike" for additional info.

https://www.backcountry.com/explore/how-to-choose-a-mountain-bike

See you out on the dirt.

Kyle L. - Expert Gearhead

klivingston@backcountry.com - 801-736-4337
Kyle Livingston
Beast!
Familiarity:

I've used it once or twice and have initial impressions
Yeti's done it again with the 2017 SB6! I'm a major fan of the entire Yeti fleet and the SB6 stands above the rest in its ability to descend through some of the gnarliest terrain your Enduro course can throw at you.

Compared to the SB5, I can definitely feel the longer wheel base and slacker head tube angle of the SB6; making it the perfect enduro sled. I feel absolutely comfortable on any descent that I've gone through on the SB6, without feeling like the bike's so beefy that it feels boring. With that being said, it's not quite as nimble on the climbs as the SB5... but for the geometry and size of this bike I'm very impressed with its ability to pedal.

The new Turq carbon layup is lighter and stronger than the Carbon model and is available for custom builds. This gives you the ability to build this bike up exactly how you'd like, leaving room to get creative.

I'm 5'9" and felt the Medium fit me perfectly. Please feel free to reach out to me to discuss this bike or for custom build quotes!
Kody Gubler