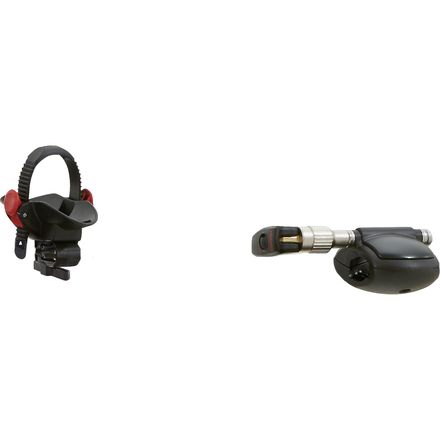 Colors

Detail Images
It may have a short tray, but its versatility is enormous.
The Yakima Boa Bike Mount fits a wider range of crossbar spreads(32"-50") with a roataing wheel tray. The Boa provides great stability with it's sleek fork design, and attaches quickly with a locking Long Throw Skewer. Mounts equally well to round or square crossbars. Lockable with SKS cores-sold seperately.
Unanswered Question
would this work with aeroblades?
Albert Abaunza
works great
Familiarity:

I've put it through the wringer
Works great and does its job. I have gone up to 80 mph for 1 - 3 hours. i would suggest buying the lock for the extra money. Use it on my Rhino Rack that i switch from my Nissan Murano to my Acura TL.
Ian
Simple and Sturdy
Familiarity:

I've put it through the wringer
This mount has served me well for a few years. It's easy to get your bike on and off, and it's extremely stable. Have driven through 60 mph winds and many storms without any problems. I've found that adjusting the front mount can be difficult when switching out bikes with different fork sizes, but if you ride the same bike it's a non-issue.
Daniel Randolph
Hi, is it possible to use Yakima Boa Bike Mount in my MegaWarrior Basket ? I want to get two of them. Based on the image we can clearly see a bike over the basket so despite It doesn't has bars I guess is possible to be attached to the basket front bar and some of the bars in the rear (My Basket is attached to a Jeep Patriot original bars and I guess are not compatible with)



Hope to have a quick response, Thanks in advance,,, and lets go Biking
Alexmdx
Hey,

The Yakima Boa will work great with your MegaWarrior Basket!

Here's a link to the Yakima site confirming that:



http://www.yakima.com/shop/bike/roof/boa
LF
Will this fit on a HOnda Odyssey factory...
Will this fit on a HOnda Odyssey factory rack?
mc2p700563
Probably, though you can double check compatibility here: http://www.yakima.com/shop/bike/roof/boa
Laura
No, this will not fit. The factory rack is an aero crossbar and too wide. Yakima also states the factory racks can't handle the stress of a fork rack.


David S.
Simply the Best!!!
Familiarity:

I've put it through the wringer
I love these Yakima Boa, they have a very low profile, very discrete on the car and very secure. I have two of these and they hold the bikes very secure. I thought at first they were less secure than the others but have been prove wrong.
Nestor Ruiz
Got it, slapped in on my cross bars, LOVE the size vs. my sprocket rocket. Easy enough to put on. One problem. Smallish car (recommends) 28" spread between the crossbars, needed about 38" for my 29er to fit the boa = no go. Plus my Kenda Nevegals are too fat for the tray. Soo back to the warehouse it goes.

This is a great rack, but probably better suited for a long vehicle (wagon, suv, etc) and/or a smaller bike. Maybe ad a note up top on what width tires the tray can accommodate?

4 stars instead of 5 just cause of slight lack of versatility.


Dan C.
If the shoe fits, wear it!
I have this rack rack for a fews months now and I am impressed. I had a $400 hitch rack on my last car and the Boa is just as stable and secure. I have 2 bike mounts and I will probably trade out my other for the Boa. Of course my car fits my bikes wheel base perfectly, so I haven't had a problem with that fit. It is a great rack at a good price. If your car will fit your bikes wheel base. I would also recommend a front tire mount for easy transportation.
SCoyote
Has anyone come up with way to mount on...
Has anyone come up with way to mount on factory cross bars? I have 09 Pathfinder. Thanks
Tosh
Hey Tosh,

Nah it has issues with the factory/aero type shaped bars. Square or round, you're good to go.
Josh Chapman
If you can get your cross bars far enough apart on your car to use these, I think they are a great fork mount for the price. I've used them for years, with no problems. Long lasting. I like their simplicity.
Gregg Stepan
Unanswered Question
i have an '02 chevy blazer with the factory...
i have an '02 chevy blazer with the factory roof rack. it is neither round or square it is more flat( kid of rectangular) will this fit with out having to buy a yakima cross bar? ( not wanting to spend that much)
tyler
Write your question here...Is the Boa meant...
Write your question here...Is the Boa meant for mountain bikes only or will it work with road/tri bikes? Is it as secure as the other fork mounts Yakima makes?
Dan S.
I put my road and tri bikes on it without a problem. The fork lock will hold your roadie well.
Morris B.
Cheap, but make sure the rack is right for you!
The main problem with this rack is that is is not very adjustable. If you have a smaller car, or one with minimally adjustable crossbars, then you may not be able to have the rear piece far enough back to carry a full sized bike. With a tray rack, your tire can be behind the back bar, as it will sit in the tray.

This is pretty much the same rack as the Copperhead, except with the 2-part tray. For only $39 more, I think the Copperhead is a better deal... unless you want to be able to take your rack off without taking the tray off! The tray racks seem more stable to me.
Emme
I have a Yakima rack on the top of my...
I have a Yakima rack on the top of my Starcraft Spacestar pop-up. It has 5 mounting locations attached to a bar running across the front of the camper. There is another solid bar running across the back end of the roof. It must be close to 12 feet away from the front bar. Have any of you seen anything like it? I'm not the original owner, and I don't know much more than what I see.
Dan
Sounds like maybe the back bar should be moveable? Can you or have you tried sliding it forward so the back bar could be used to support that back end of the bikes mounted on the front part?
knanier
Unanswered Question
Will this mount fit the crossbars of a...
Will this mount fit the crossbars of a jeep grand cherokee?
Justin K.
I used these on trips from Jersey to Maine and also from San Diego to Yosemite with nary a mishap except outside of Bishop when I forgot the bikes were on top and drove under a low thing in a parking lot and whoosh the whole rack came off the roof... but the BOA still held the bikes.
Robert
Boa "squeezes" other mounts to death!
I likey the Boa. It is small, simple to use, more versatile, more aerodynamic, less ugly than trays, and oodles cheaper too. If you trust your face to the front wheel cam locks when you are riding around on your bike, no reason not to trust the same concept when it is attached to your roof. I have not used on any extended long distances yet, and actually have not even broke 60 mph yet(have not needed to yet), but so far has held up real nice. It is also a lot quieter sans bike than a tray as well. Installed on 07 GMC Envoy. Muy bueno!
Joseph Smith
I utilize Yakima Q-bars on a luxury car with Malone saddles for my Hobie Kayak. I recently purchased a Specialized Roubaix carbon fiber bike and I needed a way to transport it in a secure manner. Up to the point of the bike purchase I liked the idea of being able to install or remove the bars from my car in just a few seconds and I wanted to keep it that way. After careful research I was able to determine that the Boa's were the only solution in keeping my current configuration intact and it works great. I am now looking to install a second unobtrusive Boa for my wife's bike. I will then be able to have a Kayak and two bikes on the car completely secure with the Yakima locks and if I wish I can go back to the luxury mode in just a matter of a minute or two with no tools or hassle.
cop2463480-0