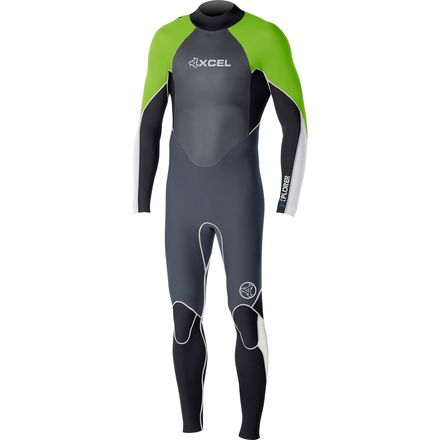 Colors
The first step is the biggest.
Your kid isn't going to be too stoked on surfing if they spend the whole time shivering, so make sure junior has a high-quality suit to start out with. The XCEL Hawaii Kids' Xplorer 3/2 Full Back-Zip Wetsuit offers excellent stretch and a lightweight feel at a fraction of the price of some higher-end suits. UltraStretch neoprene allows kids to move freely so they don't feel restricted when they're getting low in the barrel, and a Texture Skin chest panel prevents chilly gusts from sapping all their core warmth on windy days.
The back-zip closure makes entry and exit easy, and it's slightly offset so it won't create a painful pressure point on their spine. Glued and blind-stitched seams allow ample flexibility while keeping cold water from rushing in. Learning to surf takes persistence, and persistence takes being comfortable in the water for long periods of time, so make sure your up-and-coming surfer has the Xplorer to help them stay warm during long days of wipeouts.
A youth specific fullsuit for cold water surfing
Durable GBS seams limit water entry
Offset back zip takes pressure off spine and improves mobility
UltraStretch neoprene offers excellent warmth and flexibility
Minimal seam design for maximum stretch and durability
Texture Skin chest panel blocks wind
Duraflex knee panels protect suit