XCEL Hawaii

2mm Ilima Springsuit - Women's
Item #XCL003M
XCEL Hawaii
Women's Wetsuits
Height
Weight
Bust
Waist
Hips
Head
Neck
MN - WR
NB - CR
CR - AN
2

4ft 11in - 5ft 2in

(150 - 158cm)

90 - 100lb

(41 - 45kg)

31in

(787cm)

23in

(58.4cm)

32in

(81.3cm)

20in

(50.8cm)

11.75in

(29.8cm)

26.5in

(67.3cm)

24.5in

(62.2cm)

26in

(66cm)

4 / XS

5ft - 5ft 3in

(154 - 160cm)

95 - 105lb

(43 - 48kg)

32.5in

(82.5cm)

24.5in

(62cm)

33.5in

(85cm)

20in

(50.8cm)

12.25in

(31.1cm)

27.5in

(69.8cm)

25in

(63.5cm)

26.5in

(67.3cm)

6 / S

5ft 2in - 5ft 5in

(158 - 165cm)

105 - 115lb

(48 - 52kg)

34in

(86.5cm)

26in

(66cm)

35in

(89cm)

20in

(50.8cm)

12.75in

(32.4cm)

28.5in

(72.4cm)

25.5in

(64.8cm)

27in

(68.6cm)

6T

5ft 5in - 5ft 8in

(165 - 173cm)

115 - 130lb

(52 - 59kg)

34in

(86.5cm)

26in

(66cm)

35in

(88.9cm)

20in

(50.8cm)

12.75in

(32.4cm)

30.75in

(78.1cm)

26.5in

(67.3cm)

29.5in

(74.9cm)

8S

5ft 2in - 5ft 4in

(158 - 163cm)

105 - 120lb

(48 - 54kg)

35.5in

(89cm)

27.5in

(70cm)

36.5in

(93cm)

21in

(53.3cm)

13.25in

(33.6cm)

28.75in

(73cm)

25.25in

(64.1cm)

26.25in

(66.7cm)

8 / M

5ft 4in - 5ft 7in

(163 - 170cm)

115 - 130lb

(52 - 59kg)

35.5in

(90cm)

27.5in

(70cm)

36.5in

(93cm)

21in

(53.3cm)

13.25in

(33.6cm)

29.5in

(74.9cm)

26in

(66cm)

27.75in

(70.5cm)

8T

5ft 7in - 5ft 10in

(170 - 178cm)

120 - 135lb

(54 - 61kg)

35.5in

(90cm)

27.5in

(70cm)

36.5in

(93cm)

21in

(53.3cm)

13.25in

(33.6cm)

31.5in

(80cm)

27in

(68.6cm)

30in

(76.2cm)

10S

5ft 3in - 5ft 6in

(160 - 168cm)

120 - 135lb

(54 - 61kg)

37.5in

(95cm)

29.5in

(75cm)

38.5in

(98cm)

22in

(55.9cm)

14in

(35.6cm)

29.5in

(74.9cm)

25.75in

(65.4cm)

26.75in

(67.9cm)

10 / L

5ft 5in - 5ft 8in

(165 - 173cm)

130 - 145lb

(59 - 66kg)

37.5in

(95cm)

29.5in

(75cm)

38.5in

(98cm)

22in

(55.9cm)

14in

(35.6cm)

30.5in

(77.5cm)

26.5in

(67.3cm)

28.25in

(71.7cm)

10T

5ft 9in - 6ft

(175 - 183cm)

140 - 155lb

(64 - 70kg)

37.5in

(95cm)

29.5in

(75cm)

38.5in

(98cm)

22in

(55.9cm)

14in

(35.6cm)

32.5in

(82.5cm)

27.75in

(70.5cm)

30.5in

(77.5cm)

12S

5ft 4in - 5ft 7in

(163 - 170cm)

140 - 155lb

(64 - 70kg)

40.5in

(103cm)

32.5in

(82.5cm)

41.5in

(105.5cm)

23in

(58.4cm)

14.75in

(37.5cm)

30.5in

(77.5cm)

26.5in

(67.3cm)

27.5in

(69.8cm)

12 / XL

5ft 6in - 5ft 9in

(168 - 175cm)

150 - 165lb

(68 - 75kg)

40.5in

(103cm)

32.5in

(82.5cm)

41.5in

(105.5cm)

23in

(58.4cm)

14.75in

(37.5cm)

31.5in

(80cm)

27.25in

(69.2cm)

29in

(73.7cm)

14S

5ft 4in - 5ft 7in

(163 - 170cm)

150 - 170lb

(68 - 75kg)

44in

(112cm)

36in

(91.5cm)

45in

(114cm)

23in

(58.4cm)

15.5in

(39.4cm)

31in

(78.7cm)

26.75in

(67.9cm)

28in

(71.1cm)

14 / 2XL

5ft 6in - 5ft 9in

(168 - 175cm)

160 - 180lb

(73 - 82kg)

44in

(112cm)

36in

(91.5cm)

45in

(114cm)

23in

(58.4cm)

15.5in

(39.4cm)

32in

(81.3cm)

27.5in

(69.8cm)

29.5in

(74.9cm)
How to Measure:

For best results, take measurements over your underwear.

Bust:

Measure under your arms, around the fullest part of your chest.

Waist:

Measure around your natural waistline, keeping the tape a bit loose.

Hips:

Stand with feet together and measure around the fullest part of the hip.

Head:

Measure around your head where a hat would fit comfortably.

Neck:

Measure around the base of the neck.

MN - WR:

Mid Neck to Wrist Bone.

NB - CR:

Neck Base to Crotch.

CR - AN:

Crotch to Ankle Bone.
Select style & size:
Select options
Select options

Black/Denim, 4

Sale:$54.97
Tech Specs
Material:
UltraStretch neoprene
Seam Construction:
flatlock
Manufacturer Warranty:
1 year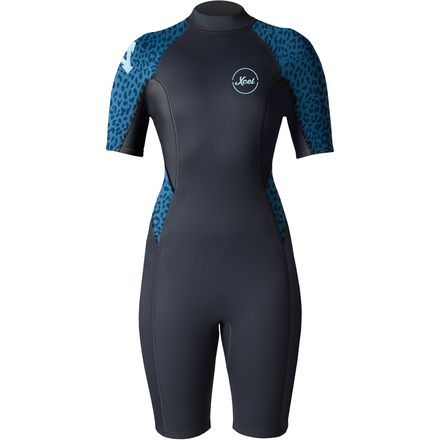 Colors
First stop, Ilima.
The XCEL Hawaii Women's 2mm Ilima Springsuit's colors compliment the tropical beaches you plan on surfing this season. UltraStretch neoprene uses soft foam that's tightly woven to minimize water absorption and maximize durability, and smooth flatlock seams reduce chafing on long trips. There's also a traditional back zipper for reduced pressure on your spine.

UltraStretch neoprene
Back zipper
Flatlock seams