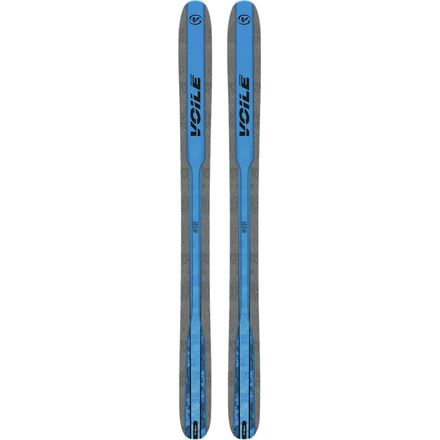 Get progressive.
Voile is one of the primary denizens of the lightweight touring niche, so it's probably not the first name that comes to mind when you hear, "backcountry freeride ski," but that's a pretty apt description of the new X9 Ski. With more sidecut, a larger rocker, and less taper than the classic V8, the X9 can slay the deepest blower, turn on a dime and give you nine cents change, stomp cliffs, and even handle a little switch riding if you're feeling extra progressive.
While the X9 is perhaps the most freeride-oriented ski in Voile's lineup, it's not a floppy new-school jib noodle. It does have the rocker-camber-rocker profile that's become so popular—Voile calls it Hybrid Rocker—and enough rise in the tip to float through serious powder and give you a smooth ride through rough snow, but there's a load of camber underfoot, too. With it, you can edge easily through wind- and sun-affected snow, and use the generous rise in the tail to pivot on a dime, throw big sideways slashes, and snake your way through tight trees like they're not even there. The tip and tail have less taper than in the X9, so you can turn tightly despite the increased girth,and the aspen core provides a lightweight, springy platform that's meant to come alive when the snow gets soft.
The X9's not a low-speed turning machine, though; it can handle itself when speeds are high and conditions less than perfect, thanks to a combination of carbon fiberglass and triaxial fiberglass laminates, which help keep it stable and torsion-free, respectively. Together, this means you'll enjoy a predictable feel in variable snow, and won't have to check your speed jones at the door just because you're on a ski that can ride switch, handle backcountry booters, and send cliffs without losing control of its bladder.
Voile Hybrid Rocker (rockered tip and tail, camber underfoot)
Aspen core
Cap construction
Tapered tip and tail
Carbon fiberglass laminate
Triaxial fiberglass laminate
2mm full-perimeter steel edges
Voile Skis - X9
Familiarity:

I've used it several times
Picked up the Voile X9 for my go to backcountry ski. When it comes to backcountry there are a lot of options and not every ski is made for every skier. Terrain - conditions - location - snowpack all factor into what type of ski you should consider. The Voile X9 ticks off the following boxes

Powder ski - with the hybrid rocker - rocker tip and tail, camber underfoot. Voile nails the profile for a charging ski that can handle the deepest conditions out there. Perfect for locations and snowpacks that see a lot of snow.

Flex - Voile did not make a noodle and this ski performs in difficult conditions. Mashed potatoes check - cut up crud check - undulating terrain back to the trailhead check.
Note - this is not an inbound ski and can will get bounced around. Paired with a pin tech binding and some skins - this ski excels in the backcountry,. Light weight but girthy,

Weight - weighing in at just over 8 lbs for the ski and < 10 lbs skis skins and pin bindings this is a acceptable weight for backcountry touring. Sure there are lighter combinations available. This ski charges well - floats powder - and can turn on a dime. All aspects a deep snowpack skier desires.

In closing the Voile X9 is an ample ski for deep conditions.
Recommended
Kevin Hively
Light, agile, and fat
Familiarity:

I've put it through the wringer
These are perfect if you want super agile skis for backcountry skiing in deep powder. The double rocker makes them fast turning in deep snow, excellent for navigating trees. They are light, and they have plenty of girth, to stay on top. They are fantastic at breaking trail too. I wouldn't recommend these for groomers, but I think these are probably tough to beat for backcountry use in deep-snow mountains.
Kristopher Z.
A playful powder charger!
Familiarity:

I've used it several times
I got the chance to take the X9 out for a weekend of testing and was pleasantly surprised by how well they performed. They do have a few drawbacks, but overall it was a very fun ski. I took out the 180 cm model that is 120 mm underfoot.

Day 1 at Brighton Resort had me on groomed runs and a few stashes of powder in the trees. Right away the recommend mounting point had me feeling like there was a lot of tail behind my boots, and there obviously was. They were surprisingly stable at higher speeds on the groomed runs and were very fun to throw around in the trees. The only issue I ran into was when I got on 2 day old chopped up snow and was tossed around a little more than I used to.

Day 2 at Alta Ski Area was a glorious powder day! The X9 excelled in the 12 to 15 inches of snow that was dropped over night and I really go to turn them loose on some advanced terrain. The neutral stance took a while to get used to, but soon enough I was dropping chutes and loving every minute of it! The X9 was surprisingly nimble for its size and made hop turning down some tighter chutes very manageable. They were also very stable at speed and loved to be opened up on a powder filled bowl. Again, the only issue I ran into was on really hard chopped up snow where the skis got bounced around more than I am used to.

Overall the X9 is a very fun powder ski that can handle a wide range of conditions and terrain.

If you have any questions about skis or ski setups please contact me directly and I will be happy to assist you!

Trey Schanzenbach
Expert Gearhead
Office: 1-800-409-4502 ext. 4689
tschanzenbach@backcountry.com

Trey Schanzenbach
I've been skiing 186 cm Armada JJs and JJ 2.0s since they began making them and love them. I'm 5'11, 160 lbs. Should I go with the X9 in a 180 cm or 190 cm for my back country ski? Thanks!
Todd L.
Hey Todd,

Usually I like to size up for a backcountry ski, but it depends on how you like to ski and where you are skiing primarily. If you want extra float and more of a hard charger then go with the 190 cm Voile X9. If you are going to be skiing variable terrain and want a more nimble ski that will be quicker edge to edge then go with 180 cm. Feel free to contact me directly to discuss your options.

Kyle L. - Expert Gearhead - klivingston@backcountry.com
Kyle Livingston