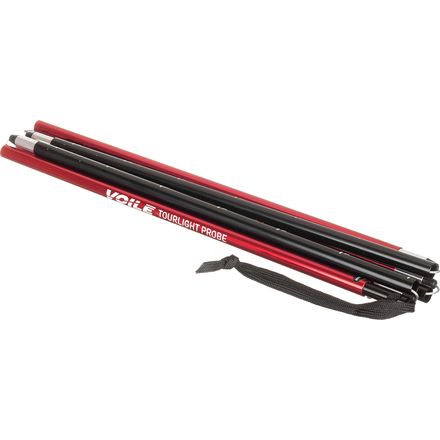 Colors

Detail Images
The Voile Tourlight 260 probe is a probe that everybody from beginner to seasoned veteran will appreciate.
From one of the most trusted names in backcountry travel comes a lightweight, easy to use avalanche probe—the Voile Tourlight Probe 260. The Voile Tourlight 260 probe assembles in seconds by pulling the lead inner tube attached to a coated stainless steel cable. It locks into place with a simple, strong pop up button. Interior probe cables tend to stretch over time, so Voile has addressed this issue with a brass knob that is attached to the cable allowing you to tighten or loosen the tension. There are markings on the probe every 5 cm to determine snow depth and aid in snow study.
Light and Reliable
Familiarity:

I've used it once or twice and have initial impressions
Does its job, and doesn't take up a lot of pack space.
Taylor E.
light, simple, and reliable is definitely the best way to describe this probe. Its great for the price, comes with a slim little bag, and its super easy to pull out and put together. There is a small handle on the end of the probe that you pull and it pulls the wire on the inside of the probe and pulls the whole thing together, and with a small click, its ready to go. Thankfully I have never had to use this in a real life situation, however works well in practicing up in the mountains. Is a great probe for a great price.
Courtney Scott
Great Probe
Familiarity:

I've used it once or twice and have initial impressions
This probe is nice and light, very easy to deploy and break back down. Sturdy construction. I've only used it so far to measure snow pack depth, it was barely long enough! But it is definitely up for the job its designed to do!
jordan emery
Light, simple, reliable
Familiarity:

I've used it several times
The probe is perfect. Its small and light when packed down, but extends securely in seconds. I doubted the rigidity due to it's lightweight, but after messing with it several times I've come to see that it's every bit as reliable as a thicker clunkier probe. Wouldn't trade this one for anything.
Dom Totino
Well built
Familiarity:

I've used it once or twice and have initial impressions
Haven't had to stab the snow yet, however it's light and well built. whipped it out of the pack a few times doing dry runs for emergencies and it's fast and easy. I like the metering on the sides.
Neil F.
Great probe
Familiarity:

I've put it through the wringer
lightweight. compact. functions properly. This is a great probe. the only reason I have moved on is I need a 300 or c20 cm long probe (voile guide)
Sean Muschamp
Best probe for the price!
Familiarity:

I've put it through the wringer
This probe deploys quick for use probing for the victim you are trying to locate. It is super light, easy to use, and packs very small in your pack. Completed my kit nicely and I love practicing with it. I hope I never have to use it in a real burial. But it is nice to know that if I had to it is light and easy to use.
Christian Paul
Probe things
Familiarity:

I've used it once or twice and have initial impressions
Really like this Voile probe! It's lightweight and easy to lock into place. Never had to use it for its real intended purposes....but I've had some fun just probing around.
Nyssa Stokes
Handy in a Pinch
Familiarity:

I've used it once or twice and have initial impressions
Although I haven't had to use this in an avalanche situation yet, it is easy to see how and why this would be one of my top probe choices overall. Coming in at just 9 oz it is super light, especially for a 260cm probe. This helps avoid the problem that many probes have of offering lightweight design but usually only offering about 220-240cm in length, where unfortunately those extra 20-40cm can be the difference between life and death. Like with many other probes though, it is a handy, single-pull design, and it has a brass knob attached to the cable to address tension issues that you may run into as the cable stretches over time. This is a very well designed probe and should be included in anyone's backcountry set up!
Daniel Goodman
Probe-tastic
Familiarity:

I've put it through the wringer
This was the first probe i ever ordered and used, and now i cannot stop probing everyting!!!! I see a hole, and i probe it! if it looks probe-able, it goes in there so i can see how deep it is. I probe this thing that thing the next thing, there isn't enough things on this earth for me to probe!!!!!!!!!!!!! Get this probe!
Dominic C.
Packs nicely
Familiarity:

I've used it once or twice and have initial impressions
I bought this pack cause my old probe was 196cm and I found out that was shorter than they recommend for the backcountry. My buddy had a couple probes he let me try out, a 230 cm one and this 260cm one. I found out the 230cm actually folded down longer because it had fewer segments, and it didn't fit in my BCA float 22 pack (at least not in the probe pocket). This one was negligibly heavier and fit great. Only taken it out touring a few times this year and never used it (knock on wood). Good value for a probe that looks like it will work.
Bill Jamison
Dependable.
Familiarity:

I've put it through the wringer
I've used this probe for so long that I don't remember how many years. More than four years at least and found it to be a great and easy to use probe. Quick to put together, light, and has a simple locking system. After many years of use, the cable now has some wear and tear to it for sure. It can still perform and function, but I personally want all of my life saving tools to be in perfect condition so it's time to get a new one.
Michelle Parker
For probing the snow
Familiarity:

I've used it once or twice and have initial impressions
This is a great lightweight and easy to use probe. The varied segment color is a nice feature and it sets up fast.
Lisa Edlund
I have used this Probe all last winter and it is great. Very fast and user friendly. I really appreciate the two colors as well. Easy to instantly estimate snow depths. Recommended
knut eliassen
I say should only because I've had the good fortune not to need it in an emergency yet, I've only used it for practice and to check snow depth, but it comes together in a snap, is light weight, and works well.
Geoff K
I like this probe for its ease of use, one solid tug and its assembled and locked in place. It is lightweight, and very compact compared to a lot of probes i have seen... Have had my tourlight for about 3 years now and the cable is still in great condition
Neil Provo
i just saw this at REI and think i might have to exchange my BD quickdraw carbon fiber 230 for this voile. the voile seems to fold up quite a bit smaller and more compact. plus it's a little bit longer, and i'm not sure that i could actually feel the difference between 1.9 oz. weight difference.

the handle on this doesn't seem quite as good as the BD handle, but if you can replace it easily enough if it wears out, then it's all good.
spencer j
I've been using this probe for four seasons now with no complaints. It's a solid length, it's lightweight, and it can be put together in just seconds.
Kerry
Probe performs very well - snaps together in a snap. Negative? The cloth handle holds up for about as long as the recent bailout package stimulated the economy. You'll probably find yourself buying some thin climbing rope and make a new handle.
NaTray
Put this probe to use over the last 2 years and it performs as if it is new. Extends extremely quick and holds form when you need it. Voile always makes great products and this is one of their best. Very lightweight too.
Garrett Grove