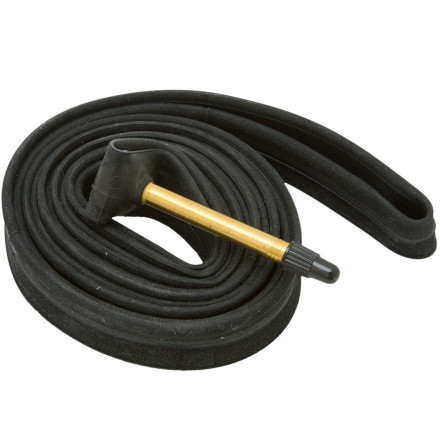 Colors
Drop weight.
What's the first thing you think of when someone mentions weight-saving components? Wrong. You think of inner tubes. The Vittoria lightweight tube is made with high-quality butyl rubber instead of latex because of its superior air retention. And, it's a really inexpensive way to drop weight.
42mm or 51mm valve stem
84g each
They're just basic tubes, always nice to have some spares handy. They're around 85g for the ones I weighed, so very mid range. The valve core isn't removable, so if you need a valve extender this won't be compatible with the good ones. There's also glitter on the tubes for some reason?
Tommy Liao
Unanswered Question
I'd like to reiterate Scott's question below. To clarify, I run HED Belgium Plus clinchers (interior: 20.5mm, exterior: 25mm). I'd like to run a 25mm Rubino or Open Pave. Will a 23mm tube work? Do I need to size up to a 25-28 tube? Pack in my Luddite ways and get latex?

I've seen 25mm tires swell to 27+ on the Ardenne or Belgium Plus rims. Thanks for any help you can provide.
Benjamin S.
Pop
Familiarity:

I've used it several times
I like the tube. It shows up without holes in it. I put holes in it. Unlike the lucky gentleman, Matheus, I rode only 100 miles on mine before getting two flats in a week. sucks for me. THe first was a blowout as evidenced by the abrated sidewall of my rear tire. The second is still a frustrating mystery as it stranded me last night (as of this writing) on the side of the road with a crap hand pump. THumbing for a ride in front of a grocery store would SEEM easy, right? in the dark, wearing a bib, no problem!
I'm lucky i bought three of these, but i am wishing i'd picked up about 8 more. As long as my route has construction and a graded (read:being repaved) road, i'm probably going to experience this joy a few more times in the coming weeks.
Courtney Dean
Excellent
Familiarity:

I've put it through the wringer
The best tube!! I like very much!
I rode mor than 1000 miles and still good! No flat tire!
Matheus
Says here these Vittoria tubes are spec'd for 19-23mm tire width. Is anyone using them with a slightly wider rim (e.g. HED Ardennes) and 25mm tire combination? Any problems with this?
Scott S
Best Answer
No problem at all. I use these all the time with 25 mm tires on HED Ardennes (also 25mm). Good, cheap, lightweight. You can have all three.
Lorin R.
No flats
Familiarity:

I've put it through the wringer
Installed these tubes in both wheels along with new tires and new rim tapes. 500+ miles now and they are holding up very well with no flats and no significant leakage. I used my bike for both daily commutes and long road trips.






Will
Tubes
Familiarity:

I've used it several times
These tubes have done me well. They pumped up good and are still going strong! I am very happy with these!


Brooklynn Hall
I got some of these and the cores don't...
I got some of these and the cores don't seem removable to me. I'm I missing something? Not twisting hard enough? (normally tubes w/ removable valve corse have flat sides on the threading, which these don't appear to have).
Patrick C.
Best Answer
The Vittoria Ultralite Tube comes in two models; a 42mm Presta threaded non-removable core (85 grams) or a 51mm Presta smooth valve removable valve core (90 grams). With the 51mm removable core, there should be a flat side on the threading for easy removal of the core, though for the first removal can be a little troublesome.
Trevor J
little annoying that isn't part of the description. Not that big of a deal though. just need to return the extenders I bought.
Patrick C.
Confirmed weight
Familiarity:

I've used it once or twice and have initial impressions
Scale weight 90g for the 51mm
Eric
Ultralite Tubes
Familiarity:

I've put it through the wringer
If you are worrying about the weight of your tubes, then you are a weight weenie. Great non latex race tube.
Peter Hamm
My Go To Tube
Familiarity:

I've put it through the wringer
These bad boys are a reasonable price and hold up well if you know what you are doing. At one point I was ridding about 60-80 miles per week and a single tube inflated and installed properly lasted well over a month! Make sure you get tires that can hold a higher PSI because these bad boys run perfectly at 125 psi!
Ian Matteson
All you need
Familiarity:

I've put it through the wringer
I've had a cutter bones with Fyxation Session Dual Compound Tires for 3 years now and have only used these tubes to support my ride. They are all you need in a tube. Great price, durable, and light. They are easy to install and fill. Recommended for anyone looking for a reliable commuter/bar bike.
Alyssa Forrest
Valve cores not removable.
Title says it all. Probably OK if you don't need that.
skinewmexico
What i really enjoy about these is the option of the longer valve at 51mm. Super easy to use with a floor pump or hand pump!
Brad C.
I have these in my mavic ksyrium equipe wheelset, running mavic tires over them with about 1,800 miles on the set currently. I run them at 110-116psi. Have hit some gargantuan potholes, ran over glass, etc, in the time I've had these on and never had a flat. Within a day or two of pumping them up they tend to "leak" down to about 85psi and stay there. I check tire pressure and inflate before every ride as a habit, so I dont mind that. after having bontrager tires blow out for no apparent reason on me, I'm a fan of these.
Matthew H.
Lightweight, easy to pack, and offers a good road feel instead of going latex.
Kevin K
I have ridden on Continental tubes and they were pretty solid. These guys are way cheaper and function just as well .
Sunn Kim
What can you really say about a tube if it is working? They hold air, they have been holding air for awhile now.

I have them mated with some Michelin PRO4 Service Course tires and I am very pleased with the ride quality up to this point.
Ben Kuhns
Two flats within 15 kms. pinch flats, slow leaks , the works! easily susceptible to damage when fitting, puncture resistance =
000.0000! Never go on a wet road with these on;
surely there are better tubes out there.

No wonder 90% of bike shops in my town stock these in copious amounts; they're good disposable earners, good turnover! they are C.R.A.P!
curt mair