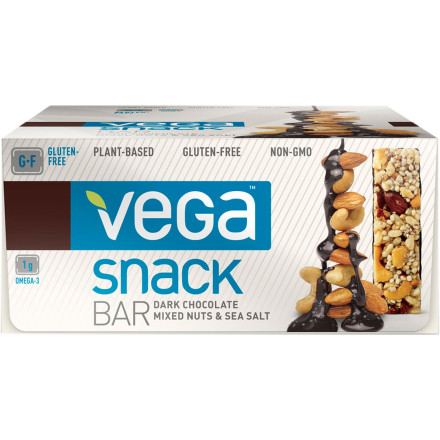 Colors

Detail Images
Plant-based smartness.
From a forerunner in plant-based sports nutrition comes an easy go-to snack, whether on the bike or at the desk. The Vega SnackBar packs smart calories and awesome flavor into a plant-based bar that keeps up with the sport nutrition marketplace's growing demand for products that are free of ingredients you can't pronounce.
The SnackBar is intended to be just that — a quick bite when you need one, but also sufficient to provide energy for a quick workout. Put another way, the SnackBar is designed to hold you over, but if you want some serious activity fuel, we'd recommend you step up to the company's SportsEnergyBar, with more carbs and calories to keep you going. The SnackBar keeps to gluten-free, non-GMO components like almonds, tapioca syrup, and rice that are ready to burn if you are, but they're also able to be ingested without packing on weight or a bloated feeling that can come with artificial fuels, sugars, and ingredients in some products — all of which is great, because Vega prides itself on fantastic flavors that are hard to resist.
The Vega SnackBar comes in a box of 12 and in the flavors Chocolate Cashew Cherry, Cranberry Almond, Coconut Cashew, Chocolate Peanut Butter Cup, and Chocolate Nut Sea Salt.
These actually taste good
I've found most bars taste terrible. These have made the cut - plus they are plant based! Vegan-power!
Scott Gartman
Not Like Other Bars
Familiarity:

I've used it several times
After the first bite of these bars I didn't like them. I thought they tasted like dirt, but then I realized that I was expecting an artificially sweet bar like most energy bars. Which is dumb, I bought these because they had way less sugar than their counterparts. After I adjusted my perspective I could appreciate the earthy taste of the coconut and cashew. Now I'm hooked and I'll be purchasing more of these bars.
Reed Debus
Love these bars
Familiarity:

I've put it through the wringer
I have been purchasing these bars for about 6 months or so and love the taste. My favorite are the dark chocolate and sea salt ones. The mix of nuts and sweetness along with the quality of the chocolate used make these a real treat. For a quick 200 calorie kick they beat pretty much any other snack in a wrapper that I can think of. They probably don't stand up to the heat very well out on a ride due to the chocolate, but then you probably are smart enough to surmise as much on your own, right?
Byron D.
"Vegan, gluten-free, and Non-GMO Project verified; no artificial flavors, colors, or sweeteners"
When you read that, you may be thinking to yourself, "Then I bet they don't taste very good." If that's what you are thinking, you are wrong. Sure, I've tasted sweeter snack bars, but they border more on the realm of candy rather than a snack food. When you are hungry and want a snack to tide you over until your next meal, then you probably don't want a big sugar burst so these are just right, in my opinion. And let me reemphasize that they do taste very good. There is just the right blend of chewy and crunchy, salty and sweet.

Each bar is 200 calories and weighs in at 42g. Of that, 8g is sugar, 4g is protein, and 12g is fat--note, however, that this is fat from nuts, so it is a healthy fat (no cholesterol or trans fat, and almost no saturated fat). As a bonus, almost all the ingredients listed are organic.

I don't see a thing in the world to fault these bars on--they are delicious, reasonably nutritious, and fairly priced. Recommended.
Karissa Lamb
Amazing!!!
Familiarity:

I've put it through the wringer
Absolutely love the dark chocolate nuts and sea salt, these have been added to my assortment of recovery bars, maybe not a typical recovery bar due to the lack of protein but makes a great carb and fat source to go along with a high protein bar. Great as a snack to.
Troy Rutherford
Delectable!
Familiarity:

I've put it through the wringer
The Coconut Cashew flavor tastes like a tropical rice crispy treat.

Plant based and gluten free these are one of my favorite trail snacks.
Katie Stewart