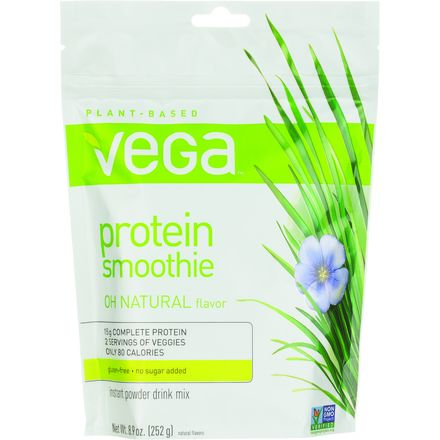 Colors
Meet your requirements.
When you took your last bite of greasy, animal-based food a few years ago, you had no idea just how challenging it would be to reach your daily protein levels with a vegan diet. But after learning the ropes of veganism, you wouldn't dream of returning to the world of omnivores. Instead, you can meet the requirements of an endurance athlete's lifestyle with Vega's Protein Smoothie.
Vega, a plant-based nutrition company, carefully concocts its nutritional supplements and shakes by following gluten-free and vegan guidelines while still providing 15g of protein per serving. Though the shake loads up on protein, it uses no added sugar. According to Vega, you can mix it with water, add it to a smoothie, or mix it in with any other non-dairy beverage for a healthy breakfast or mid-afternoon snack.
Good stuff!
Familiarity:

I've put it through the wringer
Perfect for when I don't have tome time to make a meal! Tastes good and no bloat!
Casey Jorgensen
Get lean, eat clean
Familiarity:

I've put it through the wringer
Being a competitive athlete growing up and having worked and competed in Crossfit, I have experimented with an array of protein powders. Most are whey based and leave me feeling bloated and tired. I decided to give this a shot to step away from the cows and drink down some veggie power! I chose the tropical tango flavor. Texture can be described as somewhat chalky and while it does not taste like a fresh smoothie, it is decent. Keep in mind, this does have 2 servings of veggies in it as well, so don't expect it to magically have no trace of that hint of taste. You will get between 10 and 12 serving in each pouch. I like to take this post-workout or I will mix some up in a shaker along with a bowl of oatmeal in the morning. It is a great way to add some protein intake to your diet rapidly and to get a pretty impressive amount of veggies as well. Digests much easier than whey protein, and it will clear your conscience if you are vegan due to animal welfare reasons as well. Only dropping one star because you have to appreciate the nutrition elements in order to love the taste as well.
Davis Anderson