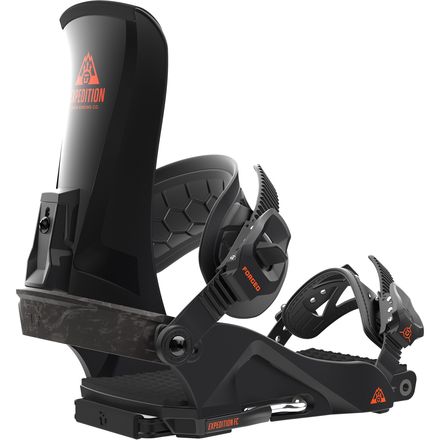 Colors
The game just changed.
It was only a matter of time before one of the most trusted binding brands in the biz got into the split-specific binding game. After two years of development in collaboration with Travis Rice and Bryan Iguchi, Union presents the revolutionary Expedition FC Splitboard Binding. Seeing as how the focus of your backcountry excursions is shredding untracked powder on the ride down, Union designed the Expedition FC to deliver the closest feeling possible to shredding on a solid board with standard bindings. It also has simple design that minimizes moving parts, not only lending a solid feel, but also making it easier to operate.
Union's unique split interface corkscrews your board together for a more solid connection that gives you greater confidence when charging steep big mountain lines and sending cliffs. One pin is all it takes to change modes and lock the system in place, offering simplicity that's less of a hassle to deal with when crouching on an exposed peak in bitter-cold temps. A quick forward lean adjuster lets you easily decrease the highback angle for easier uphill travel, and a Quick Flip ladder increases stride efficiency on steep skin tracks.
Forged Carbon makes the baseplate incredibly stiff and responsive, yet lightweight, resulting in more efficient ascents and powerful response on the way down. The forged heelcup increases the binding's overall stiffness for seamless response, which is key when rolling the dice in no-fall zones. The Exoframe ankle strap offers quick energy transfer along with pillowy comfort, and the Air toe strap and Magnesium 2.0 buckles shave weight, which is ideal for long tours where every ounce counts.
Revolutionary split-specific binding for the backcountry
Union Split interface offers extremely rigid connection
Forged Carbon baseplate is incredibly stiff and light
Splitboard Duraflex highback reclines for easier uphill
EVA 3.0 bushings absorb vibrations and impact
Exoframe ankle strap for instant response and cushy comfort
Magnesium 2.0 buckles are lighter, yet 4x stronger than aluminum
All about the ride down
Familiarity:

I've put it through the wringer
I am extremely happy with these bindings. Getting into splitboarding over the past few years has been awesome, but i would constantly get cramps in my feet on long tours from the overly rigid platforms that are the common splitboard binding. The expeditions truly feel like a standard Union binding, which make riding my splitboard just as fun as my regular board now. The binding does require a careful setup for the best ride, and i have noticed that if your chinese hooks or any other clips aren't super tight, it will lead to a little play in the binding. I haven't noticed it when riding, although you can notice in your living room. The solution was getting the original Karakoram clips which hold the board together super tight on my DIY, no movement. Going up the heel riser is the easiest i've dealt with because it doesn't have a gnarly click into place that makes it hard to do with a pole, although it does only have one setting, which is the highest setting that my sparks had. I am happy i made the switch because going down is a lot more fun now, and i am able to change my stance on my DIY where my sparks had to be T bolted into place, and i originally set them a tad too wide (they don't flex in like a normal binding does)
2Fast
Unanswered Question
On the Union website, when purchasing this product it also comes with the union specific mounting system. I was wondering if the package still comes with that same Union specific mount.
Nate
So Far So Good!
Familiarity:

I gave it as a gift but have feedback to share
Got these as a present for a good friend and he seems to be pretty stoked! Nice high back and good construction.
Samantha Fox
First I want to say I was really hesitant to buy these with all the bad reviews all over the internet, but was pleasantly surprised. So here is my two cents. First off I have the capita neo lasher with the union carbon expedition bindings. Second I ride back country for the powder and the ride down is everything for me. I also have a pair of spark bindings and the union is a way better experience overall. I think most of the bad reviews are because people are not setting them up correctly. Yes the binding has a tiny bit of movement left to right but you CANNOT tell in powder or on a gromed run if you have them set up right. Now is the pin system as fast or convenient as the sparks absolutely not but the ride down actually feels like a true solid board. I also have the Charlie slasher so I know what the neo should feel like and it has that true solid board feel with the union bindings and that's what I'm looking for in the ride down. I think overall if you are out in the back country for the powder and you want a binding that will make your board feel and ride like a solid board you should definitely pick up a pair. This is just my two cents but the binding killed it for me. Solid binding and I'm excited to see what the years to come bring from union and all the split board binding companies out there. Only down side is I wish I would of waited and got them on sale for 25% off.
Rich B
Christmas Gift
Familiarity:

I gave it as a gift but have feedback to share
I got these for my brother as a Christmas gift. He is a couple of tours in with these bindings and he said they work great. They have a traditional Union feel but they do wiggle a little when you're in ride mode, feels like your bindings are loose. He has a size 11 boot so I got the large and they fit well. Plus the bindings do have a few adjustments to match up better with your boot. The quick forward lean adjustment is new and allows you to take long steps feely on the hike up. Also he mentioned that snow can get jammed where the metal pin rests so you need to keep that clear and ice free. Union splitboard bindings are here to stay, I cant wait to try them out.

He rides a Jones Explorer split 158cm.
Peter Davenport
Very Disappointed
Familiarity:

I've used it several times
First off I love how regular union bindings ride on the resorts. That said, I can not believe Union would even market something like this! And for the pro's like Travis Rice and Bryan Iguchi's to get behind such a shotty product honestly leaves me flabbergasted. I have 6 tour's on them so far and have had to adjust re-ajust the plates every single time because they are loose and shifty during my ride down... Union claims they have designed a better and more responsive "pin system." This is all marketing baloney. Union needs to simply redesign the whole bottom and how it connects during ride mode. I'm really surprised Union would put out something that hasn't even been tested in a "field environment" by pro's who charge hard. I start to charge even a little bit and it feels as if the whole binding is going to come loose. No one wants to feel that crap after hiking 4 plus miles and is supposed to be enjoying the ride down. Is there any way I can return this bogus product?
Sean D
Bought and returned after two times out. Basic engineering flaw with the single pin and rotational design. The biding pivots on the deck like crazy. If you like a loose squirrelly binding than this is your guy but definitely wasn't for me.
Clay V.
Weight of Expeditions
Familiarity:

I've used it once or twice and have initial impressions
Expedition = 860 Grams
Expedition FC = 795 Grams
Gabe Boogert
B
Union Is Finally In The Splitboard Game!
Familiarity:

I've used it once or twice and have initial impressions
Union has been a little tardy to the splitboard party, but the wait was well worth it. Introducing the Union Expedition, Union has waited to come out with a killer product at a great price. The FC version are the stiffer, lighter carbon version. Using a pin system like some of the other major splitboard bindings, the Expedition has the pin system mounted in the center which keeps snow out and keeps things functioning properly. The big benefit with going with a pin system is the weight savings, and the Expeditions are made out of the same materials as their in-bounds bindings which are already notorious for being light. The Expeditions are the closest thing you can have to a traditional in-bounds binding and also come with a foam pad underfoot, unheard of in the splitboard world! You can mount these to your solid snowboard as well!

Contact me directly at 801-204-4578 or gboogert@backcountry.com if you have any additional questions, need help with figuring out the right size, or want to get an awesome set up going!
Gabe Boogert
VIDEO EXPLAINING THE BINDINGS
If you have any questions on these bindings feel free to reach out to me! 801-204-4549 or jfarnan@backcountry.com
James Farnan