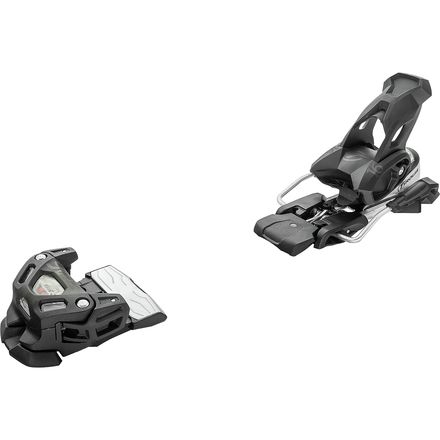 Colors

Detail Images

Community Images
Attack the park.
From sliding on rails to twisting the days away in the half pipe, the Tyrolia Attack 16 Alpine Binding is ready. This alpine binding, the park rat in Tyrolia's off-piste-centric AAA series, features the horizonal-spring Freeride Pro Toe that can be easily adjusted to different boot heights and a durable Metal AFD (Anti-Friction Device) with a Race Pro Heel that influences the swing weight of your park ski that gives you the ultimate performance. Designed for the accomplished park athlete and the aggressive freeride skier, the Attack takes the beating on harsh impacts when you land on icy platforms or send it off cliffs. Its extra-low 17mm stand height enhances responsiveness when every little bit of feel and feedback counts.

I am trying to figure out what ISO the Attack bindings are compatible with. All of the other manufacturers are pretty clear with stating ISO 5355, 9523 or WTR. On the Tyrolia website they say it is compatible with all types of alpine boots with Type A next to it. What does this mean? I consider my Dalbello Lupo TI boots as an alpine boot with tech fittings but the soles currently on them meet the ISO 9523 dimensions and I have the 5355 soles on order. Will these bindings be compatible with the 9523, WTR or 5355?
Robert H.
Hello Robert, I hope you are well These bindings are not compatible with WTR soles or boots like the Lupo TI. The A stands for Alpine boot compatibility. Copy and paste this into your web browser to see all the Alpine "non randonee" bindings that will work with your boots ……http://www.backcountry.com/ski-bindings-brakes?p=attr_bootcompatibility%3AAT%5C+Lugged&nf=1…….. Feel free to call to get assistance and a binding that works best for your style and type of skiing. Tucker #(801)204-4677 ***Email:tuvolk@backcountry.com
Tucker Volk
are these adjustable for a new size ski boot?
Chelsi D.
YES, The heel track has 32mm of adjustability (16mm + and 16mm-) So in general this should allow you to up or down one shell size. The bindings come centered in their adjustment track.
MacGivor
I skied these bindings hard last season. I hit big kickers, rails, boxes, and also brought them into the trees. They held up very nice all season and I am continuing to use them this upcoming winter. The din setting allows you to crank them down pretty tight, depending on how hard your trying to push them. But also release when needed, which is ideal when it comes to avoiding knee injuries. Very affordable for the quality.
Heather Thomas