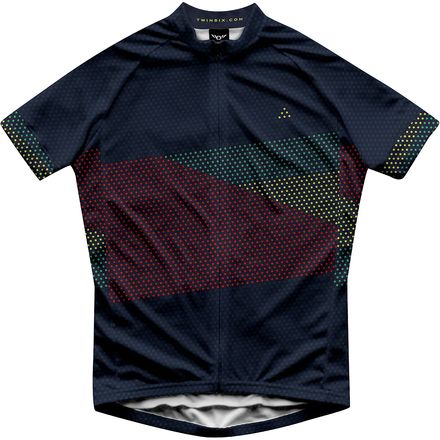 Colors

Detail Images
Dots and grades.
Few things in cycling are as hard as climbing. And few cyclists are as hard as the ones who earn their keep by turning the cranks faster for longer up comical Pyrenean gradients. Twin Six's Sommet Jersey celebrates the angels of the mountains, whose only focus come July are the gradients of pain they can inflict on others and the polka dots that'll be their reward if they come out on top.
Though we'll be inspired by the feats of Europeans in France while wearing it, the Sommet—like the rest of Twin Six's jerseys—is 100% produced in the US. The jersey's material is breathable and lightweight, wicking moisture from your skin to keep you dry. The full-length zipper is hidden to maintain a classic look without sacrificing contemporary functionality, and the back includes a complement of three pockets for enough storage space when you serve as both domestique and KOM on multi-peak days.
Twin Six's jerseys fit between the super-small Italian brands and the looser cut of American mountain bike clothing. If you like a slim, race fit, go for your t-shirt size; for a more commodious, club-ride cut, size up. Either way, the updated sleeve length sits a bit longer, adding some contemporary style to Twin Six's alt-cycling designs.
A jersey that celebrates the dots and gradients of July
Longer sleeves than Twin Six's previous designs
Synthetic material is high-stretch and breathable
Standard storage for ride essentials
Cooling airflow on the way up; newspaper armor on the way down