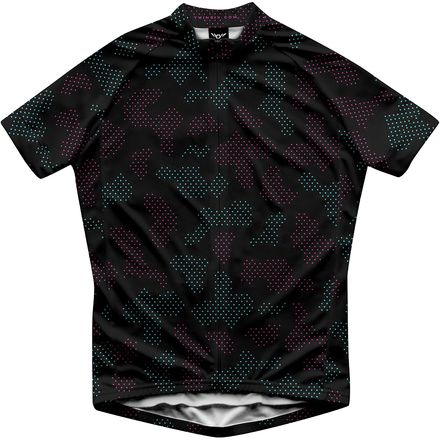 Colors

Detail Images
Sorta stealth.
With its subdued, pointillist camouflage pattern, the Recon Jersey is Twin Six's stylized take on the stealth trend of matte-on-matte black bikes favored by boutique carbon frame manufacturers. It won't clash, necessarily, but it does come with a bit more personality and that camo pattern will actually help you find the Recon while groggily digging through a kit drawer full of black Lycra.
One other thing about the Recon really stands out: it's 100% produced in the US. The jersey's material is breathable and lightweight, wicking moisture from your skin to keep you dry. The full-length zipper is hidden to maintain a classic look without sacrificing contemporary functionality, and the back includes a complement of three pockets for enough storage space for long days spent reconnoitering your local thoroughfares.
Twin Six's jerseys fit between the super-small Italian brands and the looser cut of American mountain bike clothing. If you like a slim, race fit, go for your t-shirt size; for a more commodious, club-ride cut, size up. Either way, the updated sleeve length sits a bit longer, adding some contemporary style to Twin Six's alt-cycling designs.
A jersey that adds subtle camo to the stealth cycling trend
Longer sleeves than Twin Six's previous designs
Synthetic material is high-stretch and breathable
Standard storage for ride essentials
Cooling airflow is a necessity during long missions scouting KOMs