Twin Six

Huntsman Jersey - Men's
Item #TWI009O
Twin Six
Men's Cycling Apparel
Short-Sleeve Jersey
S
M
L
XL
XXL
3XL
Chest

37in

(94cm)

39in

(99.1cm)

42in

(106.7cm)

46.5in

(118.1cm)

49.5in

(125.7cm)

53in

(134.6cm)

Waist

30in

(76.2cm)

32in

(81.3cm)

34in

(86.4cm)

36in

(91.4cm)

39in

(99.1cm)

42in

(106.7cm)

Front Length

21in

(53.3cm)

22in

(55.9cm)

23in

(58.4cm)

24in

(61cm)

25in

(63.5cm)

Back Length

26.5in

(67.3cm)

27.5in

(69.8cm)

28.5in

(72.4cm)

29.5in

(74.9cm)

31in

(78.7cm)

31.5in

(80cm)

Standard Jersey
XS
S
M
L
XL
XXL
3XL
Chest

35in

(88.9cm)

37in

(94cm)

39in

(99.1cm)

42in

(106.7cm)

46.5in

(118.1cm)

49.5in

(125.7cm)

53in

(134.6cm)

Waist

28in

(71.1cm)

30in

(76.2cm)

32in

(81.3cm)

34in

(86.4cm)

36in

(91.4cm)

39in

(99.1cm)

41in

(104.1cm)

Front Length

20in

(50.8cm)

21in

(53.3cm)

22in

(55.9cm)

23in

(58.4cm)

24in

(61cm)

25in

(63.5cm)

Back Length

25.5in

(64.8cm)

26.5in

(67.3cm)

27.5in

(69.8cm)

28.5in

(72.4cm)

29.5in

(74.9cm)

31in

(78.7cm)

31.5in

(80cm)

Wind Jacket
XS
S
M
L
XL
XXL
3XL
Chest

40in

(101.6cm)

44in

(111.8cm)

47in

(119.4cm)

48in

(121.9cm)

49.5in

(125.7cm)

51in

(129.5cm)

52in

(132.1cm)

Waist

31.5in

(80cm)

34in

(86.4cm)

36in

(91.4cm)

37in

(94cm)

38in

(96.5cm)

39in

(99.1cm)

40in

(101.6cm)

Sleeve Length

24in

(61cm)

24.5in

(62.2cm)

25in

(63.5cm)

25.5in

(64.8cm)

Front Length

21in

(53.3cm)

22in

(55.9cm)

23in

(58.4cm)

24in

(61cm)

25in

(63.5cm)

26in

(66cm)

27in

(68.6cm)

Back Length

29.5in

(74.9cm)

30.5in

(77.5cm)

31.5in

(80cm)

33in

(83.8cm)

34in

(86.4cm)

35in

(88.9cm)

36in

(91.4cm)

Wind Vest
XS
S
M
L
XL
XXL
3XL
Chest

38.5in

(97.8cm)

41in

(104.1cm)

43in

(109.2cm)

45in

(114.3cm)

47in

(119.4cm)

49in

(124.5cm)

51in

(129.5cm)

Waist

33in

(83.8cm)

35in

(88.9cm)

37in

(94cm)

38in

(96.5cm)

40in

(101.6cm)

41.5in

(105.4cm)

43.5in

(110.5cm)

Front Length

20in

(50.8cm)

21in

(53.3cm)

22in

(55.9cm)

23in

(58.4cm)

24in

(61cm)

25in

(63.5cm)

26in

(66cm)

Back Length

30in

(76.2cm)

31in

(78.7cm)

31.5in

(80cm)

32.75in

(83.2cm)

33.5in

(85.1cm)

34.25in

(87cm)

35.25in

(89.5cm)

Long-Sleeve Jersey
XS
S
M
L
XL
XXL
3XL
Chest

38.5in

(97.8cm)

40.5in

(102.9cm)

42.5in

(107.9cm)

44.5in

(113cm)

46.5in

(118.1cm)

48.5in

(123.2cm)

50.5in

(128.3cm)

Waist

27in

(68.6cm)

29in

(73.7cm)

31in

(78.7cm)

33in

(83.8cm)

35in

(88.9cm)

37in

(94cm)

39in

(99.1cm)

Sleeve Length

22.5in

(57.1cm)

22.75in

(57.8cm)

23in

(58.4cm)

23.25in

(59cm)

23.75in

(60.3cm)

24in

(61cm)

24.25in

(61.6cm)

Front Length

22in

(55.9cm)

23in

(58.4cm)

24in

(61cm)

25in

(63.5cm)

26in

(66cm)

27in

(68.6cm)

Back Length

28.5in

(72.4cm)

29.5in

(74.9cm)

30.5in

(77.5cm)

31.5in

(80cm)

32.5in

(82.5cm)

33.5in

(85.1cm)

Thermal Jacket
XS
S
M
L
XL
XXL
3XL
Chest

42in

(106.7cm)

44in

(111.8cm)

46in

(116.8cm)

48in

(121.9cm)

50in

(127cm)

52in

(132.1cm)

54in

(137.2cm)

Waist

33.5in

(85.1cm)

36in

(91.4cm)

37.5in

(95.2cm)

39in

(99.1cm)

42in

(106.7cm)

43.5in

(110.5cm)

45.5in

(115.6cm)

Front Length

22in

(55.9cm)

23in

(58.4cm)

24in

(61cm)

25in

(63.5cm)

26in

(66cm)

27in

(68.6cm)

Back Length

31in

(78.7cm)

32in

(81.3cm)

33in

(83.8cm)

34in

(86.4cm)

35in

(88.9cm)

36in

(91.4cm)

37in

(94cm)

Standard Tech Jacket / Hoodie
XS
S
M
L
XL
XXL
3XL
Chest

37in

(94cm)

39in

(99.1cm)

41in

(104.1cm)

43in

(109.2cm)

47in

(119.4cm)

51in

(129.5cm)

55in

(139.7cm)

Sleeve Length

34in

(86.4cm)

35in

(88.9cm)

36in

(91.4cm)

37in

(94cm)

37.5in

(95.2cm)

38in

(96.5cm)

38.5in

(97.8cm)

Front Length

24.5in

(62.2cm)

25.5in

(64.8cm)

26.5in

(67.3cm)

27.5in

(69.8cm)

28.5in

(72.4cm)

29.5in

(74.9cm)

30.5in

(77.5cm)

T-Shirt
S
M
L
XL
XXL
Chest

34 - 36in

(86.4 - 91.4cm)

38 - 40in

(96.5 - 101.6cm)

42 - 44in

(106.7 - 111.8cm)

46 - 48in

(116.8 - 121.9cm)

48 - 50in

(121.9 - 127cm)

Waist

30 - 32in

(76.2 - 81.3cm)

32 - 33in

(81.3 - 83.8cm)

33 - 34in

(83.8 - 86.4cm)

36 - 38in

(91.4 - 96.5cm)

40 - 42in

(101.6 - 106.7cm)

Bib Shorts
S
M
L
XL
XXL
3XL
Waist

29 - 31in

(73.7 - 78.7cm)

32 - 34in

(81.3 - 86.4cm)

35 - 37in

(88.9 - 94cm)

38 - 41in

(96.5 - 104.1cm)

42 - 45in

(106.7 - 114.3cm)

46 - 50in

(116.8 - 127cm)

Weight

120 - 145lb

(54.4 - 65.7kg)

145 - 170lb

(65.7 - 77kg)

170 - 190lb

(77 - 86.1kg)

190 - 220lb

(86.1 - 99.7kg)

220 - 250lb

(99.7 - 113.2kg)

250 - 260lb

(113.2 - 117.8kg)

Height

5ft 4in - 5ft 8in

(162.6 - 172.7cm)

5ft 7in - 5ft 11in

(170.2 - 180.3cm)

6ft 1in - 6ft 5in

(185.4 - 195.6cm)

6ft 3in+

(190.5cm+)

Chest

35 - 37in

(88.9 - 94cm)

38 - 40in

(96.5 - 101.6cm)

42 - 44in

(106.7 - 111.8cm)

44 - 46in

(111.8 - 116.8cm)

46 - 48in

(116.8 - 121.9cm)

Inseam

9in

(22.9cm)

9.5in

(24.1cm)

10.5in

(26.7cm)

11in

(27.9cm)

11.5in

(29.2cm)
How to Measure:

For best results, take measurements over your underwear.

Chest:

Measure under your arms, around the fullest part of your chest.

Natural Waist:

Measure around your natural waistline, keeping the tape a bit loose.

Inseam:

Using pants that fit well, measure the crotch seam to the bottom of the leg.

Sleeve:

Measure from the center of your back to your wrist with arms held out.
Select style & size:
Select options
Select options

One Color, S

Sale:$42.47
Tech Specs
Material:
100% polyester microfiber
Manufacturer Warranty:
1 year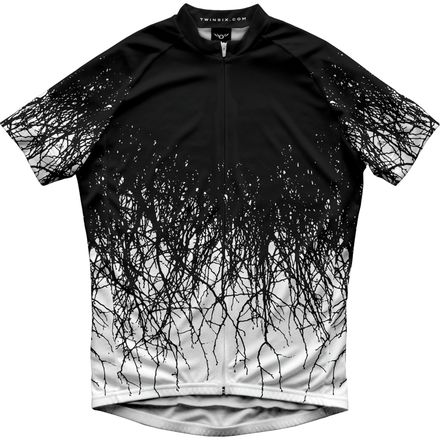 Colors

Detail Images
Be one with nature.
With graphics inspired by the twisting branches of your favorite trail system, the Twin Six Men's Huntsman Jersey channels the natural environment for a calming vibe whether your rocking the knobbies and carving berms or rolling smooth on endless pavement. Like your own personal shade tree, this jersey's soft, moisture-wicking microfiber fabric will keep you cool even on the warmest days while a relaxed profile lets you take in the sights without any binding or pinching to distract from the scenic surroundings.
A cycling jersey inspired by nature
Soft, moisture wicking fabrics boost comfort
Full length zipper opens up for extra ventilation
3 rear pockets stow tools and other small essentials
Relaxed fit leaves room for movement
Frequently purchased together