Twin Six

Distance Jersey - Men's
Item #TWI00AM
Twin Six
Men's Cycling Apparel
Short-Sleeve Jersey
S
M
L
XL
XXL
3XL
Chest

37in

(94cm)

39in

(99.1cm)

42in

(106.7cm)

46.5in

(118.1cm)

49.5in

(125.7cm)

53in

(134.6cm)

Waist

30in

(76.2cm)

32in

(81.3cm)

34in

(86.4cm)

36in

(91.4cm)

39in

(99.1cm)

42in

(106.7cm)

Front Length

21in

(53.3cm)

22in

(55.9cm)

23in

(58.4cm)

24in

(61cm)

25in

(63.5cm)

Back Length

26.5in

(67.3cm)

27.5in

(69.8cm)

28.5in

(72.4cm)

29.5in

(74.9cm)

31in

(78.7cm)

31.5in

(80cm)

Standard Jersey
XS
S
M
L
XL
XXL
3XL
Chest

35in

(88.9cm)

37in

(94cm)

39in

(99.1cm)

42in

(106.7cm)

46.5in

(118.1cm)

49.5in

(125.7cm)

53in

(134.6cm)

Waist

28in

(71.1cm)

30in

(76.2cm)

32in

(81.3cm)

34in

(86.4cm)

36in

(91.4cm)

39in

(99.1cm)

41in

(104.1cm)

Front Length

20in

(50.8cm)

21in

(53.3cm)

22in

(55.9cm)

23in

(58.4cm)

24in

(61cm)

25in

(63.5cm)

Back Length

25.5in

(64.8cm)

26.5in

(67.3cm)

27.5in

(69.8cm)

28.5in

(72.4cm)

29.5in

(74.9cm)

31in

(78.7cm)

31.5in

(80cm)

Wind Jacket
XS
S
M
L
XL
XXL
3XL
Chest

40in

(101.6cm)

44in

(111.8cm)

47in

(119.4cm)

48in

(121.9cm)

49.5in

(125.7cm)

51in

(129.5cm)

52in

(132.1cm)

Waist

31.5in

(80cm)

34in

(86.4cm)

36in

(91.4cm)

37in

(94cm)

38in

(96.5cm)

39in

(99.1cm)

40in

(101.6cm)

Sleeve Length

24in

(61cm)

24.5in

(62.2cm)

25in

(63.5cm)

25.5in

(64.8cm)

Front Length

21in

(53.3cm)

22in

(55.9cm)

23in

(58.4cm)

24in

(61cm)

25in

(63.5cm)

26in

(66cm)

27in

(68.6cm)

Back Length

29.5in

(74.9cm)

30.5in

(77.5cm)

31.5in

(80cm)

33in

(83.8cm)

34in

(86.4cm)

35in

(88.9cm)

36in

(91.4cm)

Wind Vest
XS
S
M
L
XL
XXL
3XL
Chest

38.5in

(97.8cm)

41in

(104.1cm)

43in

(109.2cm)

45in

(114.3cm)

47in

(119.4cm)

49in

(124.5cm)

51in

(129.5cm)

Waist

33in

(83.8cm)

35in

(88.9cm)

37in

(94cm)

38in

(96.5cm)

40in

(101.6cm)

41.5in

(105.4cm)

43.5in

(110.5cm)

Front Length

20in

(50.8cm)

21in

(53.3cm)

22in

(55.9cm)

23in

(58.4cm)

24in

(61cm)

25in

(63.5cm)

26in

(66cm)

Back Length

30in

(76.2cm)

31in

(78.7cm)

31.5in

(80cm)

32.75in

(83.2cm)

33.5in

(85.1cm)

34.25in

(87cm)

35.25in

(89.5cm)

Long-Sleeve Jersey
XS
S
M
L
XL
XXL
3XL
Chest

38.5in

(97.8cm)

40.5in

(102.9cm)

42.5in

(107.9cm)

44.5in

(113cm)

46.5in

(118.1cm)

48.5in

(123.2cm)

50.5in

(128.3cm)

Waist

27in

(68.6cm)

29in

(73.7cm)

31in

(78.7cm)

33in

(83.8cm)

35in

(88.9cm)

37in

(94cm)

39in

(99.1cm)

Sleeve Length

22.5in

(57.1cm)

22.75in

(57.8cm)

23in

(58.4cm)

23.25in

(59cm)

23.75in

(60.3cm)

24in

(61cm)

24.25in

(61.6cm)

Front Length

22in

(55.9cm)

23in

(58.4cm)

24in

(61cm)

25in

(63.5cm)

26in

(66cm)

27in

(68.6cm)

Back Length

28.5in

(72.4cm)

29.5in

(74.9cm)

30.5in

(77.5cm)

31.5in

(80cm)

32.5in

(82.5cm)

33.5in

(85.1cm)

Thermal Jacket
XS
S
M
L
XL
XXL
3XL
Chest

42in

(106.7cm)

44in

(111.8cm)

46in

(116.8cm)

48in

(121.9cm)

50in

(127cm)

52in

(132.1cm)

54in

(137.2cm)

Waist

33.5in

(85.1cm)

36in

(91.4cm)

37.5in

(95.2cm)

39in

(99.1cm)

42in

(106.7cm)

43.5in

(110.5cm)

45.5in

(115.6cm)

Front Length

22in

(55.9cm)

23in

(58.4cm)

24in

(61cm)

25in

(63.5cm)

26in

(66cm)

27in

(68.6cm)

Back Length

31in

(78.7cm)

32in

(81.3cm)

33in

(83.8cm)

34in

(86.4cm)

35in

(88.9cm)

36in

(91.4cm)

37in

(94cm)

Standard Tech Jacket / Hoodie
XS
S
M
L
XL
XXL
3XL
Chest

37in

(94cm)

39in

(99.1cm)

41in

(104.1cm)

43in

(109.2cm)

47in

(119.4cm)

51in

(129.5cm)

55in

(139.7cm)

Sleeve Length

34in

(86.4cm)

35in

(88.9cm)

36in

(91.4cm)

37in

(94cm)

37.5in

(95.2cm)

38in

(96.5cm)

38.5in

(97.8cm)

Front Length

24.5in

(62.2cm)

25.5in

(64.8cm)

26.5in

(67.3cm)

27.5in

(69.8cm)

28.5in

(72.4cm)

29.5in

(74.9cm)

30.5in

(77.5cm)

T-Shirt
S
M
L
XL
XXL
Chest

34 - 36in

(86.4 - 91.4cm)

38 - 40in

(96.5 - 101.6cm)

42 - 44in

(106.7 - 111.8cm)

46 - 48in

(116.8 - 121.9cm)

48 - 50in

(121.9 - 127cm)

Waist

30 - 32in

(76.2 - 81.3cm)

32 - 33in

(81.3 - 83.8cm)

33 - 34in

(83.8 - 86.4cm)

36 - 38in

(91.4 - 96.5cm)

40 - 42in

(101.6 - 106.7cm)

Bib Shorts
S
M
L
XL
XXL
3XL
Waist

29 - 31in

(73.7 - 78.7cm)

32 - 34in

(81.3 - 86.4cm)

35 - 37in

(88.9 - 94cm)

38 - 41in

(96.5 - 104.1cm)

42 - 45in

(106.7 - 114.3cm)

46 - 50in

(116.8 - 127cm)

Weight

120 - 145lb

(54.4 - 65.7kg)

145 - 170lb

(65.7 - 77kg)

170 - 190lb

(77 - 86.1kg)

190 - 220lb

(86.1 - 99.7kg)

220 - 250lb

(99.7 - 113.2kg)

250 - 260lb

(113.2 - 117.8kg)

Height

5ft 4in - 5ft 8in

(162.6 - 172.7cm)

5ft 7in - 5ft 11in

(170.2 - 180.3cm)

6ft 1in - 6ft 5in

(185.4 - 195.6cm)

6ft 3in+

(190.5cm+)

Chest

35 - 37in

(88.9 - 94cm)

38 - 40in

(96.5 - 101.6cm)

42 - 44in

(106.7 - 111.8cm)

44 - 46in

(111.8 - 116.8cm)

46 - 48in

(116.8 - 121.9cm)

Inseam

9in

(22.9cm)

9.5in

(24.1cm)

10.5in

(26.7cm)

11in

(27.9cm)

11.5in

(29.2cm)
How to Measure:

For best results, take measurements over your underwear.

Chest:

Measure under your arms, around the fullest part of your chest.

Natural Waist:

Measure around your natural waistline, keeping the tape a bit loose.

Inseam:

Using pants that fit well, measure the crotch seam to the bottom of the leg.

Sleeve:

Measure from the center of your back to your wrist with arms held out.
Select style & size:
Select options
Select options

One Color, S

Sale:$55.22
Tech Specs
Material:
polyester microfiber
Zip:
hidden full-length zipper
Pockets:
3 deep rear pockets
Recommended Use:
road cycling
Manufacturer Warranty:
1 year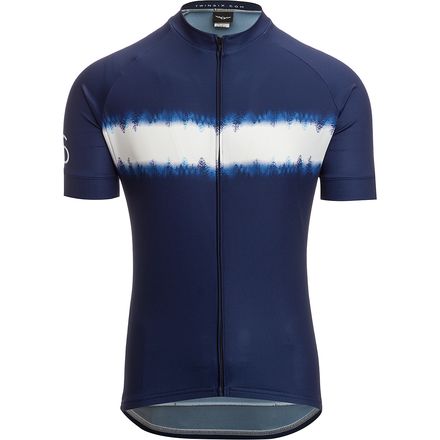 Go the distance in style.
The cycling obsessed folks at Twin Six created the Men's Distance Jersey to keep you cranking comfortably as you rack up grueling distances on the road. Buttery-smooth polyester microfiber is exactly what you need if you're logging serious mileage in warm conditions, seeing it wicks moisture to keep you comfortably cool and dry. The hidden full-length zip neatly conceals itself, so the vivid graphics aren't disturbed. Additionally, you'll find three generously sized rear pockets that carry extra water bottles, compact rain jackets, and nutritional needs on those multi-hour jaunts and longer century rides alike.
Optimal comfort for riding longer distances
Vivid graphics with hidden full-length zipper
Buttery-smooth microfiber fends off irritation
Fabric wicks moisture to keep you cool and dry
Three generously sized rear pockets for storage
Frequently purchased together