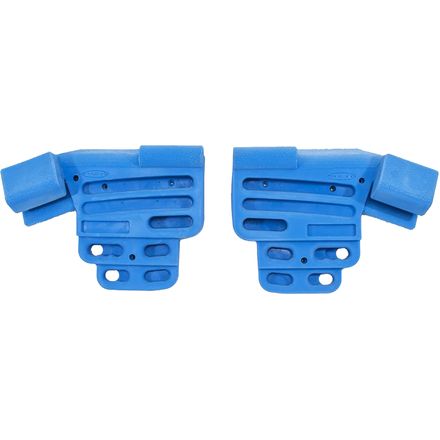 Colors
From zero to hero.
Trango designed its Rock Prodigy Training Center for extremely precise and repeatable exercises that can turn novice climbers into the next legendary sender. Its two-piece construction allows a custom fit for your body, thereby increasing your performance and decreasing the chance of injuring your wrists, elbows, and shoulders. The Rock Prodigy includes two jugs and two slopers for warming up, variable-depth edge rails with position index bumps to target specific difficulties, three ergonomic, pinches of different sizes that prevent cheating with your thumbs, multi-use pockets with three-finger to one-finger versatility, and four fairly nasty crimps.

Trango gave each hold ergonomic gradients that help you locate the specific area you've been training on rep after rep. The exterior is very slick to protect inactive fingers. The positive holds are single-textured to give you a little bit of friction for training, and the slopers, jugs, and pinches are double-textured to give you the best possible grip to stay on the fingerboard.
Two-piece construction
Two jugs, two slopers
Four ergonomic pinches
Variable-depth edge rails with position index bumps
Four crimps
Multi-use pockets
Ergonomic gradients on each hold
Slick texture exterior
Single-texture positive holds
Double-texture slopers, jugs, and pinches
Great Hangboard
Familiarity:

I've put it through the wringer
Though more expensive than others, this hangboard is great because you can adjust it for each grip. I tend to like wider grips, and most boards have many holds I can't utilize comfortably. For me it was worth the extra expense. I used a Z cleat to make my board width adjustable.
Joseph C.
Unanswered Question
What's the dimension of this hangboard?
Nick
Too Good To Be True
Familiarity:

I've put it through the wringer
This hangboard is the absolute top of the line. First off, the fact that it is split into two pieces make it so that you can set it up in a way that most benefits your current workout. Easy to adjust, it has every type of hold you might encounter on the rock wall from crimps, to slopers, to jugs, to pinches, no other hangboard has as many training options. Further, having the ability to adjust the angle of the two pieces themselves makes it easy to avoid injury or still train even with might wrist or finger injuries. Overall, if you want to start training on a hangboard at home, don't waste your money on other hangboards, this is easily the most well designed board I have trained on so far which makes it easier to get off the couch and get back to work!
Daniel Goodman
Best hangboard out there. Period!
Familiarity:

I've put it through the wringer
This hangboard combines all the best of all the historic top tier hangboard with no chuff or fluff. From 5.10 - 5.14+ this is an excellent hangboard!


Dan Brayack
Train hard, Goats, train hard.
Grant Kates
Grant Kates
Just started a new fingerboard cycle with this board, and I must say it is a very well thought out board, best I have trained on so far. Very comfortable, easy on the skin and easy to setup to your specific shoulder widths.



This board is designed to be used with the Anderson Brothers style repeater workouts, although I am sure it could be used for other styles of hangboarding.
Kerwin L.