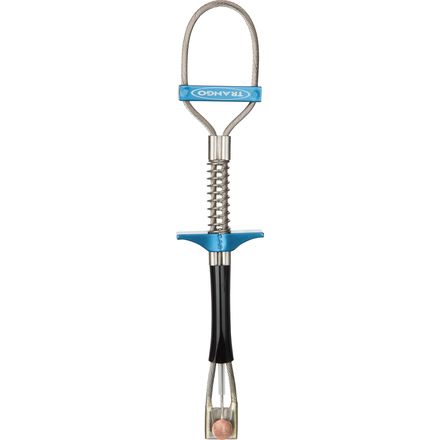 Colors

Videos
The return of the ballnut.
Trango reached into an old-school climber's closet to give you the highly versatile and inexpensive Ballnutz. These sliding ball-and-ramp pieces lie between active and passive protections, and they fit in places that cams and stoppers can't, like parallel cracks and thin fissures. With more placement options than a nut and a smaller price tag than any spring-loaded camming device, you simply can't go wrong with the Ballnutz.
Go where no other pro has gone before!
Familiarity:

I've put it through the wringer
The City of Rock Idaho is infamous for it's amazing crack climbs, but the classics seem to share a very unique feature - they all start out with tapering, super small, and incipient cracks.

Alas, the BALLNUT!

Where no other pro could go (albeit you could nail a knifeblade, but who does that anymore?) - the ball nut comes to the rescue!

I've added a few of the sizes to my rack and its quite amazing how often i've checked the topo and decided to have em tag along.

Great for small aid pieces as well, as the camming action adds a bit of piece of mind more than a simple stopper!
Alex Quitiquit
Grant Kates
Is this the price for all 5 or are they...
Is this the price for all 5 or are they priced per peace?
jmoutinho03@me.com
Best Answer
Seems to be priced at $39.90 per piece. So $199.50 for all 5.
Ben Rabinowitz
Hey J,



These are listed individually by size and the photo shows the full package which we do not have available at this time. You can select which size you would like to purchase in the drop-down menu.



Also, might I suggest changing your account name so that your email address is not out there for everybody to see. Its kinda like writing your phone number on a bus seat, we can't stop people from contacting you if that info is out there.
Wayne Christoffersen