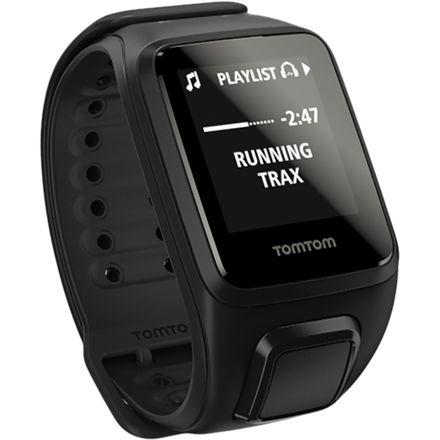 Colors
The peanut butter to your jelly.
As far as your significant other is concerned, you have quite the love affair with your music collection and fitness routine, which from time to time don't always mesh. Built for music and fitness lovers alike, the TomTom Spark + Music Headphones Watch enables you to have your cake and eat it too—err, we mean listen to your music and run too.
The Spark Music GPS Watch gets you back to the basics with its sleek, low-profile construction and is available for purchase in either a large or small band with no change in the Spark's actual face size. Designed to be a jack-of-all-trades, the watch covers all your bases and is equipped with 24/7 activity tracking, a multi-sport mode, GPS tracking, audio performance feedback, and wireless syncing. Additionally, the Spark comes with goal-setting and auto-sleep tracking that makes vitals tracking and overall health improvement easy as one-two-three. What makes the Spark truly unique is its ability to store 3GB or 500 songs of music storage (storage capacity is dependent on the MP3 or AAC file) while the included Bluetooth headphones make listening to your stored music files easy.
Black & white LED display
3GB of music storage (plays MP3 & AAC files)
Connects with included Bluetooth headphones (A2DP & AVRC profiles)
Built-in GPS tracking and motion sensor (heart rate monitor not included)
Multi-sport mode: running, treadmill, cycling, indoor cycling, swimming, gym
24/7 activity tracker: steps, active minutes, calories burned, sleep
Training modes: Race, Goals, Zone, Laps, Intervals
Compatible with TomTom MySports App (via iTunes and Google Play stores)