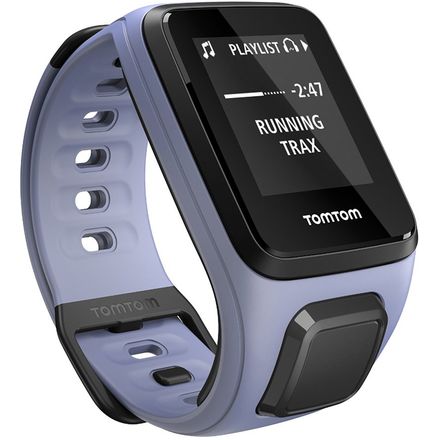 Colors
Take a walk on the wireless side.
Long gone are the days when you had to finagle a system of wires and straps beneath your fitness threads, only to have your workout brought to a jarring halt by the sudden implosion of your strategic arrangement. Now's as good of a time as any to conveniently streamline your training with the TomTom Spark Music GPS Watch. Whether you live, eat, and breathe marathon training or are participating in the weekly office walk goals, the Spark Music GPS Watch functions in both multi-sport performance modes and 24/7 activity tracking—so you can stay on top of your fitness regimen rather than behind it.
The Spark Music GPS Watch gets you back to the basics with its sleek, low-profile construction and effortlessly takes you from the gym to the streets without looking like you're about to head out on an Arctic expedition. Built to cover the necessities, the Spark Music has 24/7 activity tracking, a multi-sport mode, GPS tracking, audio performance feedback, and wireless syncing while the goal-setting, auto-sleep tracking, and water-resistant qualities are the icing on the cake for any fitness enthusiast.

So okay, one thing's for sure—TomTom takes convenience, comfort, and paramount performance to the next level by including easy-to-use sport modes and providing you with the same performance as the Spark GPS Watch but with music storage and Bluetooth headphone compatibility. This watch has up to 3GB or 500 songs of music storage, depending on the MP3 or AAC file, so you can blaze trails or rip through intervals all while listening to your favorite songs. It's important to note that in order to listen to your music during your workout, you should pair your TomTom Spark to your Bluetooth headphones—in order to do so, ensure that your headphones have a remote control function so you can replay or skip through your tunes. So why not—take a walk on the wireless side.

Black & white LED display
3GB of music storage (plays MP3 & AAC files)
Connects with Bluetooth earbuds (A2DP & AVRC profiles)
Built-in GPS tracking and motion sensor (heart rate monitor not included)
Multi-sport mode: running, treadmill, cycling, indoor cycling, swimming, gym
24/7 activity tracker: steps, active minutes, calories burned, sleep
Training modes: Race, Goals, Zone, Laps, Intervals
Compatible with TomTom MySports App (via iTunes and Google Play stores)
Includes USB charging cable, user guide
5-ATM water-resistance (40-meters/130-feet)
Recommended wrist size, small: 4.8 to 6.9-inches
Recommended wrist size, large: 5.6 to 8.1-inches