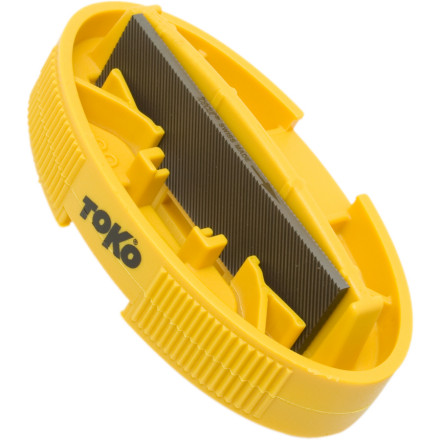 Fine tune your edges on the hill.
For a quick hit on your edges while you're on the hill, be sure to carry to Toko Ergo Race Edge Tool. This ergonomically shaped device preps both your side edge (88-89 degrees) and the base edge (.5-1 degrees). Includes a Toko 80mm World Cup Chrome File.
Does the trick!
Familiarity:

I've put it through the wringer
Used this to buff off some burrs - great!
Alex Quitiquit
Limited, but does the job well
Familiarity:

I've put it through the wringer
You only have a few base edge and side edge options, but it does a pretty good job at the limited angles. It is a pretty good price when you look at equivalent edge tools.

It also is small and convenient to pack.
Kyle
I've got Swix's Edger 2x2 but was looking for something a little more substantial, particularly for my bases and this does the trick! It's easy to use and great for a starter kit, especially at its price.
Than Volk
Great little home tool
Familiarity:

I've used it several times
I bought this item to span the gap between times when I take my skis in for a full tune. Works great, easy to use...
Mike Newberry
Its good if you only shapen a couple times a season, for the price its a good start for a basic kit.
David T.
Demonstrates how to use the Ergo Race to tune Alpine skis or Snowboards
Ian Harvey/Toko
Write your question here...I just bought...
Write your question here...I just bought this edge tool but can't figure out how to work it. Can someone please give me instructions?
tammy
Tammy, check the video out that I embedded!?
Ian Harvey/Toko
Good tool for a good price. You get what you pay for- so don't expect it to be super easy to use. I only sharpen a few times a season so this does me fine.
Jason L.
I was looking for a reasonably priced tool that would let me tune both base and side angles. The Toko Ergo Race Edge Tool is it. It took a little fussing to figure out the markings for file position and stroke direction and a little practice to get good cuts on the edge, but once over that hurdle, it does just what it is supposed to do. And I appreciated the good edges produced the next time I took the skis out.
Henry R.