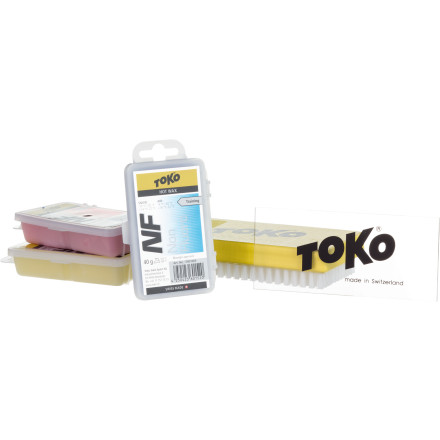 Colors
Just the basics.
Toko's Basic Hot Wax Kit might be basic, but it's everything you need to keep your skis slick and smooth throughout the season, which is really all you need. Included are three different waxes that you can use from fall to spring, depending on the temperature. This kit also includes a cleaning brush and wax scraper to keep your skis the fastest on the mountain.
Wax kit keeps your skis slick and smooth from fall to spring
Yellow non fluoro wax works in 25-50F temperature range
Red non fluoro wax works in 15-28F temperature range
Blue non fluoro wax works from 16- -22F temperature range
Brush and scraper included
Great Beginner Kit
Familiarity:

I've used it several times
Before this Toko kit I had always been borrowing friends wax and scrapers so its great to finally have my own kit. Comes with the basics minus an iron but those are pretty easy to pick up. Comes in a nice carrying case to keep all the items together.
Thomas Hamilton
How to Hot Wax Cross Country Skis
Great way to get a lot of quality wax and brush at a low price
Ian Harvey/Toko
How to hot wax Alpine skis/snowboards
Great way to get lots of needed product at a low price
Ian Harvey/Toko
Picked this up on Steep And Cheap at a killer price. I'd like to begin doing more of the work on my skis myself. Between the variety of waxes and the tools, this is a perfect starter kit for me to do so.
Than Volk