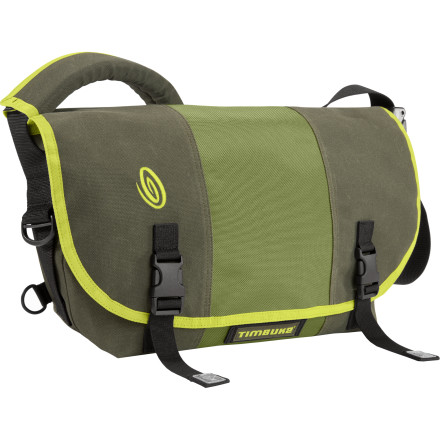 Colors
Commute, thrash, arrive, and repeat.
Timbuk2 originally designed the rugged Classic Messenger Bag for salt-of-the-earth bike messengers in need of a tough bag. Since then this all-purpose bag has been adopted by students, travelers, and hardcore urbanites. An array of pockets on the inside and outside hold small essentials, while the vinyl-lined main compartment keeps important documents dry. A quick-adjust cam buckle secures the fit of your shoulder strap for riding through traffic or sprinting to catch the train. Timbuk2 improved the hook-and-loop closure placement along the top to accommodate the habits of particularly abusive users of the Messenger.
Durable ballistic nylon exterior resists tears and damage from a hard life lived amidst travel or city commuting

Shoulder strap cam buckle detaches at the bag so you can quickly pull the strap and bag over your head, and then clip the buckle back together

Napoleon side pocket allows for quick access to cash or keys without opening the main flap

Key tethers hold on to your keys when you're on the go, and contrast coloring makes the tethers easy to spot without digging around

A Classic, Practical Commuting Bag
Familiarity:

I've put it through the wringer
This rugged bag is a classic - sweat and waterproof, lots of storage. I use it daily. It is also a good value. The only issue I have with it is it's not the best during hard out of the saddle efforts. You can read my full review with photographs here: http://atlantapeloton.com/blog/2015/8/6/timbuk2-classic-messenger-bag
Atlanta Peloton
Don't kill the Messenger.
Familiarity:

I've put it through the wringer
I've been using my Timbuk2 Messenger bag for about 5 years now and the bag just won't give up! I keep wanting to get a new one or replace the one I have, but I really can't justify doing so since mine just keeps on keepin' on.

Just like all Timbuk2 products, the Classic Messenger Bag is high quality material with a solid build. The strap is easily adjustable, I love having the small chest strap for when you really want to go fast, and the bag stays right where you need it.

The velcro on the main flap is nice for those times when you don't have enough time to worry about doing up those silly buckle things because you got better places to be and need your bag to stay closed. For those times when you want to take it slow, you can snap the buckles and know that your bag won't come flying open.

Plenty of room on the inside, a bundle of pockets on the outside for organizing all the small stuff, and you got a bag that can keep up with everything you do. I still use mine every week for my bike commute to work and it hasn't let me down yet.

If my current bag ever gives up the ghost, I'll definitely be getting another one of these bags.
Austin Robbins
great bag
Familiarity:

I've used it several times
i recently got one of the for my wife and she absloutely loves it. Very well designed and the construction is very sturdy. As an option you can custom design one of these on the Timbuk2 website! Highly recommended.
WesB
Could use one more ....
Familiarity:

I've put it through the wringer
One more strap would be nice for going super fast on your bike. I love mine though its a great bag.
Conan
Nice features, well designed
There are a lot of little things that make a difference in a messenger bag:

Size - This comes in several sizes. Medium is perfect for a laptop, couple of books,notepad, and basic supplies. The small (I checked out several sizes) is actually great for most every day stuff if using this for commuting to school. It will fit the stuff mentioned above in the medium but a little more snuggly. The two books would have to be on the small side - not 2 dictionaries!

Pockets and dividers. There are three main pockets in the interior. Then there are a number of smaller slots, zippered pockets, etc. for supplies, pens, keys, comb, etc. It also has a set of pockets outside the main compartments for easy access to things like keys, pen, ...

Shoulder Strap and Buckle - This is a big deal to me. Some bags have no buckle, you just pull over your head. But sometimes a buckle is nice. This bag has the buckle on the side of the bag which is NICE. It doesn't get in the way like some where the buckle will fall across your chest. It also has a nice system for keeping the extra strap material organized (see picture).

Closure - It closes with two buckles. But it also has two strips of velcro. So you can quickly flip the cover over without buckling up and you will be fine.

Construction - Very well made with a tough nylon exterior. The inside is coated so you don't have to worry about your stuff getting wet if stuck in the rain or splashed by a reckless driver!



Overall this has a lot of nice features
Patrick McMurtry
xs messenger
Familiarity:

I've used it several times
got the xs messenger for my girlfriend as an everyday purse. perfect size for a nalgene, small wallet, camera, etc. all while being hands free.



a nice waterproof flap and typical timbuk2 bomber construction will make sure this messenger will last




joshua moran
The Timbuk2 Messenger Bag is a great all around bag. The weather proof design is a nice feature as is the adjustable sling. Size wise it fits a lot. It doesn't have a ton of frills, just a solid basic bag.
Steven Jones
How to thread a Cam Buckle
Timbuk2-0
How to use the Cross Strap.
Timbuk2-0
Timbuk2 Classic Messenger
Timbuk2-0
Pros:
I got this for my fiancee and we both like it. We got the large sized one. It's very spacious! We have travelled with this bag and it is pretty secure (haven't worried about anyone trying to open it while we are crammed onto a bus or anything). The laptop sleeve is nice and wide as well. It can hold a laptop, couple books, two water bottles, and a couple small jackets with no room to spare (ha!).

Cons:
No water bottle holder on the outside. Not too many interior pockets. Probably my biggest criticism of this bag is that the material is super stiff. The shoulder strap has actually scraped my neck a couple times because of how stiff it is. It definitely is not seat-belt soft/bendable.

Summary:
Good bag for the money. There are little things that I would change about this, but there are also some noteworthy benefits. Overall I'd say it's average. Not awful, not stunning.
billy mcmahon
Mark Parrett
I bought a large and an XL and ended up keeping the XL since it is gigantic, but not too cumbersome. I can store a laptop, 4" 3 ring binder, bike helmet, shoes, jacket, gloves, and a change of clothes with room to spare, and it still carries nicely.

Very happy with it.
Bob Baldwin
I'm a bike commuter and use this bag everyday. The medium size carries my laptop and pretty much whatever I need for school. It is waterproof, durable, useful, and quite sexy. I love it.

That said, I have a few issues with it:
-why no carrying handle? most messenger bags seem to have them; it doesn't take much to add a lot of utility

-the way the shoulder strap attaches to the bag should be improved. my strap has inadvertently detached from my bag on several occasions. It really sucks when you're quickly walking across a busy street and the shoulder strap comes out of the slide. Swiveling snap hooks, clipped to D-rings attached to the pack make a lot more sense to me. Additionally, they would prevent the strap from getting twisted which happens to me often enough to be a little frustrating

In short: great pack, just rework the strap and add a carrying handle
spwick
Timbuk2 small Classic Messenger Bag (Red/Black/Red)
1. Sizing... PERFECT (I use this for commuting to work..fits smaller laptop and random odds and ends)

2. Colors...True to form :D Not too bright and not too dull

3. Pockets...LOTS of em...only qualm is that there are ZERO pockets on the outside (I'd like at least one for quick access)

4. Rainproof! First day I used the bag was in a rainstorm and everything inside stayed DRY!
Beth K.
Timbuk2-0
1) color - color match close to what I imagined from photos
2) size - can fit an iPad pretty well plus inside pockets store wallet, keys, cell phone
3) comfort - shoulder strap a bit stiff, but should wear with time; seems very durable
4) overall, pretty awesome!
Melissa B.
Timbuk2 Classic Messenger Bags
Timbuk2-0
This bag is perfect! It holds everything and then some. I was afraid that it would be too big since I am 5'3", but it adjusts to fit anyone, my husband is 6'2" and he uses it too. Very comfortable shoulder strap. Great buy!
monica logsdon