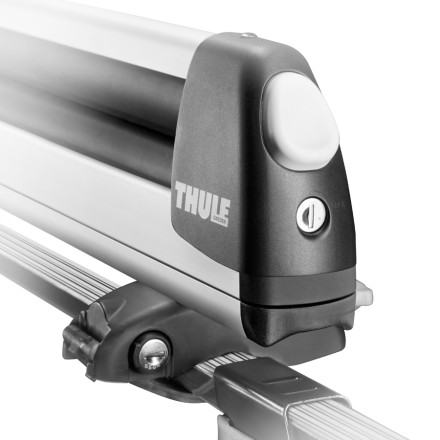 Colors
Easy gear access.
The Thule Universal Pull Top 6pr w/ Locks solves the age old dilemma of teetering precariously on your vehicle's running board with one hand perched on the door while trying to finagle skis or snowboards onto your roof rack with the other. With its telescoping arms, this carrier slides easily from the top of the roof out to the side of the car for quick and stress-free access to your gear.
The Universal Pull Top's soft rubber arms cushion your gear during the ride and pop open with a quick, mitten-friendly button-push for instant access when needed. It includes four one-key locks to effectively secure both gear and mounts to your vehicle, and it utilizes Thule's Speedlink mounting system, which is compatible with Thule rack systems, round bars, and most factory racks.
How far above the crossbar does this rack extend?

jason.kunt238192
Justin Morgan
Worth every penny, love this rack goes on easy, holds a bunch of skis and boards, very sold. Lockable and lightweight. Can;t go wrong. I have trusted Thule products for over 20 years. Not turning back now. They keep evolving and getting better.
Jimmy McMenamin
Works well on rav4 cross bars. Easy to use!
Alex Drinkwater
Great Rack with Super Easy Install
Familiarity:

I've put it through the wringer
The Thule universal rack took me less than 15 minutes to install. The rack feels very secure on top of my roof. The two key operated locks secure the rack to the roof and my skis to the rack. The width of the rack is very generous in space, easily allowing me to haul my skis and all my passengers gear to the slopes. At the end of the season the rack is quickly removed with a few easy steps. Thule has done a great job in designing a rack that fits 99% of skier and snowboarder needs.
Alex Drinkwater
Great rack with one exception
Familiarity:

I've used it several times
I purchased last year just before ski season. Loved the rack. Fit my aero bars on my Honda Pilot very well. Installation took less than 10 min. Loved the look and the slide out feature is great for loading skis.

Now for the problem. As soon as I get on the freeway with no skis on the rack and hit about 55 or 60, the wind noise is crazy. Makes it feel like the whole car is vibrating. Honestly worried its going to loosen some bolts on the car. Thought it was the rack so got out old Yakima ski rack and put it on...no problems or noise. Seems like the Thule rack just sticks up too far. Not sure if I'll be keeping the rack or not yet.
Nick S.
2015 Jeep Grand Cherokee
Familiarity:

I've used it several times
Bought these for my Jeep. They are fine and while the slide out can be helpful, it has certainly frozen while driving while it's snowy. For an SUV, the sliding ability is necessary, though I don't believe it works consistently. Unfortunately, I haven't found a better option, unless I go with some kind of hitch rack.
rakesh patel
Easy Ski Rack, Though Tall
Familiarity:

I've used it several times
So, everyone knows how Thule ski racks are by now if you've had a bit of work with any of them. This one ups the game by having a great amount of width (6 ski and 4 boards are legit) and being able to slide the holder over for easy working of putting the skis/boards in. This feature actually works pretty well by using a lever next to the rack lock mechanism makes things pretty easy to use and once more....THE WIDTH IS AWESOME!
A few issues though. While the strap mechanism to attach the rack to the crossbars is interestingly usable and keeps from marking up the bars, the locks are too low to where you actually need to center the rack or else the bulky key will hit the side of the rack before locking. Also, if you have a tall car with a short garage you might want to look elsewhere.
The most technological ski rack out there does pretty well and would recommend to most people espescially with shorter vehicles.
Wally Phillips
I do not have any cross bars on my vehicle. Does this unit come with cross bars or do I have to purchase them separately? Thank you!
Legnemj
Hi!



These attach easily to horizontal cross bars. So, you would need to get those. We can find which bars you need for your vehicle, on the Thule website.



More questions? Just call or email me, directly.


Emily Jenson
Feel free to send me your questions!

Here is the one shot that most of the other product images are struggling to show.

My brother who is around 6'3'' and his wife who is around 5'3'' both need to be able to get his skis and her snowboard off their SUV. That's where this rack excels since you can pull it out to gain access to your boards/skis and not have to awkwardly lean over your car.

Shoot me an email anytime you have questions!

Jared D.
Expert Gearhead
801.736.4336
jdowns@backcountry.com
Jared Downs
Great!
Familiarity:

I've put it through the wringer
This product is key for the vertically challenged. My lady friend is 5'2" and was tired of struggling to get skis on top of her Forester. These racks make it super easy.
Rich F
These racks are really easy to load and unload. Used them for long distance drive (5+ hours) every weekend for a couple of seasons and they have been great. I fit 4 snowboards on them.



Only thing is if they get wet and then cold they freeze and the slide feature doesn't work, not really a big problem as everything else works!


Amanda
Worth the extra money.
Familiarity:

I've put it through the wringer
The slide feature lets me get into my hatchback while someone else loads the skis. It also keeps the skis away from the car to prevent car-binding contact. Really easy to install.
Emily Jenson
Are you vertically challenged?
Familiarity:

I've put it through the wringer
This Thule rack is easy to install and fit right on my factory installed bars. Having had a Thule before I really debated about the need for the pull out bars. Now that I have them - I would never go back! I am a 5'4" female trying to put skis on top of a FWD vehicle so you can imagine it is a challenged. The rack was easy to install and easier to use. I love my Thule rack
Beth
First Ski Trip
Familiarity:

I've put it through the wringer
Overall this is a fantastic product. This was my first snow rack and I made sure it was an investment. I like that the rack slides out from the SUV so that I can't damage my car.



The product is easy to attach and detach from the cross bars. I highly recommend this product to anyone who needs carry their ski's/snowboards to the hill/mountains.



The rack endured two blizzards, -20 degree Celsius temperatures and 10 hours of highway driving at high speeds. I recommend washing the salt off the rack after use if you want to prolong the life of it.
Anthony B.
Unanswered Question
I already have roof crossbars and a ski...
I already have roof crossbars and a ski rack. I now need an attacments (4 of them) to attach racks to bars.

Thanks, Vlad.
Vlad
Is this product the following? Thule 92726...
Is this product the following?

Thule 92726 Universal Pull Top Roof Rack 6 Ski 4 Snowboard Carrier Speedlink NEW



Thanks, hank
Harry D.
Yes I believe it is the same one you have listed :)
Shawn Cash
Unanswered Question
I have a great wall x240, a 75kg rated...
I have a great wall x240, a 75kg rated Prorack roofrack installed upon which I want to find a way to easily load my Finn Spincraft Dinghy, oh and a bad back.



I have a link to the rack I bought and a picture of the dinghy strapped to it, I can get the boat off easily enough but getting it back up there by myself hmmm,



The rack is rated to 75kg the boat is 55kg, I have driven in wind and rain to get it home and it handled fine, did not move at all.

Can anyone suggest a solution to my problem I have been searching roof loaders with little luck.

Thanks in advance.


wayne stirland
I love this ski carrier. I especially like the fact that I can pull the ski rack out over the car for easy loading. The only grip i have about that is it is hard to push both carrier's in at the same rate so the skis don't shift. Feel secure, installation isn't too bad, fit my aero blade's very well. Can't wait until winter to test them further.
Alex
Will this fit a 2013 subaru forester?
Will this fit a 2013 subaru forester?
Cory M.
Hey,



Please use the fit guide at www.Thule.com for an exact fit. However, this is meant to fit most crossbars on the market. If your Subaru already has a roof rack with crossbars, this should fit just fine.
Josh Chapman
will the fact that i have the elliptical shaped crossbars make a difference with this mounting system?
Cory M.
I don't think so. I believe that this mounting system is meant to fit almost all load bar types.
Alex
Afira S.
this will fit as long as you have crossbars. this does not come with them
Tim Bohlken