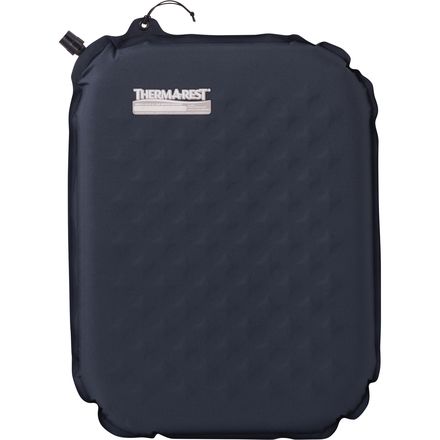 Colors

Detail Images
Have a seat.
After a long, taxing day on the trail, drop your pack and park your butt on the Therm-a-Rest Lite Seat Camp Chair. This mini version of the Prolite sleeping pad features a self-inflating foam construction that rolls up to fit in your pocket. When inflated, the seat also works as a soft frame for ultralight daypacks.
Top 5 pieces of Gear I own.
Familiarity:

I've used it several times
Wow. Lightweight, durable, and keeps the butt warm in any situation. In the backcountry, at a sports game, hunting, or taking a knee painting baseboards. This thing has hundreds of uses.
TigerOwl
My second one
Familiarity:

I've put it through the wringer
I bought this last for a friend as a gift. It works great for day trips or hard snow pack.
Jeff Morrow
Comfortable...and insulates!
I have a confession. I originally picked up this bad boy to keep my rear end from getting cold at football games and other outdoor sporting events.

I discovered, to my delight, that the uses are almost endless. It's perfect as a complement to my camp pillow. I use it to cushion my knees, etc. Recommended.
Steven Jones
Endless Uses
Familiarity:

I've put it through the wringer
This seat is simply awesome. I originally bought this to use in my fishing kayak to provide a little more cushioning and it works perfect for that task. Little did I know that I would be taking this piece of gear with me everywhere and finding endless uses for it--in the car, camping, hiking, as a kneel-pad ice for fishing, as a pillow, backpack insert and on and on. It's rugged, takes a second to unfold and inflate and is feather light at 100 grams. One trick I use in my kayak chair is to put a 2"x 3" piece of medium duty adhesive velcro on the chair and the pad so it won't blow away. In fact, I just keep the velcro stuck on the pad all the time. I'm looking to get another one just for the heck of it, they are that useful.
Jeremy Cote
Cumfy and they insulate too!
Familiarity:

I've used it once or twice and have initial impressions
I bought these to take to Disneyland to sit on the ground to watch the shows. They do not take up much room and are large enough for complete coverage. I will also be taking mine on my next adventure-down the Colorado River.
Roxanne V.
This is a nice little inflatable pad to use at the campsite for sitting on or to use as a pillow! I have a little pillow that I use and I stick this pad in the pillowcase and inflate it to the desired height! Works great!
Jeff Guest
While this pad is a bit of a luxury, it certainly makes the activity known as sitting more comfortable. You may think you don't need it but when you find yourself looking for a spot to sit and there is only rocks or a hard bleacher seat around, you'll definitely be glad you brought it. It packs up small and also provides great lumbar support while driving.
David
Stoked on this thing I keep it in my backcountry pack all year round. I stuff it along the backpanel of my Verto Pack (http://www.backcountry.com/the-north-face-verto-26-backpack-1600cu-in) to give it a little extra structure.
Dave Madsen
Are these dimensions right? 11x15x5?
Are these dimensions right? 11x15x5?
Caroline T.
Best Answer
Nope, its 11" X 15" X 1.5". Good catch.
James Cooper
This little pad is quite the upgrade from the days when I had a trimmed down z-rest version jammed into the side pocket of my pack. Minimal weight and volume for hours of comfort.
David Grimm
Love this seat, adds no weight to my pack and makes the camp a lot more comfortable place to be.
Michael Kenik
Therm-a-Rest Lite Seat Camp Chair
Easy to store, lightweight, and gives the bum some cushion. This has turned out to be a piece of gear that seems to have become an item for every trip. For storage in my pack, I prefer to keep the valve open, roll it up, then give it a twist like I am wringing a towel dry. Sealing the valve in this position creates the smallest profile and it holds the shape extremely well. When I am prepared to sit down on the trail, one to two puffs of air and I am ready for a comfortable, dry, and for the most part insulated seat. It sure does beat sitting on wet, cold rocks or in the snow. In windy situations remember this isn't tethered to the ground!

At night, I prefer side sleeping, and put this under the head of my pad. It gives my pillow the perfect height to send me into slumber.
Logan Throndsen
The idea behind long distance motorcycle touring is to be able to ride comfortable all day long. One of the most uncomfortable aspects about motorcycle touring is "Monkey Butt". It comes on after about 50 miles and your posterior burns and aches for rest of the ride, unless you stop. I am going to order one of these Camp Seats in hopes of putting the "monkey" out of business. I will report back.

HCC
Howard C Culbreth II
I love this seat in my pack. There are so many things I have ended up using it for, extra spare pillow, seat on rocky terrain, shelf to set things on to keep them off ground, insulating seat on snow.

Best uses are probably protecting your butt from really rocky terrain or really cold terrain (sitting on snow).

Self inflating so no fuss there. Sometimes I actually pack it inflated to use it as a blocker in my pack to aid in sorting. I always take it with me.
Sean Macha
If you like a little extra comfort after a long day of hiking, your back (or backside) will appreciate this self-inflating seat cushion. rolls up nice and tight when not in use and inflates to a really nice size. Using this for extra padding while carrying your pack or as an extra head support while sleeping as others have said are also great ways to get extra use out of this item. Simple yet great!
BigHornBound
Can anyone comment to the water resistance...
Can anyone comment to the water resistance (or absorption) of this seat? The last thing I want is a sitting pad that wicks moisture to me or absorbs water for me to sit on later. thanks.
kyle_me
Best Answer
I've been using the Light Seat for years & in that time, it has neither absorbed moisture nor water. In fact I used it a few week-ends ago on a snowshoeing trip where I sat on snow. It's lightweight & much better than sitting directly on the ground. You'll also appreciate the insulating properties.
moroni