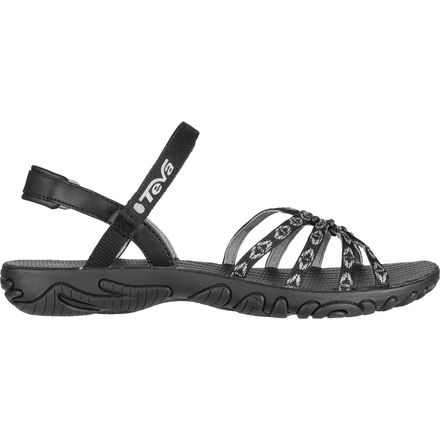 Colors

Detail Images
My mom loves them
Familiarity:

I gave it as a gift but have feedback to share

Fit:

True to size
We took them on a river trip immediately and she loved them and received compliments the entire time, can be dressed up or down and we love the purple.
Valor McNeely
Good
Familiarity:

I gave it as a gift but have feedback to share
I bought this a gift and so far she seems to love it. No complains from her about the product the design is also very nice.
Jonathan W.
These sandals are great! I've worn them everywhere - volunteering in rural South Africa, hanging out at the beach, wandering Amsterdam, going out to dinner - and not only are they super comfortable but I get compliments where ever I am. They go really well with everything from jeans to khaki shorts to sundresses. AND they are really durable, comfortable, and very wearable on beaches, hiking, and cobblestone streets. Durable + versatile + cute = SUPER SANDAL!
Melissa W.
Very versatile, very comfortable, and the basis of numerous compliments. The black seems more gray than black which is great as these look good with everything from skirts and dresses to hiking and gardening wear. Most important to me - I can wear them day after day without bothering my feet.
SaraOJ
I've always been a flip flop and sneaker kind of person. I didn't know what I was missing! The foot bed is so nice and soft and the strappings are great we well. The hardest part was picking the colors. I got mine in a green and I love the colors.
Casual BA Hiker
Perfect for my week at the Lake House!
I'm a new mom and haven't had a chance to shop for clothes and shoes recently so prior to our lake vacation I got online and hurriedly bought these sandals. Wow, what a nice surprise. They were a perfect fit, looked cute, dried quickly and were very comfortable. There was not even a hint of a blister after wearing them all day every day wet and dry for a week! These sandals are definitely worth the price.
Amber B.
Unanswered Question
Hi! I'm looking for a good durable shoe...
Hi! I'm looking for a good durable shoe and I'm on a budget. Which would you recommend more, these or a pair of Chacos?
Niki
Best sandal in the history of sandals
I always get compliments on these sandals because they are stylish, but more importantly, they are extremely comfortable, durable, and easy to clean. I have had a pair of the green ones for more than three years and just bought the black pair last month. The green ones still look nearly as fresh as the black ones do, and I have worn them absolutely everywhere! I also tend to have stinky feet and have to toss shoes after only one season; not so with these. Not a trace of odor on them. I only wish there were more colors to chose from! Well worth the price - if shoes are ever an "investment," these are for sure.
JEAN C.
I got a pair of these a year and a half ago and I absolutely love them. They're cute enough I can wear them to work, and durable enough I've been walking/hiking all over the place in them. On a slightly less pleasant note, I live in the desert...as such it gets quite hot and my feet sweat quite a bit. I didn't know about the "zinc odor protection" the description mentions when I bought my first pair but this pair of shoes has NEVER smelled.
Really a wonderful shoe...finally wore the old ones out and just bought a new pair today. Highly recommended.
Leslie S.
These are way cuter than I expected Tevas...
These are way cuter than I expected Tevas to be, but I am wondering this: would they be "sporty" or "durable" enough for camping/paddling/portaging/short hikes? (Or are they just for looks?)
Liz MacGregor
They are very sporty and for every day use also very durable, but be careful wearing them in water. Even though they dry very fast and are quite comfortable in the water, the sole wears out fast when worn in water. But all in all they are just great shoes, though not super supportive as the design also clearly states!
Naja S.
How long do I have to wait for these shoes....
How long do I have to wait for these shoes. I leave on my trip in a wk.
Joy Wirick
Order them now (before noon), pay for 3-day shipping, and you're done.
Angus Bohanon
I wore these shoes while I was sightseeing in Italy, Spain and France. They kept my feet comfortable for those long walks along cobblestone streets and the rigorous terrain at Pompeii. I would definitely recommend these sandals for rough, wet and uneven surfaces.
Sylvia R.
These are my first pair of Teva's and Teva is now on my shortlist for gear. So comfortable and stylish. I was apprehensive of the color at first, bought the black/white but they turned out to be very nice indeed. They actually look gray from a distance.
K. Rawson
Cutest sandal that's good for your feet
So glad that you had these. I have one pair and love them! I get lots of people asking me where they can buy them so I'll turn them on to you guys, (as they are not in stores anymore around here). They came very quickly too!
ROBIN L.
I love them! They are styish, comfortable and I can wear them with shorts, skirt or pants. They are much more fashionable then a lot of sport sandals and comfortable too.
Sandra R. H.
fit well, comfy and don't look as dorky as the other sporty brands. wish they had a tiny bit more arch support but overall I am very pleased.
kaceymaddie
BOUGHT THESE FOR MY WIFE FOR MOTHER'S DAY, CHA-CHING!! SHE LOVES THEM. SHE'S ALREADY PUT THEM TO THE TEST WITH SOME URBAN HIKING AND FEW PADDLING TRIPS. NEEDLESS TO SAY THEY HAVE HELD UP AMAZINGLY WELL. SHE SAYS THEY ARE MOST COMFORTABLE AND SHE LOVES THE LOOK! THANKS
'
Todd S.