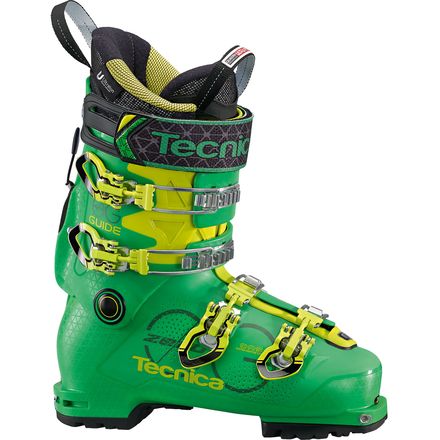 Colors
Beyond boundaries.
Tecnica's Zero G Guide Alpine Touring Boot packs performance that dominates the downhill and slays the uphill with a weight just under four pounds. The Zero G boasts a respectable 110 flex, making it capable of charging everything from backcountry chutes to resort piste. Tecnica built this boot on a mid-sized last (99mm) that's snug and pre-punched to fit most foot shapes.
The Zero G Guide features Tecnica's new C.A.S. shell, which uses a dimple structure to make heating and punching faster and more effective for bootfitters. Practically a roadmap for bootfitters, C.A.S. technology identifies your foot's hot spots and pressure points with ease. Tecnica added its heat-moldable UltraFit Ultralon liner to ensure the most comfortable and responsive fit possible. The Zero G also features a rockered rubber sole that makes bootpacking a breeze, and you can switch out the boot's tech binding interface with DIN-certified soles for alpine bindings.
An alpine touring boot that dominates the downhill
Stiff 110 flex suitable for resort riding and backcountry charging
99mm last assures a snug, precise fit
Walk mode with 44-degree cuff rotation
C.A.S. Triax 3.0 lower shell with heat-moldable dimple structure
Rockered rubber sole makes hiking and bootpacking a lot easier
Compatible with tech alpine touring bindings
DIN-compatible soles fit alpine bindings (sold separate)
Nice fitting boots. Impressed by the weight and are very comfortable. Feels like and an alpine boot on the way down. First pair of Tecnica boots but I wouldn't hesitate to buy again.
Eric White
Touring boot w/ alpine performance
Familiarity:

I've used it once or twice and have initial impressions
Got these boots for my boyfriend and he loves them! They are light weight, have a great range of motion, are very comfortable, and most importantly perform like an alpine boot when descending. Super easy to switch between hike/ski mode and while it doesn't have the range of motion or weight of a Scarpa or a Dynafit it's definitely not a deal breaker. 10/10 would recommend.
Larissa Bortz
Great mix of Weight and Performance
Familiarity:

I've used it several times
I bought these boots right before a 4 day ski touring trip to British Columbia and I couldn't be happier. I was able to get the liners heat molded before I left and although this was the first time I had skied these boots, I didn't have any issues with hot-spots or blisters. We did 4 days of day-tours out of a lodge just north of Pemberton, BC called Whitecap lodge and these boots worked out perfectly.

At a 110 flex they performed well skiing downhill, and the 44 degree cuff rotation in walk mode was awesome on the skin track. I also really like that you can get an interchangeable DIN rated sole if you want to ski these in a normal alpine binding. If I didn't already have a dedicated alpine boot I would probably ski these every day. I love how light and comfortable they are; in walk mode I can hang out in them all day long without going crazy like I would in my alpine boots.

If you are looking for a high performance alpine touring boot that is light and mobile on the skin track, and doesn't sacrifice performance on the way down you should definitely check this boot out.
Pat Guinn
Great for touring
Familiarity:

I've put it through the wringer
This boot is a great fit for my wide foot. Despite a 99mm last it supports my foot, and is comfortable without any hot spots.
The boot has an awesome flex and range of motion while touring up. Switchbacks and steep uphill stretches of my tour were a breeze to navigate. I didn't lose any support or comfort when I encountered these areas. The heat molding features of this boot is precise in molding to your foots shape.

Not exactly the lightest boot around, but that definitely wasn't a deal breaker. In fact I haven't thought about the weight of the boot once while I've been out on the mountain.

The boot has a great downhill performance and skis with a stiffer flex than the 110 listed in my opinion. Both on aggressive runs on groomers, to leisurely turns in the backcountry the performance of the boot downhill was top tier.

Easy to get on and off as well.
Chasen Fairfield
Great boot!
Familiarity:

I gave it as a gift but have feedback to share
If you have a wide foot then this is the boot for you. It has a wider last than most boots making this one comfortable for wider feet. It has great downhill performance and is very light.
MacKenzie C
Best boot ever
Familiarity:

I've used it several times
Great downhill performance and feels stiffer than the pro version the liner fits better in the heal much more narrow. Super light boot on touring and I'm very impressed on how stiff it is flexes firmer than a 110.

I tried on all the boots from Solomon to Scarpa and all the Tecnica boots and these fit the best by far.

They are just as firm as the 130pro version if not stiffer and are lighter. The range of motion is outstanding and will now work on both sets of skis for me. One boot two skis with a tech pin binding kingpin and a marker f12tour this boot does everything.

I ski squaw and sierra at Tahoe advance to expert double blacks all day. I can't reinforce how well these compare to the more expensive version in my opinion much better.
Kyle R.
Best Compromise I've Found
A bit of my touring boot history: My first boot with Tech Fittings was the Dynafit Vulcan. Overall, the boot performed well but I was a bit disappointed in the liner, some fit aspects, ability to fix the fit issues. It skied and walked quite well but I also felt the stiffness of the boot was overkill for my usage - even with the tongues out. I thought I could get away with a softer boot so I tried the Atomic Backlands. I heat molded the shell to my feet and the fit was great. It walked better than any boot I have stuck my foot in but it left me wishing for a little more in the liner and wishing for a lot more in the downhill performance. I quickly realized I was hoping for too much when I left the Vulcan class and moved to the Backland class.

This year, I am back in the same weight class as the Vulcan and went with the Zero G from Tecnica. I was between this boot and the Salomon Mtn Lab but my foot fit into the Zero G much better. The heel of this boot is nice and narrow and does not allow for any heel slip. The forefoot is still slightly narrow for my foot but the boot's perforated plastic makes it a dream to punch/work with.

I have taken the boots on one quick tour so far and have not been in a better flexing touring boot. It is not quite as stiff as the Vulcan or Zero G Guide Pro but it is plenty stiff for the soft snow I plan on skiing. The liner of this Guide variant is leagues better than the liner in the stiffer Guide Pro which has a minimal liner closer to the Vulcans.

I did notice that the boot does not have quite the range of motion as my Vulcan - especially rearward but I do not see that being a major issue. The Zero G is able to max out its range of motion without much effort whereas some boots I have been in claim to have the same range of motion, but it takes a lot more effort to get to the end of the claimed range.

When using the Zero G in walk mode, I noticed some plastic digging into my Achilles as the cuff of the boot moved rearwards. I imagine I can dremel off the plastic that is hitting my Achilles but I do not spend much time on flats so it is not a major issue thus far.

Overall, the boot seems to be exactly what I was hoping for but did quite meet the preseason hype I was hearing about. It does the job perfectly but does not revolutionize the category it is in.
Evan