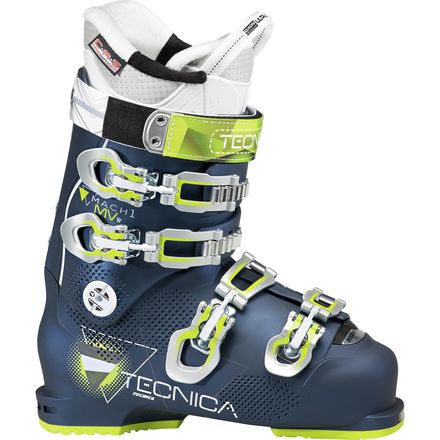 Colors
Explore the mountain without getting cold toes.
Tecnica's Mach1 95 MV Women's Ski Boot is made to be comfortable, but that doesn't mean it lacks the chops to satisfy adventurous intermediate skiers. It features a moderately wide 100mm last with plenty of room in the toe box, but Tecnica's anatomical and heat-moldable C.A.S. liner, eminently grindable C.A.S. shell, and C.A.S. Quadrafit Ultrafit heat-moldable liner are also designed to be customized to your feet, so comfort doesn't have to mean slop (C.A.S., if you're wondering, stands for Custom Adaptive Shape). Even the C.A.S. bootboard is designed to be ground down to help you achieve the perfect stance, so you can enjoy efficiency and comfort that you thought were only the stuff of dreams.

The Mach1 95 is comfortable and customizable, but it can hold its own when the skiing gets adventurous, too. The 95mm flex strikes a balance between firmness and comfort, and the four micro-adjustable buckles allow you to make tiny changes to the volume and snugness, so you can enjoy comfort and control. Tecnica also built in a flexible Quick Instep panel for painless and easy entries and exits, and finished the Mach1 off with a hook-and-loop power strap that gives the cuff a smooth, reliable, and strong feel.

95 flex
100mm last
C.A.S. shell
C.A.S. Quadrafit Ultrafit heat-moldable liner
Quick Instep panel
C.A.S. bootboard
Four micro-adjustable buckles
Hook-and-loop power strap