Tavik

Youth Pocket T-Shirt - Short-Sleeve - Men's
Item #TAV003Z
Tavik
Men's Apparel
Numeric Sizing
28
30
32
33
34
36
38
Waist
27 - 28in
(68.6 - 71.1cm)
29 - 30in
(73.7 - 76.2cm)
31 - 32in
(78.7 - 81.3cm)
32 - 33in
(81.3 - 83.8cm)
33 - 34in
(83.8 - 86.4cm)
35 - 36in
(88.9 - 91.4cm)
37 - 38in
(94 - 96.5cm)
Hip
36 - 37in
(91.4 - 94cm)
38 - 39in
(96.5 - 99.1cm)
40 - 41in
(101.6 - 104.1cm)
41 - 42in
(104.1 - 106.7cm)
42 - 43in
(106.7 - 109.2cm)
44 - 45in
(111.8 - 114.3cm)
46 - 47in
(116.8 - 119.4cm)
Alpha Sizing
XS
S
M
L
XL
XXL
Chest
32 - 34in
(81.3 - 86.4cm)
35 - 37in
(88.9 - 94cm)
38 - 40in
(96.5 - 101.6cm)
41 - 43in
(104.1 - 109.2cm)
44 - 46in
(111.8 - 116.8cm)
47 - 49in
(119.4 - 124.5cm)
Waist
25 - 27in
(63.5 - 68.6cm)
28 - 30in
(71.1 - 76.2cm)
31 - 33in
(78.7 - 83.8cm)
34 - 36in
(86.4 - 91.4cm)
37 - 39in
(94 - 99.1cm)
40 - 42in
(101.6 - 106.7cm)
Hip
33 - 35in
(83.8 - 88.9cm)
36 - 38in
(91.4 - 96.5cm)
39 - 41in
(99.1 - 104.1cm)
41 - 44in
(104.1 - 111.8cm)
45 - 47in
(114.3 - 119.4cm)
48 - 50in
(121.9 - 127cm)
How to Measure:

For best results take measurements over your underwear, keeping the tape a bit loose.

Chest:

With your arms relaxed to your sides, measure around the fullest part of the chest while keeping the measuring tape parallel to the floor.

Waist:

Measure around your natural waistline, which is the narrowest area of the waist.

Hips:

Stand with feet together. Keeping tape straight and parallel to the floor, measure around the fullest part.
Select style & size:
Select options
Select options

White, L

Sale:$9.78
Tech Specs
Manufacturer Warranty:
limited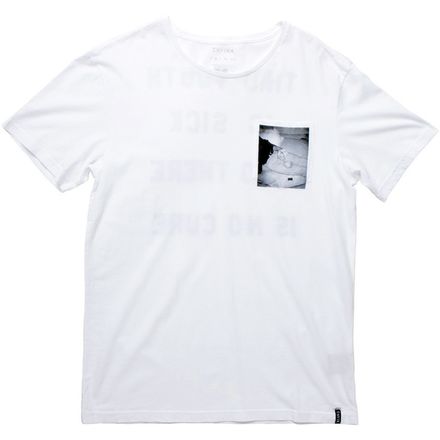 Colors

Detail Images
Won't somebody please think of the children?!
Let those white collar do-gooders know that youth doesn't need saving when you wear the Tavik Men's Youth Pocket T-Shirt.
Cotton
Regular fit
Chest pocket
Frequently purchased together