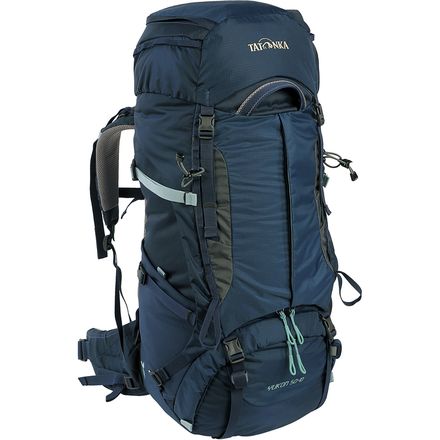 All the bells, and whistles too.
Everyone's body is a little different, so that's why Tatonka designed the Yukon 50+10 Backpack for women to easily adjust to multiple body types. Great for tackling your favorite alpine-lake overnight, or a multi-week thru hike, the Yukon has an entirely rebuilt V2 carrying system that incorporates new, lighter materials and a three dimensional hip strap that optimizes weight dispersal and offers on-the-go custom height adjustment. Couple the new tech with old standbys like a built-in raincover, front entry, and hydration system compatibility, and you've got a versatile women's pack that's ready for the long haul.
A women's multi-day backpack with customized fitting
V2 carrying system offers height adjustment
Removable liner creates separate sleeping bag compartment
Ergonomic shoulder straps designed for women
Hipbelt is single-hand adjustable for easy changes
Lockable side zipper great for urban travel
Front opening makes floor packing easy
Zippered lid key holder keeps your valuables safe
Rain cover built in for when weather strikes
Sip easy with Hydration system compatibility
Quality Product, decided to return
Familiarity:

I returned this product before using it
I have to start with what a high quality pack this is. The zippers, seams, and clips feel like they would never break. The material is strong and the whole bag is extremely well made. The frame and belt were very comfortable and I am sure you could pack this bag to the brim and be able to carry it well.
So why did I return it? For all the heavy duty quality you get with this pack you also get weight. It is over five pounds which is high for a pack. I also did not like that the lid was not removable, as I wanted something that could convert into a day pack. There also seemed to be excessive straps, and hooks, making the bag difficult to access from the bottom. And finally, it came in just over size requirements to be considered a carry on for flights (I hate checking bags) and with the unremovable belt there was no hope of sneaking it through.
So, with the risk of sounding cliche, "I really wanted to love this bag," but it just wasn't right for my needs. I hope it is for yours. If I did not needs it for an extended trip over seas where I will be flying a lot I might have kept it.
Jennifer R.