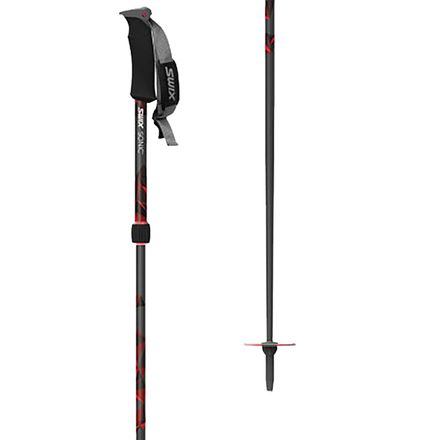 Colors
Go all carbon by 2014.
You wouldn't go kayaking with a canoe paddle or deep-sea fishing with a fly rod, so why do you keep touring with crappy, nonadjustable aluminum poles? Ditch that zero and get with the Swix Sonic R1 Adjustable Carbon Ski Pole, your new backcountry-conquering hero. The Sonic is overflowing with thoughtful features, but none are more significant than the twist-lock mechanism, a new take on a classic design: simply spin the oversize nut to compress a sleeve around the lower shaft, locking the pole in place. Since the threads and locking mechanism are covered when the pole is locked, there isn't any icing up to worry about, and the nut is large enough that it functions as a mid-shaft grip on your uphill pole during steep switchbacks (let's be real, as nice as a simple adjustable pole is, you're probably not going to stop and readjust it every two minutes).
Thoughtful touches abound in the grip, too. It features a relatively rounded top to make palming easy, and a straight edge for scraping snow and ice off your skis to keep unnecessary weight at bay. There's also a front hook on the top of the grip that makes it easy to hook the front of tech bindings and unbuckle boots if you're spending a day riding lifts, and a one-pull wrist strap that makes it easy to accommodate light gloves on the uphill and heavier ones on the way down. Weighing in at under a pound per pair, the Sonic is a no-brainer if you spend most of your days getting up and down the mountain on you own two feet.
Twist-lock nut locking mechanism that works as a mid-shaft grip
Grip with rounded top, straight edge, and front hook
One-pull adjustable wrist strap
Full carbon fiber shaft
Great pole, but crappy components
Familiarity:

I've put it through the wringer
This is by far my favorite pole to use. It adjusts easily. It feels good. Its super light. I love the handle, and the adjustable strap. The basket is nice. Great design!

The bad part is that different components of it keep breaking. Backcountry and Swix have not been good at warranty, or helping with replacements. First the ferule broke opening a touring binding. The replacement ferule I was sent was not the right kind (apparently they don't make the exact kind for replacement), and so I had to jimmy-rig it. That led to further breakdowns. Ultimately I bought a new set of poles. (waited for a sale, and got the aluminum one) Those started breaking as well, and there the extension mechanism was not holding well. Between two sets I was able to get a single one that works.

Until now... I don't want to buy another set. But if I can't figure out a stable pair, would have to switch to my old BCA ones.
Alexander K.
Is it possible to get just one of the lower sections? I broke the spike with the basket, and duct tape is not doing it anymore.



Thank you
Alexander K.
Vincent Paquet
What's the best way to order that? If could put an order for me, I would appreciate it!



sasha
Alexander K.
Best pole I have ever used or seen
The R1 Sonic pole is simply the best pole I have ever used. I had a chance to use these and the R2 last spring both in bounds and a couple of tours. They are lighter and stiffer than any other adjustable pole (I think they must use the same carbon as on my road bike) and the swing felt like I was using my normal carbon alpine pole.

The locking mechanism was super quick and solid. I never had to readjust or tighten it to prevent it from slipping. The straps/grips could be used with my mittens on.

I can't recommend the R1 any higher. If you want and need the best, this is it.. by a MILE!
zlp