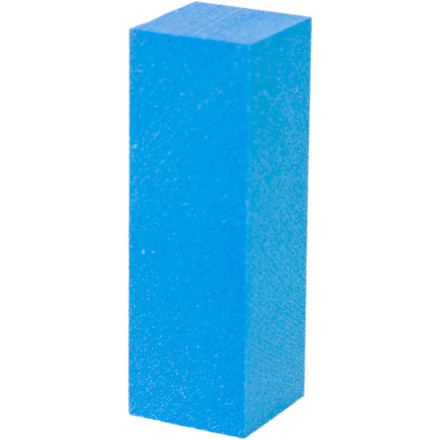 Colors
One step closer to your own full-service shop.
Swix designed the Gummi Stone to remove nasty micro burrs that result after you sharpen your edges. Simply rub the Gummi Stone along the entire length of your ski or board's edge for a smooth finish. Or, just detune your tips and tails, which will reduce the chances of catching an edge, but will keep your side edges ultra-sharp for carving.
Grey stone is soft and works well for detuning tips and tails
Red stone is for polishing and light to medium edge clean up; can be used after filing to remove micro burrs.
White stone is for medium to heavy edge clean-up
Blue stone is extra hard for heavily burred edges
Toko Steel Wax Scraper Blade
Cleans up the burrs and scuffs on your edges.
Nate Simpson
Must Have
Familiarity:

I've put it through the wringer
Great for removing burs and rust from edges.
Matt Dombrowski
Gray Gummy
Familiarity:

I've used it several times
I like the shape and hardness of these stones. They feel easy to control in your hands while your using them and for me they work great as a rust remover and an edge tuner for finishing the edges after riding or sharpening.
Nicholas Dey
Works great, can't really go wrong. I will order a couple of different hardness next.
Bryan G.
Great little helper
Familiarity:

I've used it several times
I ordered the red stone. Once I started to use it to finish edges, I realized how great it was. It brings the surface to a consistent bright finish, and makes me look like a pro tuner (at least to myself!). Pound for pound, the best tuning tool you can buy.
Bill Mack
Red Stone
Familiarity:

I've used it several times
I got the red stone and have found it to be quite effective for both removing burrs and polishing. Great all around stone. Easily fits in my pocket for on the mountain tuning
Jake Etter
BLUE - Very hard
Familiarity:

I've used it several times
Perfect addition to the softer gummy for a final pass / deburring and detuning.
MAX L.
Rust-be-gone
Familiarity:

I've used it several times
I'm sorry that I have gone so long through my life without having one of these. Works wonders getting the rust off. I did notice, though, that I wore a groove in it after just one use. Something to think about. I got the red one.
Sam L
Bu-Bye Rust
Familiarity:

I've put it through the wringer
A must-have for your tuning kit. Works wonders on my edges. Smooth's them out and takes the rust away just like that.



Bye two, or three
Thomas C
Dashing and Daring
Familiarity:

I've used it several times
Gummy Stone, bouncing here and there and everywhere. High adventure that is beyond compare. The gummy stone should not be rare. Buy two so you have a spare.
William D.
Trusty Tuning Tool
Familiarity:

I've used it once or twice and have initial impressions
I used this gummy stone (blue) for the first time about a week ago and it works great for both removing rust and detuning. Definitely a handy tool to have in your tuning kit!
Stefan Locher
The Gummy is your friend.
Familiarity:

I've put it through the wringer
Can't do a great tune without a gummy. I use them for part of the polishing process and for detuning the tip and tail.



It is part of the process. I have my fresh gummies and I have my old gummies. As they wear out I pass them onto doing tip and tail detuning where they get the big V's in them.


greg
Gotta have one
Familiarity:

I've put it through the wringer
great for removing a little unwanted rust from your edges and for doing a little de-tuning. Everyone should own one of these if if they don't normally tune their own skis
John Pruitt
Unanswered Question
When to replace? I've been working a soft...
When to replace?

I've been working a soft (gray) gummy to the core and figure it's probably time to replace. How far should one take a gummy stone before replacing it? it's still got surface that feels gritty, so I figure why replace it? I mostly use to detune and it still seems to work for that.
Courtney Dean
Red Gummy Stone
Familiarity:

I've put it through the wringer
Good for de-tune after a sharpen. I mostly use it for touch up work and keep it in my pocket to get rid of burs-n-stuff while I'm riding.
Seth
Erase the rust
Familiarity:

I've put it through the wringer
Grab a red (or two) for a quick rust eraser and slight sharpen. If you're worried about messing with your edges, or don't have an interest in doing any substantial de-tuning/tuning, the red is where it's at.
Matthew Van Wagner
I bought the red and grey stones for my tuning kit. The best part about this stones is that they are small enough to fit in your pocket. I've definitely taken the grey one with me on BC trips to de tune tips and tails if needed. Usually my friends end up borrowing it. The red one is great for cleaning edges and doing a quick tune.
Andrew Wike
I bought the "red" stone. Bought it for detuning tips/tails on my skis and helping removing rust. This thing is nice and small, feels good in the hand and easily removes blemishes and detunes the tips/tails. I'm glad I got the red color. Yes it does make a little bit of a mess but all gummy stones do. I really do love this little stone.
J Bernhard
These little guys are awesome
After sitting all off season my skis had some surface rust and burrs from last season. Then I packed the skis on the roof and drove through the elements to Utah. Needless to say the skis didn't look so good when I got there. I picked up the red one and after putting in a little muscle into it this is what they looked like.. 3 year old Bacons and the edges look like new. Pretty awesome. Buy some!
Alex B.
Grab one of each color (hardness) and use them as a system to prep and maintain your edges. They make for a great recovery tool after poor care leaves little rust spots on your skis (red one).
Courtney Dean