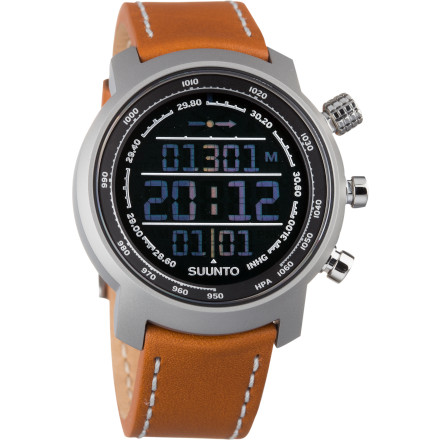 Colors

Detail Images
Anywhere.
Whether you're tracking your ski vert, trying to figure out what the clouds are up to, timing the miles of your marathon-training run, or choosing which way to head up the hiking trail, you can chart your course with the top-of-the-line Suunto Elementum Terra Altimeter Watch. Of course, this altimeter watch comes with basic time, date, and alarm functions; however, it also comes with everything else you could need to help you track your weather, altitude, and direction. Since this expansive functionality is all packed in a sturdy, well-crafted, stylish body, it's also a celebration of formal aesthetics.
The Elementum Terra's brain is the high-resolution, real-time altimeter, which gives you an accurate reading anywhere from 1600ft below sea level to 29,500ft. Basically, it works anywhere besides the moon. It stores data for up to eight separate laps, and it helps keep those laps on track with a built-in compass and a stopwatch. A barometer will keep you informed before the weather inevitably sours, but if your response is too push on into the teeth of the storm, the watch's water- and corrosion-resistant construction let you do it in confidence.
A stylish altimeter watch that monitors the changing weather
Tracks total ascent/descent for up to eight separate laps
Tracks direction on trails and in the backcountry
Monitors weather trends so you're not surprised by a deluge
Steel case isn't afraid of a little rainstorm, though
Stopwatch function ties time to distance
LCD sapphire crystal display adds luxury to roughing it
Backlight shines long after the sun has dropped below the horizon
Back light doesn't work
The watch is fine, but the backlight doesn't work. 200 plus bucks for a watch and the light doesn't work.
Matt Elliott
Positive is Perfect
Familiarity:

I've put it through the wringer
My wife purchased this watch for me with a positive screen and black rubber band for $310 on sale, awesome price. The positive screen is a must based on others reviews. I can see it perfectly and get complements all the time. I hike, ski and mountaineer in CO (my home state) and wanted a watch with an altimeter, compass, weather indicator, but without having to rely on GPS or charging the watch. Satellite connections and charging required by other watches can create problems while mountaineering. This watch is perfect based its reliable and highly accurate functionality. Plus, it's easy to use.
Mark A.
Purchased this watch as a gift for my father. It's a low profile watch with functionality, durability, reliability and strength.
take 20% off coupons from coupon-code.info
loooooper
Not what I was looking for
Familiarity:

I've put it through the wringer
I have the Suunto Elementum Terra and overall is a nice LOOKING watch. Things that I don't like: no seconds display (I should say that is a basic feature of a watch and is useful for the work that I am doing).

Also, is difficult to get the real altitude. I understand that the altitude value is related to the atmospheric pressure, but I noticed the altitude to jump from positive 380 m to negative 480 m and even over reading during several hours, without significant weather change.

I just don't know how would be able to find the true altitude when you are outdoor and don't have a reference point. Use the topographic map on your smart phone?...

Overall, I am not happy with my purchase. I would expect more from a watch at this price.
Norbert
Is this watch overpriced? I'm looking for...
Is this watch overpriced?

I'm looking for a good watch for my father who I partner with on several week long excusions a year. I have been using the Garmin Tactix and love it. Am I missing something here? It doesn't look like this watch does anything more than mine, but costs almost twice as much.
Jeremy Day
Best Answer
Hello Jeremy,

If you are looking for a great quality watch you are looking at the right company; however, it is a bit expensive but you surely get what you pay for. I have used all models of Harmon, Timex, and Tom tom and found not of them even come close to Suunto's technology. If you want to come up somewhere in between price, performance, and value, check out the Suunto ambit 2 sapphire with HR. Hands down the best watch I have ever know. It still has features I never new about. I keep calling the technical support line to help me figure out all it can do with movescount.com.



Check it out!
Aaron P.
If Jack Bauer wore a Suunto
I have had my Suunto elementum terra for a while now, and although it is not AS feature rich as some of the other models, it shines with both its craftsmanship and style. I get many compliments on this watch and wear it with pride. And yes, I could see Jack Bauer sportin' this badboy... GREAT Watch
Nathan D
VERY COMFORTABLE
Familiarity:

I've put it through the wringer

Fit:

True to size
YOU WILL LOVE THIS WATCH YOU MIGHT EVEN INVEST IN A DIVING WATCH. VERY EASY TO LEARN ALL THE GIMMICKS. IT WARES GREAT NO PROBLEMS AS OF YET.
Miro Antov
what is the size of the case for the...
what is the size of the case for the elementum terra altimeter watch?


Kent Bryant
Artur D.
Is it possible to order the amber rubber...
Is it possible to order the amber rubber wristband model with shipping to Canada?
stody
Hey Stody, thanks for your question. Unfortunately Suunto is a brand that can't be shipped outside the US due to vendor trade restrictions. Sorry for the bad news.



However if you have friends/family in the US, it is OK to purchase any of these products with an international credit card and have the product shipped to a US address. Then have your family/friend forward the package to you in Canada.
Joelle Raynes
William H.
Hello and thanks for the question.

I gave Suunto a call and they informed me that this watch is manufactured in Finland.
Lexi Dowdall
Suunto SUUNTO Elementum Terra Altimeter
Backcountry Video
simply unreadable
Familiarity:

I've used it once or twice and have initial impressions
I should have trusted the community on this - I just didn't think that a new watch could have such a basic flaw. I had the negative face, which may be the problem, but I simply could not read the dial unless lighting conditions were just perfect. Too little contrast. Shocked that Suunto would ship a product with a flaw this big. I really wanted to love this watch.
marty cagan
ooook ive been wearing a suunto since they 1st came out and have always loveeeed the watch until i bought this 1.4 the prise of this watch ud xpect more out of it.there is no storm warning on it,u cant see the weather changing,i had the core b4 this one and wore it till the yellow was gone lol .do u research on this watch b4 u buy n hey if ya wanna buy mine let me know
Dick Todd
The Elementum Terra Overview
KEY FEATU RES
_Time, date, alarm
_Altimeter
The Elemetum Terra is an incredible watch that is easy to use and provides the following information. It also looks incredibly cool!!
_Barometric pressure & trend
_3D compass
_Chronograph
_Cumulative ascent/descent
_Log: last 8 ascents/descents, max. altitude
_Backlight
Patrick "Packy" Hoyt
Hi, would like to check what is the longest...
Hi, would like to check what is the longest duration which the watch can record for the culmulative ascent/descent function?
Melvin
From the user manual, "The measurement stops and resets automatically when either the
maximum log duration (48 h) or the maximum ascent/descent value (19 800 m /
65 000 ft) is reached."
Jerimy Arnold
"The measurement stops and resets automatically when either the
maximum log duration (48 h) or the maximum ascent/descent value (19 800 m /
65 000 ft) is reached."
Patrick "Packy" Hoyt
The Core has a screen lock - does anyone...
The Core has a screen lock - does anyone know if the Elementum series does? Haven't seen anything about it anywhere...
Rob
Suunto lists "button lock" as a feature. I assume that's the same thing.
Dave Marcus
Best Answer
Yes...you can lock the buttons by pushing the top two buttons at the same time.
Patrick "Packy" Hoyt
Any one have an idea on the battery life?...
Any one have an idea on the battery life? ... i have several solar and auto-wind and like the watch but not too thrilled about having to go back to changing a battery...
Rob
Best Answer
Suunto says about 9 months with average use, probably 9 months to a year with general timekeeping duties. The battery change is going to be a little more involved than say the Core or Vector, which can be done in the field. The Elementum will either need to go back to the dealer or a jeweler, or sent back to Suunto for a battery change. The caseback for the Elementum has four Torx screws holding it, rather than screwback, as other Suunto models.
Christopher Minguez
The battery lasts around 18 months. I just had a battery replaced at a jewler...the charged my $20 and it took about 15 minutes.
Patrick "Packy" Hoyt
Don't go hiking without it
Great design and quality.

This watch really helps you to measure how much altitude you still have to do. It records up to 8 trips. If weather conditions are stable the altimeter is very precise.

Only negative point is, that the manual is very short. most of the functions you have to find out for yourself by pressing the different buttons... for this one star less.
dqt
Does the rubber band come with the positive...
Does the rubber band come with the positive face?
Jay J.
Not without a watch strap swap, I'm afraid. Backcountry carries the other straps (rubber, leather, steel) to swap or change strap types.
Christopher Minguez
Best Answer
It does beginning April 2012.
Patrick "Packy" Hoyt
First off this watch is one of the nicest and most luxurious watches I have ever owned. With that being said it is rugged and ideal for the outdoorsman who works hard during the week and looks to escape to the outdoors on the weekends.

The Terra is one of the easiest to you use from the Suunto collection. It has two sensors in it, one for pressure and one is an electronic compass. The pressure sensor will give you the barometric pressure and altitude data. The compass is easy to access by one push of a button. Another great feature is the two time zones ideal for someone who travels a lot.

This watch is a must have for anyone who likes a little luxury mixed with great functions for outdoor use.
Patrick "Packy" Hoyt