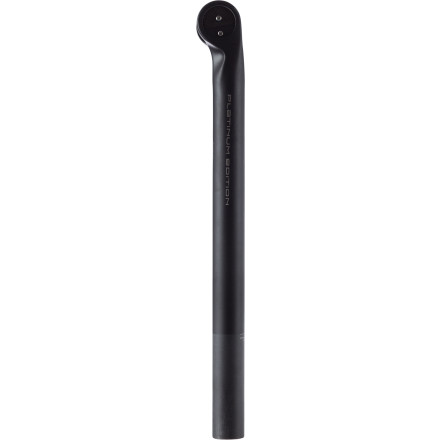 Colors
The cream of the crop.
We've been aware of Storck's carbon frame manufacturing prowess for some time now, but the release of its new carbon fiber componentry takes it all to new heights. Take the German brand's Monolink MLP135 Platinum Edition Seatpost, for example. Not to be confused with the already ridiculously lightweight MLP150, the MLP135 Platinum was built to keep you comfortably supported on your road or mountain steed using its durable, ultra-sleek design, which just so happens to weigh in at a scant 135 grams.
Storck constructed the MLP135 Platinum Edition seatpost using a durable unidirectional carbon fiber that's proven itself time and again in Storck's carbon products. The minimal design provides a stiff, lightweight seatpost that's as well suited for the dirt as it is for the road. As mentioned, it boasts an exceptionally low 135 gram weight, and its innovative single-bolt clamping interface provides a secure hold on your saddle's monolink rail system. For those whose saddles feature standard rails, Storck provides Monolink Technology Adapters that easily convert the post's clamping system to work with standard dual-rail designs.
The Storck Monolink Seatpost MLP135 Platinum Edition Seatpost is available in a 400mm length and in a 31.6mm diameter. The Platinum Edition comes in the color Matte Black. Please note: The MLP135 is intended for monolink-equipped saddles. Storck's Monolink Technology Adapters are sold separately.