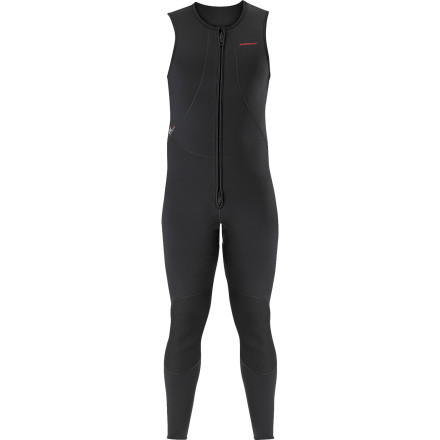 Colors
A john-style 3mm wetsuit for your raft, kayak, or stand-up paddleboard needs.
Whether you're on an all-day river mission or playing in the whitewater park, rely on the comfort of the the Stohlquist Men's Rapid John 3mm Super-Stretch Wetsuit. Offering just-enough warmth and mobile stretch, this sleeveless wetsuit keeps you out on the water longer.

3mm four-way super-stretch neoprene john supplies superb thermal protection and mobility
Waterproof glued and blind-stitched seams throughout provides maximum warmth while you kayak, raft, or stand-up paddleboard
Heavy-duty, non-corrosive entry zipper and relief zipper with elastic zipper lock for convenience when you need to go
Extra wide arm holes for added mobility
Integrated SupraTex knees and seat ensures added durability and abrasion resistance
Fits Well - Have Yet to Use In Water
I have yet to use this wetsuit in the water - seeing as the lakes are still frozen - so I will update this review once I have had a chance to put it through the paces.

Based on just trying it on, the build quality looks good and it fits me well. I'm 6 foot, 175lbs with an slim/athletic frame and the Large is a good fit. I tried a medium but it caused a lot of pressure on the hips and back when sitting. I intend to use this for a cold weather canoe trip and the large arm holes should be great for paddling.

One thing to note on the medium sizing. The Stohlquist website lists two different medium sizes (MD and ML) where as Backcountry only has one: "M". The medium I received was the "MD", which is the smaller of the two. It's possible the "ML" fits better, but I don't know if Backcountry carries that size. May be worth chatting with a backcountry rep if you are on the fence.
Will T.
Works great with knee brace
Familiarity:

I've used it several times
I got this to wear over my knee brace when I water ski because another pants item was too large. I got a large. I am 5'11" and a healthy 205 with large thighs...this Large suit fits great and though it takes an extra minute to roll over the knee brace it rolls over an works well...zippers up nice with a lower zipper opening for relieving onesself appropriately, a nice feature...extra reinforced knee and butt area...this is a quality product that has fully withstood a couple of 40mph crashes...nice buoancy up top too...You will be happy with this..
Bode Mitchell
I found the wet suit to be just what I was looking for in for Spring time kayaking. The weather in Michigan had been the coolest in decades with frost occurring as late as May. I'd been looking at my kayak hanging on my garage wall since last August and wondering when the weather would finally warm up. This purchase allowed me to get out kayaking weeks earlier than I could without it. I'll be kayaking into late October when the frost returns. again. The "Farmer John" look won't win any fashion awards and my daughters' response was "Yuck", but the big arm holes prevented any chafing. I just put on a sweatshirt or T-shirt and the fashion problem went away.
Scott Welliver