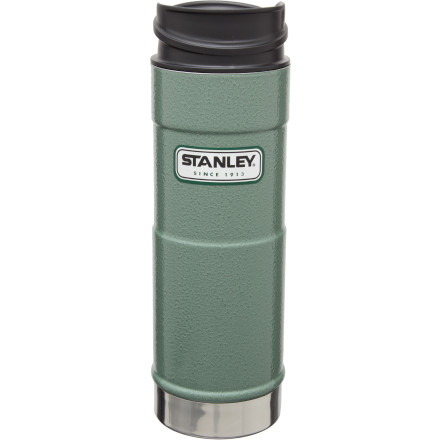 Colors
One handed convenience for slow sippers.
The Stanley Classic One Hand Vacuum Mug provides complete convenience for those who want to get up and go with a cup of coffee in hand. Its vacuum-insulated body keeps hot drinks hot for 6 hours and cold drinks cold for 24, and the thermal lid features a push button so you can take a sip while driving without having to let go of the steering wheel. Stanley built this cup out of stainless steel that's naturally BPA-free and won't rust overtime.
18/8 stainless steel mug
Vacuum insulated body
Thermal lid with push button
Awesome Quality
Familiarity:

I've used it several times
I am always looking for quality coffee mugs. I am obsessed with the ones that can keep your coffee hot for hours. I came across this one and had to have it! Of course, it didn't disappoint. This is a great mug and has successfully kept my coffee not just warm but HOT for hours! It is easy to use and drink out of and is the perfect size. I also love that it is dishwasher safe!! That makes it so much easier to clean. And I am sure, knowing Stanley, that this will be a super durable mug and last me forever!
Sarah V
Love it
Familiarity:

I've put it through the wringer
This is my second mug. Still have the smaller one and they are both bomb proof!
RAWstin
LOVE THIS MUG
Familiarity:

I've put it through the wringer
My wife and I have a few of these mugs and they have proven to be extremely durable, easy to clean, and keep our coffee nice and toasty. We like them so much we've purchased a few as gifts.
Matthew Kiel
Classic thermos performance.
Familiarity:

I've used it once or twice and have initial impressions
My quest to find the best to-go mug has made me feel a bit like Goldilocks and the Three Bears, except.... instead of porridge, chairs, and beds - I've got to-go mugs.

I love me a good Hydroflask, and have had one of their thermos products for 6 years now. It's worked great, but the new flip-top lid drives me CRAZY because it leaks coffee at random and the old screw-top lids are great for keeping things sealed, but hard (and a shade dangerous) to unscrew when you're trying to drive. Consequently, this has driven me to search for a slightly more leak-free mug, but one that's still hardy AF.

I ended up with the Stanley Classic One Hand mostly due to the fact that I have a 20-year old (at least) 32-oz Stanley Thermos that was my grandfathers, and it's a truly outstanding thermos in the sense that it keeps my hot soups and beverages real nice and hot, but it's just enormous (and I don't drink that much coffee). Hence my choosing the 16-ounce. This thing is way, way durable and touts a classic Stanley look and performance. And, true to its name, I'm able to operate the trigger and mug with one hand. It's way leak-proof, and keeps my coffee hot (even when I forget it in my cold car for 2 hours). All in all, I'm way pleased with this thermos. It's really quite awesome.
Monique Seitz-Davis
Liked so much, I had to buy another.
Ryan Kiel
i believe this is my 4th stanley bottle! i have all different sizes and this one is perfect for daily use. and boy does it keep my coffee/tea HOT! I love the use of the lid with the push of a button. Great function and durability as always!
Michele V
Favorite Mug
Familiarity:

I've used it several times
This mug is perfect for travel, work, school, or commute for adventures. Easy to clean, stays hot or cold, and looks great!
Joe C
Daily Mug
Familiarity:

I gave it as a gift but have feedback to share
I gave this as a gift, and have only been receiving good feedback since! Classic Stanley quality- it's almost too good at insulating your bevies. The trigger has been working seamlessly- doesn't get stuck, and makes for easier traveling. Plus the thing is super durable- keeps its shape, doesn't get bent. All in all, definitely would recommend it- Stanley does it again!
Kayla Weiser
Great Daily Travel Mug
Familiarity:

I've put it through the wringer
Keeps your coffee warm all day and is a good diameter for your hand grip! Trigger is a little aggressive to push each time you drink, but you get used to it quickly!
Alicia
Solid travel mug
Familiarity:

I've used it several times
Use this every day for coffee. Keeps it hot for hours. Coffee will still be warm at around 7 hours. This is without prepping the mug with boiling water as recommended. I've also tried ice and could still hear it clinking after 12 hours. Not necessarily a controlled experiment, but still speaks to the insulation. There is slight, but noticeable, heat leakage right below the lid. Still, much less of an issue than other mugs I've tried. Can't have perfect insulation.

The pour button mechanism is easy to operate for one-handed sipping. No issues with leaking in my pack. The spring seems stiff enough. The lid assembly does come apart for cleaning. I hand-wash both parts. Don't put the bottom in the dishwasher. Overall, it's a quality product. I definitely expect it to last for decades.
Dan
Blah, it's alright
Familiarity:

I've put it through the wringer
So Yetti keeps cold better than this, yet this keeps stuff cold very well better than hot, which I purchased this for. Still on the hunt for ultimate hot bev holder. Hit me with your fav!
Robert H.
GREAT Product!
Familiarity:

I've put it through the wringer
I am absolutely in love with this mug. I have never had the top leak or spill on me at all since I purchased it over two years ago. This Stanley mug keeps my coffee warm for 7-8 hours, I am impressed every time.

Lost my lid for it, will be ordering another one ASAP.

Seriously... buy this mug. It will not disappoint!
Jamie M.
Best travel mug I've owned
Familiarity:

I've put it through the wringer
Bought this travel mug/thermos last Fall and it keeps drinks hot very well, has a really good "trigger" system for taking a sip, and hasn't leaked on me yet. I have it in my pack all day on winter trips. The lid comes apart with a great design and cleans easily by hand. Super solid body.
Kevin Taylor
Love this mug
Familiarity:

I've put it through the wringer
Easy cleaning, good size, keeps stuff cold or hot for a long time. DURABLE. Perfect. And cute blue color as well. DO NOT PUT MAIN COMPARTMENT IN DISHWASHER.
Leah B.
Hot coffee alll day long
Familiarity:

I've used it several times
Solid craftsmanship mixed with classic style, this mug gets 5 stars. I gave this mug to my dad as a gift and he loves it. Says his coffee stays hot for hours and he no longer has to worry about it spilling in his car or on his shirt - the push button keeps the liquid sealed away until you want to take a sip. The design is handle-free so there's no need to worry about the mug not fitting in a cup holder.
Erika Schultz
And 7 hours later my coffee is still a nice warm temp. Not as hot as it was in the beginning but still a manageable temp. (But who really sips on coffee this slow?) I tested this out to see for myself and it works. I can't even imagine how an ice cold beverage will stand in this mug- probably all day long!



I also really like the button you push while you sip. Kind of controls the amount you pour into your mouth and it always locks back up once you release. No twisting or sliding of any sort to close the spout. No leaking either!
Jaclyn Richards
will this fit securely in a water bottle...
will this fit securely in a water bottle cage on a bike?
Carlo Ritschl
Best Answer
If it does, it will get all scratched to heck from the cage. And it will leak like crazy while it's in there.
David Thiel