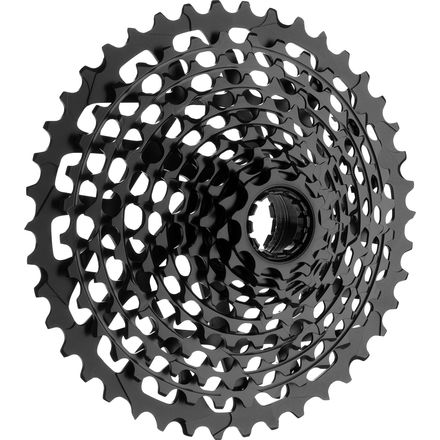 Colors

Detail Images
Tougher than its older sibling.
You'll notice that the SRAM X01 X-Glide Cassette has a dark, matte finish not typically seen on drivetrain parts, and definitely not seen on the XX1 cassette. SRAM calls it JET Black, and it provides greater corrosion resistance across both the steel and aluminum cogs that make up the monster 10-42-tooth cassette.
JET Black finish
Compatible with XD Driver hubs only
Great!
Familiarity:

I gave it as a gift but have feedback to share
Put this on a bike set up from pre-eagle days, have had no problems with it and works much better than the older cassette that had seen better days. Was used just as a replacement, very happy with it!
Sheila
Expensive but worth the cost, last for a long time with no skipping.
Jason True
Is there any advantage to getting this X01 cassette over the XX1 XG-1199 cassette, aside from minimal weight savings on the XX1 (which I presume is the lack of the finish coat on that unit)? They both appear to be the same basic design (single steel unit with aluminum 42-tooth cog). Should the X01 have more longevity in theory because it has a finish coat on it?
Ruben G.
Hey Ruben, the two cassettes are going to be pretty similar - the primary advantage of the X01 XG-1195 cassette over the XX1 XG-1199 cassette is going to be the difference of price. The longevity is going to be relatively similar between the two. Give a shout if you have any other questions - my direct line is 801.204.4547 or can email me at cojohnson@backcountry.com. Cheers, Connor
Connor Johnson
Yes the xo1 has the slick anodized finish that may be a few grams more weight but I have test both and I feel the black XO1 is better!! That is the only difference, cassette is cut from one chunk of tool steel, the largest cog alloy for weight savings and replaceable.
David W.
If I am replacing an existing XG-1195 X01 cassette, do I also need to replace the XD Driver body?
Alex E.
Hi Alex,



You can use your existing XD driver with this new cassette. Give us a call at 888-276-7130 if you have further questions!
Katie Harker
Will this cassette (SRAM X01 X-Glide Cassette - XG-1195) fit on my SRAM Roam 50 27.5" Rear 6-Bolt Disc Wheel XD Driver QR? Thanks you.
Alex Tapangan
Hi Alex, yes this will fit on your Sram Roams with the XD driver.
Scott Gartman
classy
Familiarity:

I've put it through the wringer
everyone is getting that new new. This is one of those items that is now coming stock on most builds and its for a good reason. get rid of that front derailleur and make the upgrade already, you can muscle the ups and still have that fast gearing for the down. shifting problems are minimized by just having one derailleur.
Evan Grott
It's time to get with the times
Familiarity:

I've put it through the wringer
The perfect 1X11 cassette to update/build out your next bike.



I am running a 32T Raceface direct mount chainring with the 10-42t cassette and find it a perfect blend for most of the riding here in UT. Down the road I will be upgrading to the XX1 1x12 Eagle drivetrain, but for now this has been an exceptional upgrade from the older 2x10 I was running before.



I've put about 700 miles on this cassette and have not noticed any drastic wear and tear (just be sure to keep lubing that chain!)



If you are looking to convert to a 1X, replacing your old cassette OR toying around with building a custom bike contact me directly at 801.204.4555.



It's time to get with the times - so hit me up to help you through the process.


yourDisplayName
Crush the Up and Down
Familiarity:

I've used it several times
This cassette has the ideal gear ratio paired with a 30T chainring for the type of riding we have out in Utah and was the perfect choice for my new Pivot Mach 6. Long climbs and long descents means you need a good low granny gear and a strong high gear. Plus the JET Black finish matches my Stealth Black frame nicely.



Big thanks to Joe Bolton in our Retail Store Bike Shop for getting my new Mach 6 put together. If you are ever in Salt Lake City definitely stop by our Retail Store to check out their bike selection and visit Joe (2607 S 3200 W, Suite A, West Valley UT 84119). Contact me with any questions about this cassette, especially if you are interested in custom building a new mountain bike.



Kyle L. - Expert Gearhead - klivingston@backcountry.com - 801-736-4337



Cassette - SRAM XG-1195 Cassette - 10-42t

Wheels - Industry Nine Enduro 27.5in Wheelset w/Lime Green hubs

Frame - Pivot Mach 6, Large Stealth Black/Green
Kyle Livingston
Makes so much sense
Familiarity:

I've put it through the wringer
Sure you might have to swap a handful of parts to make your drivetrain 11 speeds, including finding an XD driver for your current rear hub. But competitive cyclist has plenty of people to figure that out for you. And if you live around Salt Lake City, come see me in the retail store and I will even help you swap all of the parts. These cassettes are super cool; made from one piece of aluminum, shed mud way better than their competitors, and the whole cassette threads onto the driver which just make so much more sense than stacking on cogs and tightening down a cap to hold them all in place.
Joe Bolton
I am riding a recumbent trike made by Inspired Cycle Engineering (ICE) with a SRAM 11-34 9 Speed and a and I need a bigger granny gear to get it up steep hills easier. Will this cassette work with my current components? I have a 3 ring chainset and am not opposed to changing to a 2 ring if necessary.

The components on my trike are as follows:

Front derailleur SRAM X7

Rear derailleur SRAM X7

Shifters SRAM X5 Grip Shift

Chainset Truvativ FireX 22/32/44

Cassette SRAM PG950 11-34 9 SPEED

Gear range 18.5" - 114.3" (1.5m - 9.1m)

Chain YBNS9C




Roger Lintz
No, this is 11speed, not compatible with any of your current drive train.
ERIC L.
Complete your 1x11 drivetrain!
Familiarity:

I've put it through the wringer
SRAM machines their X-Dome cassettes from a single piece of chromoly steel with the largest cog made from aluminum. The shifting is very crisp, and the JET black finish is bitchin!
Jacob Popek
X01 all the way
Familiarity:

I've used it several times
I chose the SRAM X01 X-Glide XG- 1195 cassette on my Santa Cruz 5010. Couldn't ask for a better trail cassette. Shifting is crisp and clean. X01 is the way to go. Give me a shout if you want to talk shop.
Eric Watford
It works great, the color is awesome too
kguillen
Works well
Familiarity:

I've used it several times
I just replaced a XX1 X Dome with the X01. They both weigh in at the same 268 g. It works great and shifting is crisp. The black looks good too.
Shawn Craig
I'm currently running a SRAM XG-1180 CASSETTE - 11-SPEED, am I able to swap out to a SRAM X01 X-GLIDE CASSETTE - XG-1195 without any issues?
Duane H.
Hey Duane,



You can swap that out no problem!



Let me know if you have any other questions.



Ben

brabinowitz@backcountry.com

801-746-7564
Ben Rabinowitz
Is it necessary to swap out the freehub body when upgrading from 10-speed cassette to the X01? If so, do you sell those? In my case I'm going from the X0 setup on a 2013 Stumpjumper with the stock DT Swiss cassette body.
Jon F.
You would need to swap out the driver body for the XD version, item # DTS0035
Shae
low miles
Familiarity:

I've put it through the wringer
I'm only getting around 600 miles per cassette here in Pisgah National Forest. I've tried replacing chains and chainring after about 300 miles, but doesn't save the cassette. I've figured the cost to run the X01 is just shy of a dollar a mile. Do what you can to stay out of those granny gears, maybe you'll get a little more life out of it.

The 10-42 is about the same range as you get with a 2x10.

It's a great set up, love it, but expensive.
Mosemancr
Great prices products, fast shipping
Heavy duty cassette, the best 11 speed casssete.
Jorge Santiago
Strong and light!
Familiarity:

I've put it through the wringer
I previously had a 2x10 XX setup on my current bike (2013 Orbea Occam c 29) but decided it was time to join the 1x11 crew. I haven't been disappointed at all. The shifting is actually better and with it no longer needing a front derailleur due to the enormous range (10-42) I dropped about 1/2lb. I have been a fan of SRAM since the XO 9spd days and with each new generation I continue to be pleased and satisfied with their innovations and quality. Another cool tidbit of info is that this cassette and the XX1 work very well with the new Shimano 1x11 and 2x11. Both the XO1 and XX1 cassettes are lighter and more durable than the new XTR as well as offering more range. I had a good friend of mine install one on his new Yeti ASR C 29r with the new Shimano XTR 2x11 and not only did it shift better but he likes the added top end and low end gearing.
Erik O.