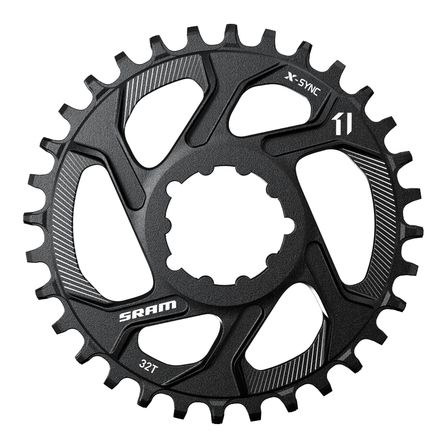 Colors
See for yourself.
SRAM's new X-SYNC chain profile generated quite a bit of buzz when it was introduced, and for good reason. If you've been wondering what all the fuss is about, take a chance on change and add the X-SYNC Direct Mount Chainring to your one-by arsenal.
The practicality of X-SYNC's easy interchangeability cannot be overstated; if your next XC race is full of flat, fast laps, but you decide to try out a weekly race series at your hometown ski mountain, the ability to swap out your chainrings for the most appropriate gear range is incredibly useful. You'll be able to do that with X-SYNC, and you'll also gain a chainring with tall, squared teeth that grip your chain with precision while shedding mud and debris quickly on rougher trails. An aluminum spider anchors the entire design, reinforcing it for spill-proof durability without an sacrificing its low weight.
Quickly adapt your chainring to changing terrain
Tall, squared tooth profile sheds mud and holds tight to chain
Aluminum spider increases structural integrity
Direct mount!
Familiarity:

I've put it through the wringer
Well built, easy install, and very dependable. No complaints. Installs on SRAM direct mount crank arms with 3 bolts, can be done in under 5 minutes. 10/10.
Sunn Kim
Awesome ring
Familiarity:

I've put it through the wringer
I was tired of feeling like I was having heart attacks on my climbs. So I bit the bullet on paired my 42T cassette with this 26T chainring. Yes, it is heaven. I will never go back to a larger ring. Plus this ring is very durable. Also nice.
Grant
Works Great
Familiarity:

I've put it through the wringer
Great design that keeps your chain on without the use of a guide. I love the look if the direct mount ring.
Chad Cordell
Unanswered Question
Hi, I have a Trek Procaliber with the PF92 bottom bracket. I'm wanting to go to a 30 tooth. What offset would I want?
quinn M.
If I have a 1x11 GX-1000 crankset, PF30, 28t on a Specialized Comp 6fattie, which offset do I need to swap the 28t with a 32t? The chart above confuses me because I don't see the GX crankset in the options and I'm not replacing a spider and chainring, just replacing the stock DM chainring. Thanks!
Steve A.
Hey Steve, your Specialized Stumpjumper 6Fattie is going to have Boost hub spacing, so you'll need the 3mm offset for the Boost spacing! Let me know if you have any questions - my direct line is 801.204.4547 or you can email me at cojohnson@backcountry.com. Cheers, Connor
Connor Johnson
Love buying from backcountry
Best pricing shipping and customer service out there I ordered this chain ring but I had ordered the wrong offset even though I installed it on the bike they gave me a full refund and sent me what I needed I am never disappointed when dealing with backcountry for my cycling needs and they also have really quick shipping included with your purchase
rick N.
Direct mount is a huge improvement over spider style cranks. I have broken many cranks at the spider, but with this it makes that issue a thing of the past. This chain ring has great chain retention, and was very easy to install.
Braydn Tanner
Good but...
Familiarity:

I've used it several times
It is a chainring, it does what it is supposed to do well. I consider myself an ok home mechanic, I went to change the chainring, such a pain compared to the previous SRAM 4 bolt system where you remove 4 bolts, slip ring over crank, put on new ring (adjust chain if necessary) and tighten four bolts. With this you must remove the crank, can be daunting to a newbie, easy to loose washers or put them on incorrectly. Now the worst bit, trying to remove tightly treaded bolts when the spindle is very close to them. It came with my Canyon Spectral, would not buy it, back to 4 bolt design for me.
Padraic B.
Stiff and quiet
Familiarity:

I've used it several times
The direct mount is simple and easy to install. The ring is stiff and keeps things quiet while pedaling. So far I have not dropped a chain due to the narrow/wide design of this chain ring
Greg E.
Narrow-wide
Familiarity:

I've put it through the wringer
The SRAM 1x11 system is outstanding. I love the simplicity of only shifting the rear derailleur along with reduced weight and accuracy. The narrow/wide profile of each tooth mates perfectly with the XX1 chain and helps to hold the chain tight. Lessening your need for a chainguide. The X-Sync Direct Mount ring works flawlessly and is highly recommended to complete your 1x11 group.
Brett Cole
My 2016 Specialized Stumpjumper Carbon comp has Sram S-1250 PF30 crank. I'm converting to 1X with the X01 cranks and this direct mount front chainring. Do I need the 0mm or 6mm offset?
Thanks.
-Ron
Ron
For X01 cranks, if you have a GXP bottom bracket you will need 6mm offset. If you have a BB30 or a PF30 bottom bracket you will need zero offset.
Driftwoods
There's a big chart up there with all the sizing info. For PF30/BB30, X01, any chainring size, use 0mm offset.
David M.
X-SYNC Direct Mount Chainring
Familiarity:

I've used it several times
Great chainring! Works great, really tough, and looks awesome.
Tj Johnson
Light weight.
Familiarity:

I've used it several times
Its amazing how much lighter this thing is compared to the spider. Once all the chainrings on my other bikes wear out I will only purchase direct mounts. Very stiff and easy to install. Would recommend!



Pic of ring installed. Looks so clean!
Jonathan L.
Unanswered Question
I have an X1 1400 crankset on my 29+ with boost. I want to upgrade to the x-sync direct mount chainrings. My bb is a pressfit gxp bb92 so it makes sense to order the ring for boost with a 3mm offset however I have heard the sram reference chart may not be accurate. I want to preserve my 52mm chain line. The Thanks.
Joseph T.
LIGHTWEIGHT, NO FLEX
Familiarity:

I've put it through the wringer
I like that this chainring does not require a spider. It almost feels as though you are more connected to the wheel. Very solid and any flex is imperceptible.

Watch your chainline. Zero offset was recommended for my setup, but the 6mm offset best preserved the original chainline. (My setup is X01 with BB30)
Adam Brown
No need for a spider
Familiarity:

I've put it through the wringer
Get rid of the spider on your Sram crank and install a direct mount. This set up is lighter and extremely stiff.
Brett Cole
How long does this chainring last before it gets the 'fingernails down the chalkboard' grinding of the standard xx1 chainring?
Howie
Hey Howie,



This chainring will last about the same time as the XX1 chainring. As for the "fingernail down the chalkboard" I'm not sure what that would be caused by other than a dry chain, or dirty drivetrain possibly.
Dan Be
It is normal to hear the chain coming off the chainring. Frankly it is a bit of a grinding sound. The narrow-wide design holds the chain on pretty tight. (I have never dropped a chain.) My 1X chainrings do not show significant signs of wear, even at +1,000 miles.
Adam Brown
Replace and reduce
Familiarity:

I've put it through the wringer
When (or if) your XX1 or X01 ring wears down, drop some weight and boost the aesthetics of your ride with the X-Sync direct mount ring. It mounts directly to the arm on any X01 and XX1 crank, and some previous generation X0 cranks. If you have a BB30 crank, you'll need the 0mm offset variant, and if you have GXP cranks, the 6mm offset is the ring for you. If your bike has the newer Boost 148 rear axle spacing, you'll want the 3mm offset ring.
Jon J
One of he best on 1X11 chainrings
Familiarity:

I've put it through the wringer
The ultimate solution for anyone that wants to run anything smaller then a 30 tooth chain ring on their Sram mtn crank. SRAM has specifically designed a wide-narrow tooth profile that keeps the chain really snug, allowing you to leave your chain keeper in the garage. I simply love this chain ring.

If you have any questions on this product, I will be happy to help you out. I am usually in the office Monday/Tuesday/Thursday/Friday 11:30am-9:30pm you can request me on by phone (1.888.276.7130 ext. 4646) during those hours. You can also send me an email @ dmyers@backcountry.com at any time.


Don Myers