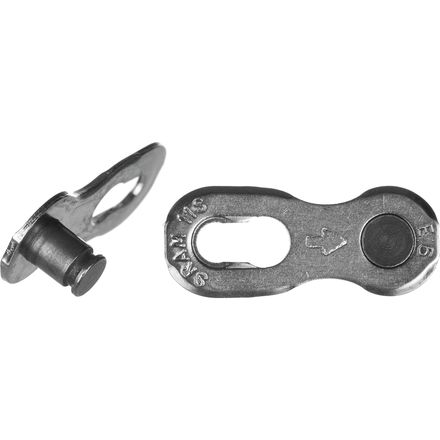 Colors
The strongest link.
The SRAM Powerlock Link is key for shortening your chain or trailside maintenance. This one works with SRAM' 11-speed chains and is compatible with mountain or road.
11-speed only
For regular maintenance or mid-ride repairs
SRM003A SRAM Red 22 Hydraulic Rim Brake/Shifter
Great to have in your repair kit
Familiarity:

I've used it several times
these are a must have to take out on the trail with you. easy to install on the trail, just make sure that you have a chain breaker tool on your person. these can make a bad day much much better!
JT Nebeker
Do not leave home with out a master link
Familiarity:

I've put it through the wringer
An essential piece of gear to have for any type of bike! You would not catch me dead with out one in my take away kit!
david
Super good to have!
Familiarity:

I've put it through the wringer
I have spares of these for 9, 10 and 11 speed chains. They work on Shimano and SRAM equally well. They are dependable and make getting out of the woods much easier when stuff hits the fan.
Ben Brown
Placing the master into servitude ...
Familiarity:

I've used it several times
Yeah, sure ... the proper way to repair a SRAM chain is with a new pin, but sometimes you don't have that option. This master link will help you get back on the road if you break a chain mid-ride. Not the easiest thing to open and close without a pair of master link pliers (like the Park Master Link Pliers item # PAR004Q), it can be done ... and will help prevent that dreaded phone call to a loved one to come pick you up.
STEVEN SHEFFIELD
Great
Familiarity:

I've put it through the wringer
SO glad they makes these. Way nicer than having to fuss about with a Pin. I also feel more comfortable using this over a pin.
johngchrist
I carry one in my keg with tire/tube, levers, C02, etc. These can be a live saver out on the road or trail. These are great to have around for bike builds, or if you find yourself in a pinch.
Todd
Easy to Use in a Pinch
Familiarity:

I've put it through the wringer
These are great for doing quick repairs and makes taking chain off to clean a breeze. Thanks Sram! Use degreaser and a pliers if you can't get off.
Louis P
Just get one. Throw it in your bag. and the next time you snap a chain with your piston like legs on your quest to be King of the Mountain, you can quickly throw this on and be back on your way to terrorizing the country side.
Braydn Tanner
Don't Find Yourself Without One
Familiarity:

I've used it once or twice and have initial impressions
This is one of those repair items that pretty much doesn't matter until it really matters. You don't want to find yourself with a broken chain with no way of fixing it, even if there is a relatively easy way back to the trailhead. Whether it be my trail pack or fanny pack as pictured, pretty much an essential for anyone riding with an 11sp drivetrain.
Connor Johnson
Handy Spare
Familiarity:

I've used it several times
I use shimano chains, so I don't have much use for a power link. However, I do keep one of these in my tool kit and Camelbak in case of emergencies. They work great in a pinch.
Marc DiVall
No matter how long or short the ride I always make sure to carry a couple of these in my pack or saddle bag. I carry them for the same reason I carry a tube and CO2 - to keep a great ride from turning into a long walk.
Aaron Bender
Ride Saver
Familiarity:

I've used it several times
This is a cheap insurance policy. If you ride SRAM 1x11 you should have one of these with you on every ride. It's easy to install, and most multi-tools have a chain breaker.
Jacob Popek
wish it were removable
Familiarity:

I've put it through the wringer
Great for what it is, but be warned that this link is not removable. You can't just pop it open if you ever need to remove your chain. It requires a chainbreaker to remove.

Apart from that, it's a fantastic part. Everyone should carry one of these.
Mike Hulme
Don't leave home without it
Familiarity:

I've put it through the wringer
If you've ever been stranded due to a broken chain you know the frustration and anguish that comes with it. Especially if it can all be avoided by spending a few dollars and carrying one of these in your pack/pocket/saddle bag. It's super easy to install, only a chain tool is required to remove the broken link then simply slide both pieces of the link into the ends of the chain, connect them, and apply tension to snap it in place. I recommend having one of these on every ride.
Brock Price
Can save your bike ride from disaster
Familiarity:

I've used it several times
If your chain snaps on a ride and you don't have a spare powerlink then good luck. Even if you have a chain breaker in your arsenal to take out the broken links then good luck putting the old chain pin back into the the chain in the right place. It could take you a while to get it right and you might even do more damage to your chain. these links are super easy to use and can get you back on your ride so much faster and with way less effort.
Joe Bolton
Hopefully you never have to use it
Familiarity:

I've used it several times
One of those items you keep in your pack and hopefully never have to use. Good insurance just in case your chain snaps a ways from home or your ride. Easy to use and take up as much space as a chewed up piece of gum. Cheap enough to pass out good karma on the trail if needed.
Kevin K
Like a fire extinguisher.
Familiarity:

I've put it through the wringer
Better to have it and not need it than need it and not have it. A safety blanket if you will. Always have one in case you get a chain break or have a mechanical and need to break your chain on the trail.
Perry Hall
Unanswered Question
Is this the removable/reusable kind? Will it work on a Shimano 105 5800 11-speed chain? Thanks.
Tom H.