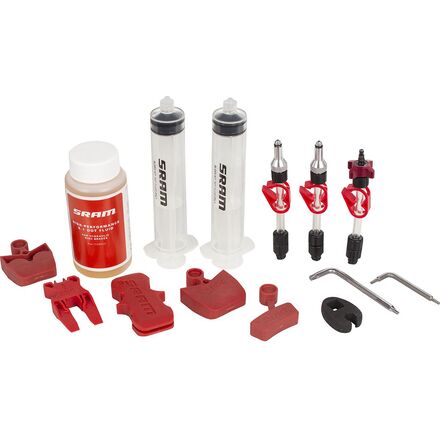 Colors
Standard Disc Brake Bleed Kit
When your SRAM or Avid brakes just don't feel like they used to, reach for the SRAM Standard Disc Brake Bleed Kit to give your brake lines some love with a fresh pump of DOT 5:1. Critical for keeping things working well, this kit is intended for SRAM and Avid brakes, but will not be your friend on Shimano brakesets, swapping your DOT 5:1 to Mineral Oil (and vice versa) won't fare well on the trail and leads to very unhappy brakes.
Equipped with everything you need to bleed your SRAM brakes, this kit contains two bleed syringes with fitting/clamp tubes, two compression ferrules and barbed tubing inserts, four different bleed blocks, a 3/8in drive 8mm crawfoot tool, DOT 5:1 brake fluid, and the ever important instruction manual so you do the job right the first time around.
The kit you need for bleeding SRAM brakes
A must have for home mechanics
Kit contains syringes, tubes, ferrules, barbed tubing inserts, bleed blocks, crawfoot tool, bleeding edge tool, bake fluid and instruction manual
Unanswered Question
Will this work for code?
yourDisplayName
Got to Have it
Familiarity:

I've put it through the wringer
This kit includes everything you need to service your brakes. Save some cash and learn how to bleed your brakes.


Fritz Hanseler
Great kit, have 1 to bleed my reverb, another to bleed the numerous pairs of SRAM brakes. Works great, no issues.
Jason True
Broke on first bleed
Familiarity:

I've used it once or twice and have initial impressions
I ordered this product to bleed my sram guide brakes (generation one issues, another story). I followed the bleed instructions on SRAM's website exactly. Half way through the first bleed session the syringe cracked at the leur-lock (the threaded portion at the bottom of the syringe). The kit appears very complete and I was hoping to get many uses out of this product. SRAM products continue to disappoint. Last time SRAM will get my money. Shimano XT has always been dead reliable and easy to maintain, not sure why I thought SRAM would measure up. Backcountry has always been awesome with all my sram product issues. Thanks Backcountry!!!
Kyle C.
Must Have
Familiarity:

I've put it through the wringer
This is a must have if you have SRAM brakes and are a home mechanic. Everything you need to bleed your brakes and includes bleeding edge kit for Level and Guide.
Shawn Craig
Not the first thing I want to spend my money on but the benefits of dialed-in brakes cannot be denied. Keep your Sram brakes at optimum stopping power and get this kit.
Chase Skidmore
Must Have
Familiarity:

I've used it several times
If you like pretending to be a home mechanic, or maybe you are one, this is a must have in the garage. You never know when something will happen to one of your brakes right before a big trip or ride, so having this to do some last minute repairs or even general maintenance is great!
Travis Bivins
Everything you need to get the air out
Familiarity:

I've put it through the wringer
This kit comes with everything you need to bleed your SRAM brakes. checkout youtube for some videos on how to accomplish the task, it will help clarify things a bit.

D Trent Childs
Necessary Evil
Familiarity:

I've used it several times
Pretty painful shelling out this much cash for this, but given what s shop charges it's a no brainer for the long term. Also annoying that SRAM made this new weird device that made the old bleed kits obsolete, but I must admit it works super well... Buy this kit, watch SRAM's youtube video (it is great and makes the process very simple and easy for anyone with basic mechanic skills), and enjoy awesome feeling brakes.
Vinny Mauro
SRAM MTB Guide RSC, RS, R, and DB5
(Model Year 2016 and Earlier) Hydraulic Brake Bleed
Connor Johnson
How To Bleed Sram Guide [B1] Brakes
Connor Johnson
Teach A Man To Bleed His Brakes..
Familiarity:

I've put it through the wringer
Bleed a man's brakes, he'll have stopping power for a bit, teach a man to bleed his brakes, he'll have stopping power forever. For the cost of bring your bike to a shop to have them bled a single time, you could pick this up and learn to do it yourself.

Literally everything you need to bleed them, its not hard to do. I'm an intermediate, self taught mechanic who has learned everything from Youtube. Super easy to do. Took me a bit when I first learned, now am able to bleed brakes for buddies and they're stoked on it too!

Let me know if you have any questions on bleeding your brakes or if you'd like to pick up a bleed kit yourself - my direct line is 801.204.4547 or you can email me at cojohnson@backcountry.com
Connor Johnson