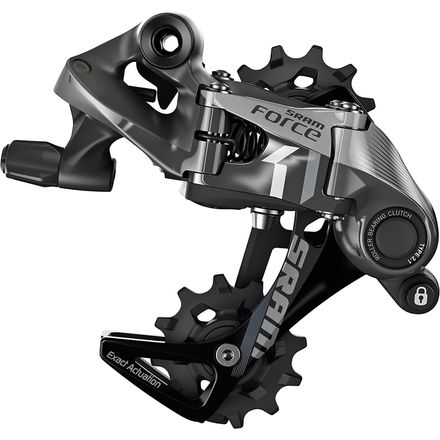 Colors
Shift with the force.
Now that SRAM's got its one-by tech dialed for 'cross, it's delivered the Force 1 groupset, which boasts enough versatility to transition between road, 'cross, and gravel pursuits without missing a shift. Put the Force 1 Type 2.1 Rear Derailleur to the test during the lung-busting laps of your next cyclocross race and take advantage of the consistent shifting this latest update delivers.
Missed shifts and dropped chains are frustratingly common on rough terrain, which was why SRAM developed its Roller Bearing Clutch technology, equipping the Type 2.1 to hang onto your chain on the bumpiest of rides. That means you'll actually get to experience a little peace and quiet on a training ride rather than constantly listening to a bouncing chain or derailleur, and with the addition of SRAM's stabilizing X-Horizon technology, you can use less muscle to initiate a shift without worrying about ghost shifts surprising you when you're out of the saddle on a climb. Plus, wherever you are on your cassette, each gear shift requires the exact same amount of force every time with the addition of SRAM's Exact Actuation technology. That means no more need to work harder to get into your highest gear, plus quieter shifts all around.
Use for 'cross, gravel, road cycling
Compatible with 10- and 11-speed Exact Acutation Shifters
Medium cage version supports 11-26t through 11-36t cassette ranges
Long cage version supports 11-32t through 10-42t cassette ranges
Unanswered Question
Can replacement cable anchor bolts be obtained for this derailuer through your website?

Kevin S.
What is a front derailleur?
Familiarity:

I've put it through the wringer
I have been riding SRAM 1x drivetrain for years on the mountain side, but was a bit worried about dropping my front derailleur on the road side.

I decided to give the 1x a shot on my Niner RLT because of the simplicity and weight reduction. Also, with a trip from Banff, CA to Whitefish, MT on the Divide Route, I was worried about the problematic issues of chain suck and other issues caused by a front derailleur.

The Force 1x group did not let me down. Crisp precise shifting with not a single issue on the whole trip. I used a 38t up front and a 10/42t rear.

The climbing gear only let me down on the Whitefish Divide climb, which I was able to ride clean, but with a heavily loaded bike packing set up, a big bail out gear would have been appreciated. I think I would like to at least have a 46t in the rear for future trips that include a load of climbing.


Brett Cole
1x All the Way
Familiarity:

I've put it through the wringer
I set up my multisurface road bike with a long-cage Force 1 derailleur, a 10/42 tooth XX1 Cassette, and a 38-tooth chainring. With that gearing, I can claw up some very nasty and loose dirt climbs, but still have gears for leisurely riding on pavement. The only thing I have sacrificed is the ability to mash a big gear on paved descents to get my speed above 40 mph, but I can live with 38! the Force 1 drivetrain is smoother and quieter than any drivetrain I've ridden, including top offerings from Japan. The Front derailleur is unlikely to go extinct, but for a lot of road riding, a 1x11 drivetrain is a fantastic choice.
Mike Nelson
Never Going Back to 2x
Familiarity:

I've put it through the wringer
I converted my old cyclocross bike from 10spd to 11spd with the Force rear derailleur and Rival shifters. Not only did I shave weight it shifts much better and performed great in the mud.
Matthew Kiel
One is not such a lonely number
Familiarity:

I've put it through the wringer
The use of 1x set ups has become common place on the MTB side and I am not sure I could imagine going back to the use of a front derailleur for my mountain bike. The simplicity, weight reduction and decrease in mechanical issues due to bad front shifts, makes for a no brainer, but I was more skeptical to go shed my double ring for road and gravel duty.

I set up my Niner RLT with Force 1x this season, with the expressed purpose of bike packing, specifically a trip from Banff, CA to Whitefish, MT.

I went with a 38t ring up front and a 11/42t cassette rear. This gear set up worked pretty well, but on some steep climbs, I had to really give her all I had, or it was going to be time to walk. Keep in mind, my bike packed up with panniers, gear, tent, water, and bags had to weigh around 60lbs. I have to say, I will be glad when Eagle 12speed makes it way over to the road side.

But, if you take all of the bike packing gear and equipment, the gearing would be more than sufficient for a standard road or gravel set up.

Force 1x is easy to use, simple and extremely reliable.
Brett Cole
Unanswered Question
I have some original Sram Force shifters and was wondering if they would work with this derailleur?
Michael B.
Great for a winter rig
Familiarity:

I've used it several times
SRAM Force 1 derailleurs are great for a 1 by build, the precision and chain retention is second to none. I have built bikes up with similar configurations, this derailleur has been the best I have used. It was great that it can be set up as a 10 or 11 speed since I could use some older 10 speed Force shifters with this. For winter riding in Colorado on dirt or gravel roads, the chain retension this derailleur provides is key as snow or mud can cause dropped chains. I am using the medium cage with a 11-34 cassette, feel it gives me plenty of options.
Doug M
Chris
It's just the version of their clutch mechanism. They had a few complaints about their 2.0 clutch, so they quickly released an updated 2.1 version. I have an X9 rear mech with a 2.1 clutch and it works great. I absolutely LOVE the cage lock system when removing and reinstalling the rear wheel.
Ben Mills
2.1 is the clutch version that came after version 2.0. The 'Eagle' mountain bike derailleurs are using version 3.0.
Ron R.