Spyder

Speed Zip-Neck Fleece Top - Boys'
Item #SPD007A
Spyder
Kids' Apparel
Girls'
S
M
L
XL
7
8
10
12
14
16
18
Chest

25in

(64cm)

27in

(69cm)

28.5in

(72cm)

30in

(76cm)

31.5in

(80cm)

33in

(84cm)

34.5in

(88cm)

Waist

23.5in

(60cm)

24in

(61cm)

25in

(64cm)

26in

(66cm)

27in

(69cm)

28in

(71cm)

29in

(74cm)

Hip

26in

(66cm)

29in

(74cm)

30in

(76cm)

32in

(81cm)

34in

(86cm)

36in

(91cm)

37.5in

(95cm)

Inseam

22.5in

(57cm)

24in

(61cm)

26in

(66cm)

28in

(71cm)

29.25in

(74cm)

30.5in

(77cm)

31.5in

(80cm)

Height

50in

(127cm)

51in

(130cm)

55in

(140cm)

59in

(150cm)

62in

(157cm)

64in

(163cm)

66in

(168cm)

Weight

51lb

(23kg)

60lb

(27kg)

75lb

(34kg)

88lb

(40kg)

101lb

(46kg)

113lb

(51kg)

126lb

(57kg)

Boys'

S

M

L

XL

7

8

10

12

14

16

18

Chest

25in

(64cm)

26in

(66cm)

27.5in

(70cm)

29in

(74cm)

30.5in

(77cm)

32in

(81cm)

33.5in

(85cm)

Waist

23.5in

(60cm)

24.5in

(62cm)

25.5in

(65cm)

26.5in

(67cm)

27.5in

(70cm)

28.5in

(72cm)

29.5in

(75cm)

Hip

26in

(66cm)

28in

(71cm)

29in

(74cm)

31in

(79cm)

33in

(84cm)

35in

(89cm)

36.5in

(93cm)

Inseam

22.5in

(57cm)

23.5in

(50cm)

25.5in

(65cm)

27.5in

(70cm)

8.75in

(73cm)

30in

(76cm)

31in

(79cm)

Height

50in

(127cm)

51.5in

(131cm)

55.5in

(141cm)

59.5in

(151cm)

62.5in

(159cm)

64.5in

(164cm)

66.5in

(169cm)

Weight

51lb

(23kg)

63lb

(29kg)

78lb

(35kg)

91lb

(41kg)

104lb

(47kg)

116lb

(53kg)

129lb

(59kg)

Mini & Bitsy
2
3
4
5
6
7
Chest

20in

(51cm)

21in

(53cm)

22in

(56cm)

23in

(58cm)

24in

(61cm)

25in

(64cm)

Waist

20.5in

(52cm)

21.5in

(55cm)

22in

(56cm)

22.5in

(57cm)

23in

(58cm)

23.5in

(60cm)

Hip

20in

(51cm)

22in

(56cm)

23in

(58cm)

24in

(61cm)

25in

(64cm)

26in

(66cm)

Sleeve Length

15.5in

(39cm)

17in

(43cm)

18.5in

(47cm)

20in

(51cm)

21.5in

(55cm)

22.5in

(57cm)

Inseam

12.5in

(32cm)

14.5in

(37cm)

16.5in

(42cm)

18.5in

(47cm)

20.5in

(52cm)

22.5in

(57cm)

Height

35in

(89cm)

38in

(97cm)

41in

(104cm)

44in

(112cm)

47in

(119cm)

50in

(127cm)

Weight

26lb

(12kg)

31lb

(14kg)

36lb

(16kg)

41lb

(19kg)

46lb

(21kg)

51lb

(23kg)
How to Measure:

For best results, take measurements over your underwear.

Chest:

Measure under your arms, around the fullest part of your chest.

Waist:

Measure around your natural waistline, keeping the tape a bit loose.

Hip:

Measure around the fullest part of your body at the top of your legs.

Inseam:

Using pants that fit well, measure the crotch seam to the bottom of the leg.

Sleeve:

Measure from the center of your back to your wrist with arms held out.
Select style & size:
Select options
Select options

Polar/Fresh, XL

Sale:$19.60
Tech Specs
Material:
microfleece, anti-pill finish
Venting:
1/2-length front zip
Recommended Use:
skiing, snowboarding, casual
Manufacturer Warranty:
lifetime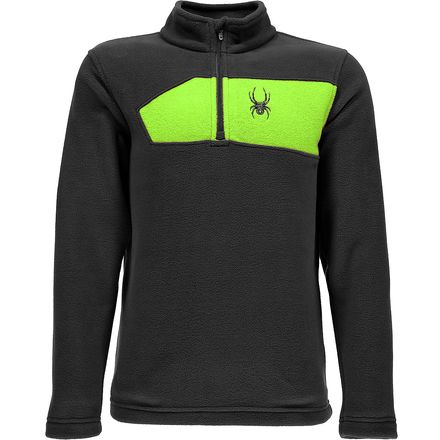 The Spyder Boys' Speed Zip-Neck Fleece Top makes for a durable midlayer while skiing, even though it has the style he wants for school.
Microfleece
Anti-pill finish
1/2-zipper front
Frequently purchased together