Spyder

Brrr Berry Hand Knit Beanie - Girls'
Item #SPD00VB
Spyder
Kids' Apparel
Girls'
S
M
L
XL
7
8
10
12
14
16
18
Chest

25in

(64cm)

27in

(69cm)

28.5in

(72cm)

30in

(76cm)

31.5in

(80cm)

33in

(84cm)

34.5in

(88cm)

Waist

23.5in

(60cm)

24in

(61cm)

25in

(64cm)

26in

(66cm)

27in

(69cm)

28in

(71cm)

29in

(74cm)

Hip

26in

(66cm)

29in

(74cm)

30in

(76cm)

32in

(81cm)

34in

(86cm)

36in

(91cm)

37.5in

(95cm)

Inseam

22.5in

(57cm)

24in

(61cm)

26in

(66cm)

28in

(71cm)

29.25in

(74cm)

30.5in

(77cm)

31.5in

(80cm)

Height

50in

(127cm)

51in

(130cm)

55in

(140cm)

59in

(150cm)

62in

(157cm)

64in

(163cm)

66in

(168cm)

Weight

51lb

(23kg)

60lb

(27kg)

75lb

(34kg)

88lb

(40kg)

101lb

(46kg)

113lb

(51kg)

126lb

(57kg)

Boys'

S

M

L

XL

7

8

10

12

14

16

18

Chest

25in

(64cm)

26in

(66cm)

27.5in

(70cm)

29in

(74cm)

30.5in

(77cm)

32in

(81cm)

33.5in

(85cm)

Waist

23.5in

(60cm)

24.5in

(62cm)

25.5in

(65cm)

26.5in

(67cm)

27.5in

(70cm)

28.5in

(72cm)

29.5in

(75cm)

Hip

26in

(66cm)

28in

(71cm)

29in

(74cm)

31in

(79cm)

33in

(84cm)

35in

(89cm)

36.5in

(93cm)

Inseam

22.5in

(57cm)

23.5in

(50cm)

25.5in

(65cm)

27.5in

(70cm)

8.75in

(73cm)

30in

(76cm)

31in

(79cm)

Height

50in

(127cm)

51.5in

(131cm)

55.5in

(141cm)

59.5in

(151cm)

62.5in

(159cm)

64.5in

(164cm)

66.5in

(169cm)

Weight

51lb

(23kg)

63lb

(29kg)

78lb

(35kg)

91lb

(41kg)

104lb

(47kg)

116lb

(53kg)

129lb

(59kg)

Mini & Bitsy
2
3
4
5
6
7
Chest

20in

(51cm)

21in

(53cm)

22in

(56cm)

23in

(58cm)

24in

(61cm)

25in

(64cm)

Waist

20.5in

(52cm)

21.5in

(55cm)

22in

(56cm)

22.5in

(57cm)

23in

(58cm)

23.5in

(60cm)

Hip

20in

(51cm)

22in

(56cm)

23in

(58cm)

24in

(61cm)

25in

(64cm)

26in

(66cm)

Sleeve Length

15.5in

(39cm)

17in

(43cm)

18.5in

(47cm)

20in

(51cm)

21.5in

(55cm)

22.5in

(57cm)

Inseam

12.5in

(32cm)

14.5in

(37cm)

16.5in

(42cm)

18.5in

(47cm)

20.5in

(52cm)

22.5in

(57cm)

Height

35in

(89cm)

38in

(97cm)

41in

(104cm)

44in

(112cm)

47in

(119cm)

50in

(127cm)

Weight

26lb

(12kg)

31lb

(14kg)

36lb

(16kg)

41lb

(19kg)

46lb

(21kg)

51lb

(23kg)
How to Measure:

For best results, take measurements over your underwear.

Chest:

Measure under your arms, around the fullest part of your chest.

Waist:

Measure around your natural waistline, keeping the tape a bit loose.

Hip:

Measure around the fullest part of your body at the top of your legs.

Inseam:

Using pants that fit well, measure the crotch seam to the bottom of the leg.

Sleeve:

Measure from the center of your back to your wrist with arms held out.
Select style & size:
Select options
Select options

Baltic, One Size

Sale:$6.00

Raspberry, One Size

Sale:$7.50
Tech Specs
Material:
[body] 100% acrylic [lining] 100% polyester
Recommended Use:
all-mountain skiing
Manufacturer Warranty:
lifetime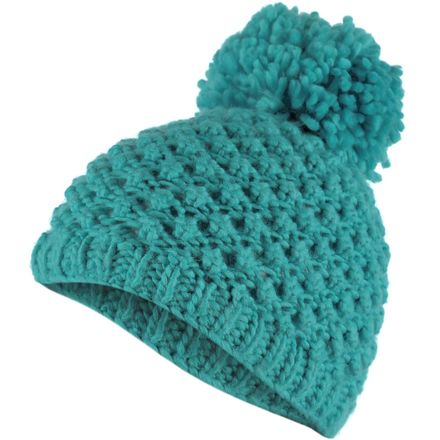 Colors
Essential winter accessory.
Whether you're skiing or ice skating, this beanie is great for any winter occasion. Spyder's Brrr Berry Hand Knit Beanie is a great accessory for the winter season. It's chunky-knit design is cute with any outfit, and the acrylic materials offers cozy warmth for you you are away from the fireplace.
Look cute in this beanie on and off the mountain
Chunky-knit material offers comfortable texture