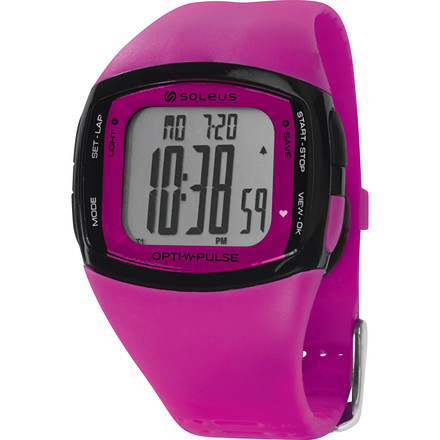 Colors
No more chest bands.
Soleus' Pulse Rhythm Heart Rate Monitor keeps track of your heart rate without the need for a chest strap, saving you time and discomfort when you're training. Just slap it on your wrist and you can use the built-in target heart-rate zone function, calorie counter, and interval timers to get the most out of your workout. The Pulse stores plenty of past data to help you see progress, too, and has a USB port and included charger so you can transfer data onto your computer for analysis and recharge the battery at the same time. It has regular watch functions, too, like a chronograph that's precise to 1/100 of a second, a backlight for easy nighttime use, and 30m water resistance to let you run in the rain without worrying about your electronics.

Heart-rate monitor with a wrist sensor
Target heart rate zone function
Calorie counter
Integrated USB charger and data transfer
Six interval timers and five alarms
Data storage (30 runs X 100 laps)
Chronograph to 1/100 of a second
Backlight and 30m water resistance
Needlessly Complicated
Familiarity:

I've used it several times

Fit:

True to size

Size Bought:

Pink Women's
There is no reason for a watch to be this complicated. I was so excited when my watch came. Best feature is strapless HRM, however, the technology has so improved in the last year I predict most HRM from 2015 forward will be strapless so it isn't that big of a "PRO" for the watch. Buttons are labeled weirdly in the online manual and the diagrams are complex. I never knew what any of the acronyms stood for: ACC (?) HEV (?) etc. There is no way to zero-out the calorie readings every day, the amount just keeps adding up. What the?.... To view calories, somehow you have to go into the CHRONO mode and hold a button down. The amount would flash then disappear. The HRM feature works great when at rest. On the treadmill doing intervals, the treadmill machine read my pulse at 155, my Soleus Pulse watch, however read a steady 90 bpm. There is a huge lag time in the HRM readings. Really? Isn't this what a HRM is supposed to help with? I need Real Time readings.

BOTTOMLINE: I don't want to be required to reference a manual on the Internet every time I want to see a stat on my watch. Needless Complicated. Sooooo disappointed because the features are all things I wanted. Not intuitive to use AT ALL. Returned.
Suxie 22
Height:
5'6"
I am sending this back because it was registering my heart rate during aerobic exercise at about 30 bpm lower than what it actually was. When I stopped moving and sat completely still for 30 sec or so then it would shoot up. There is a small note on the manual available online that says muscle movements may reduce heartbeat detection. I never got it to take an accurate reading while exercising, no matter how tight or where I placed it on my wrist/lower arm. Second to that, the controls on this are not at all intuitive and the instruction manual is missing instructions on different features and steps. I am typically someone who pick up new technology readily but this watch was really frustrating.
ka_p78541
Unanswered Question
How long does one charge last for the watch?
Steve
Soleus Pulse Rhythm HR Monitor
I purchased this for my daughter for Christmas and she Loves it! I shopped around and Backcountry.com had the BEST price of any where! I have bought North Face jackets from them also and it's always a pleasure purchasing from Backcountry.com!
Melissa L.