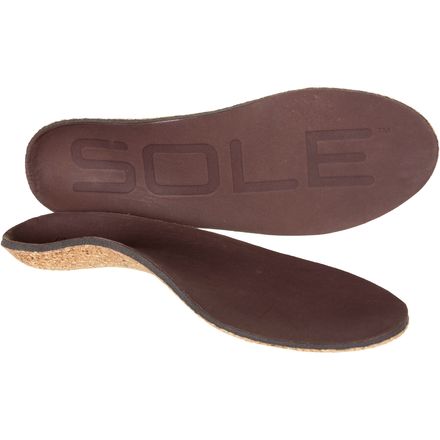 Colors
Put a cork in it...
Built to keep you comfortable in your day-to-day routine, the Sole Casual Thick Footbed makes a great reinforcement for your work-weary feet. Made from a thick, high-volume Softec cushion, the Footbed serves up plenty of support for all-day comfort that won't quit before you do. Plus, they were made using a 100% recycled cork base, so not only will your feet feel good, but your eco-minded conscience just may too.
A thick footbed for work, casual
High-volume Softec keeps feet comfortable
100% recycled cork base eco-friendly
Stay in the Game Longer with SOLE
Stay on the court, in the gym, on the trail and in the game longer. SOLE's award-winning footbeds mold to the shape of your feet for a customized fit that acts as a dynamic second skin, giving you support exactly where you need it. With three levels of cushioning, these insoles provide the best shock absorption in every type of footwear. Battle foot pain and fatigue while optimizing your foot's natural motion with SOLE so you can perform at your best and stay in the game longer.
Karla Peckett