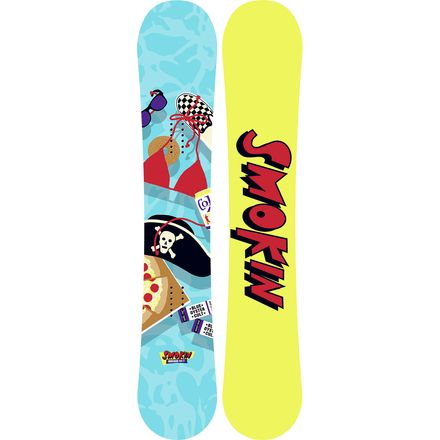 Bringing skate to snow.
Unleash mayhem on the terrain park and let loose on the streets with the Smokin Hooligan Snowboard. This jib-loving twin features a stable profile and snappy feel to help you pop big ollies, style out airs, and press rails with authority.
A mostly flat profile offers stability for landing cleanly on jumps and stomping urban gaps, and rocker at the tips keeps you from getting a face-full of snow when you don't quite get that 270 out around. The Jib flex offers flex where you want it for pressing and buttering, while maintaining high-speed stability when sending it through the jump line. three Stage Dampening smooths out the ride for better control and less fatigue, and the sintered base holds wax well to keep you cruising through the park.
Skate-inspired freestyle performance for park junkies
Flat with rocker tips for catch-free stability and pop
Jib flex balances pressability and stability
Variable Density fiberglass balances flex and strength
Poplar core comes from sustainably-harvested trees
Mellow Magne-Traction increase grip in icy conditions
Sintered 6000 base is durable and super-fast
Smokin boards are handcrafted in Tahoe by actual snowboarders