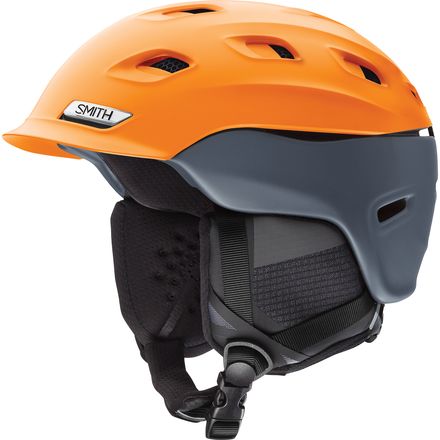 Colors
Setting new standards.
The Smith Vantage MIPS Helmet offers the ultimate in ski- and snowboard-worthy protection, style, and comfort, so you can stay safe on the slopes while looking and feeling good. Between the lightweight feel, superior safety technology, and customizable fit and ventilation, there's no excuse not to rock one.

The Multi-directional Impact Protection System (MIPS) allows a small rotation of the outer shell relative to the liner when your head hits at an angle in order to decrease rotational forces, reducing potential damage to your brain. Smith also engineered the Vantage MIPS with Aerocore construction, which combines lightweight EPS with revolutionary Koroyd material. This unique material absorbs more impact than traditional foams while simultaneously improving breathability and reducing weight and bulk.
AirVac 2 ventilation features twenty-one vents that can be fully opened on warm spring days, partially closed when temps drop, or completely shut in the middle of a blizzard. The Boa FS360 fit system allows you to quickly and easily dial in the perfect fit. Snapfit S12 ear pads can be removed in warmer weather, and they're also audio-compatible with a (sold separately) Skullcandy audio system.
Multi-directional Impact Protection System (MIPS)
Hybrid SL construction
Aerocore construction featuring Koroyd
Adjustable AirVac 2 ventilation with 21 vents
Adjustable Boa FS360 fit system
Snapfit Sl2 ear pads
Removable ultralight goggle lock
Pretty good helmet
Familiarity:

I've put it through the wringer
Pros- comfortable, fits well, protects head from impact nicely. Pleasing to the eyes.

**have not tested the headphone sleeves**

cons- even though it has vents, one or both of them tend to move the opposite direction you have them set. Basically they don't stay in place well enough. My head gets very hot and even though it has vents it does not allow much air to come through.
Chad G.
I wear this helmet for my job on the mountain, great fit, comfortable, lightweight... also ready to drop in Bluetooth... vents work well :)
Rich
My second Vantage helmet
Familiarity:

I've put it through the wringer
I am a big fan of Smith Vantage helmets and this is my second one. Smith helmets fit me perfectly and are highly functional without an features that don't make sense. The venting system is fantastic for warmer days with two separate setting to allow you to appropriately regulate heat. Further, the venting switch is easy to use with the helmet on and easy to use with your gloves on making adjustments a snap. I typically use Smith googles which pair perfectly from a fit perspective with all Smith helmets. There is no forehead gap between the top of your googles and the top of the helmet. Finally, the adjustment system is simple and easy to use allowing you to really dial in the fit tighter or looser. When thinking about a helmet think about the value of your brain. I finally retired my old helmet after three years to ensure I was adequately protected and to upgrade to the MIPs technology which better uses rotational protection to ensure your head stays in one piece during falls
Jonathan Nielsen
I'm a long time Vantage owner and decided it was finally time to upgrade to MIPS/Aerocore. Very pleased with that decision. This is a great looking, comfortable helmet that I trust and seamlessly integrates with Smith's googles.
Than Volk
Smith Vantage MIPS Helmet
Familiarity:

I've put it through the wringer
Fits well and using the size chart sizing was right on (medium). Ear flaps comfortable with ODT Chips installed. Venting works great to regulate temps. Oakley Flight Deck XM Prizm Goggles fit just right with this helmet.
William S.
Unanswered Question
will this helmet work with other audio systems like outdoor tech chips 2.0 or only skull candy audio?
matthew baumler
I am at the low end of a size L. The first time I tried the helmet I was convinced that it was too small. But I tried it on a few more times and realized that it was just snug the way a ski helmet should be. I've skied with it a few times now and I'm glad I didn't size up to XL. I normally don't wear a helmet but I don't mind this one too much. I run super hot and this helmet works well, although it couldn't keep up on a hot day when I was skiing moguls. Still this is the best helmet I could find. Fairly light great quality, safety and features.
Dan F.
Fits like a glo.... helmet!
Familiarity:

I've used it several times
Fits great on my extra large dome, the vents are great when you get to warm in the trees. It also fits perfect with my IOX googles, by design, but still worth noting.
Alex
Good, could be better
Familiarity:

I've put it through the wringer
My biggest (and only) complaint with this lid is that the MIPS addition makes the fit feel a little shallow. I would still purchase MIPS again, given the added protection, but I think they could have adjusted to fit to accommodate the extra.layer.
Morgan Eliasen
Smith does not care about customers
Familiarity:

I've used it once or twice and have initial impressions
I am disappointed that Smith misrepresents that they stand behind their products by having a defective item replacement policy that effectively prevents me from getting a replacement. Smith requires 1) proof I bought it from an authorized dealer, 2) spend my time and my money to send it to Smith, 3) Smith will 2 weeks to decide to repair it or give me a 30% off coupon.
I'll bet 99% of people don't keep receipts of things they bought a year ago. Smith made it and it's defective. Regardless of whether I bought it from an authorized dealer, got it as a gift, or bought it from a friend who gave up skiing, it's still defective. So Smith can probably sell 1,000 defective items and only have to replace maybe one.
Smith is a Sleazy Company - Buy from another company.
Sam Flaherty
Smith Vantage MIPS Helmet
Familiarity:

I've used it several times
I have a large head and many I tried many brands of x-larges were not wide enough, so this may be good for ... large wide heads like mine. I am still not sure I got the best helmet for two reasons: (1) the ear flap material is not the softest, and (2) I have seen lighter helmets. On the lightness, I don't know whether lighter would be safe enough, but had I had more time and options available I would have investigated this more (or asked backcountry.com reps, because those I have talked to have really known their products). I've only skied six days with it, but believe it is very well constructed and durable.
Joseph B.
Saved my life
Familiarity:

I've put it through the wringer
I'll spare you all the details of the accident but I've taken my fair share of falls on other helmets and I'm convinced that the way that MIPS helmets dissipate the force of a fall left me with just a mild concussion when it could have been exponentially worse.

I'm trying to avoid hyperbole here because saying things like "saved my life," and "could have been exponentially worse" are certainly not quantifiable in this instance, but I was going hella fast and fell a hella long way and I'm here a day later with only a mild concussion and couldn't be happier about that result.

I'm not saying you should buy this particular helmet, but I do think that the concept of an inner lining (and your brain) moving independently of the shell is a smart innovation and worth adopting.
Chris Davis
Take free backcountry 20% OFF Coupon,Take It: outdoorback.tk
dashoi
Excellent Helmet
Familiarity:

I've used it several times
I've been using this helmet for a couple weeks now and do not have a single complaint. The fit is excellent and seems to adapt to my head's shape better than other Smith helmets I have owned. The venting is excellent and cools me down quickly after those high output moments of post-holing out of the flats. Fits well with the Oakley Airbrake goggles i'm currently using. I also tried with the Anon M2 goggles and found a small gap between the helmet and goggle leaving a cold spot on my forehead.
Josh L
The Best
Familiarity:

I've used it once or twice and have initial impressions
I bought this helmet to update my kit this year and it had met or exceeded all of my expectations. When I tried it on out of the box, I was concerned it might be to small, but I quickly decided it was the right size and fit. I did measure my head prior to buying and the sizing chart on the site is accurate. My advice is this: measure accurately before you buy and use the sizing chart.

The helmet fits well while skiing. keep my head and ears warm (without a liner cap), and the vents help me regulate my temperature when I get to hot. The Boa also allows for quick and easy adjustment. Lightweight, reliable and solid. Smith's has made a really great helmet!
Jason L.
I love this helmet. Super comfortable fit, good ventilation while still staying warm on the colder days. Also love the MIPS technology in the helmet!
Lee Klitzner
yes, plz
Familiarity:

I've used it several times
Just upgraded to this helmet - I got a size medium and it fits perfectly! Very comfortable, warm, and loving the outdoor tech headphones that couple with it. I don't think that I will end up wearing it with a beanie - it fits the best when its flush with your head. You can also close the vents on the top of the helmet to block the wind if you go without anything underneath. I didn't think that the sizing was weird - I measured the circumference of my head and it was spot on! Boa system is always a plus for adjustments . I would buy this again
danielle kirk
Quality Helmet!
Familiarity:

I gave it as a gift but have feedback to share
I purchased this as a gift and sharing feedback:

"Initial impressions are the helmet sizing runs small. I ordered a large which fits perfectly, but I normally wear a medium. The MIPS system adds a level of confidence that you would expect out of a higher end helmet. Ventilation options up top are VERY nice on the slopes. Padding around the ears is top level. The adjustable boa strap in the back is also super nice. All and all I would rate this 5/5. It is innovative, safe, and very comfortable.
Katie Williams
Ouch! Painfully small compared to the other Smith M helmets.

I have owned 3 Medium Smith Helmets in the past decade or so... Including the non-MIPS version of this helmet, which has been converted to my paragliding helmet with gear mounted all over it. Great helmets! I have always been comfortably in the middle of the Medium size. Not so with the MIPS! I figured since my head measures 56cm (M says 55-59cm), I would be fine. It was WAY too tight. I got a headache in 15 minutes. I am in the process of exchanging it for a L... although I am not sure I want a L. Is it going to feel like a huge shell bowling ball on my head?! Maybe I will just get another normal Vantage. Sigh...
Calef L.
Great helmet but the medium size runs quite small. Always took a medium but in this model a large is totally necessary.
Gregory C.