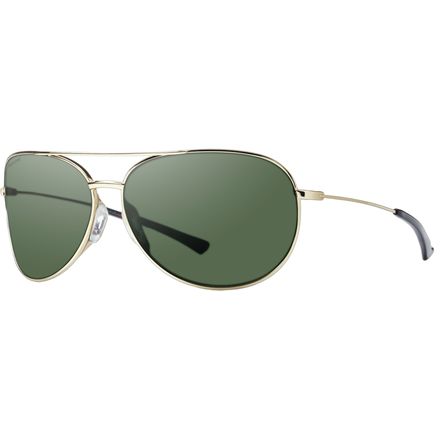 Colors
Too cool for school.
Everybody wants to imagine themselves as Wyatt and Billy, but it's tough to hit that level of effortless awesomness. Smith's Rockford Slim Polarized Sunglasses can help you dial in the road-rebel style, though, with a modified aviator style and stainless steel frames that are unarguably cool. The Carbonic TLT polarized lenses provide crystal-clear vision courtesy of the 9x3 Toric curvature, and cut glare and boost color contrast to make the world sharper and brighter than it actually is. Smith hooked the Rockford Slim up with adjustable nose pads, too, so you don't have to ruin your too-cool-for-school vibe by pushing them up your nose like a nerd, and gave them a smaller profile than the standard Rockford, the better to fit smaller faces.

Proposition 65 Warning for California Consumers: This product contains chemicals known to the State of California to cause cancer and/or birth defects or other reproductive harm.
Carbonic TLT polycarbonate lenses
Polarized lenses
Stainless steel frames
Adjustable nose pads
9x3 Toric lens curvature