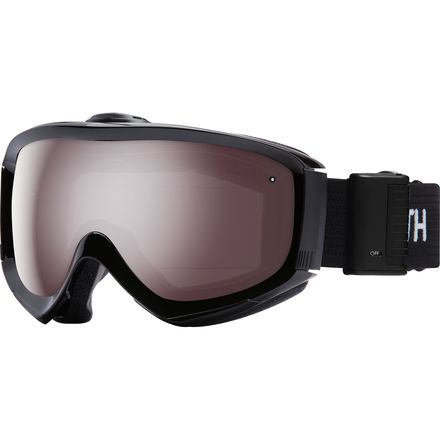 Colors

Detail Images
Dry your eyes.
If you ride so hard that even your eyeballs sweat, check out the Smith Prophecy Turbo Fan Goggle. This eyeglass and O.D.S.-compatible goggle gives you ventilation that most eyeglass-compatible goggles can only dream of
Proposition 65 Warning for California Consumers: This product contains chemicals known to the State of California to cause cancer and/or birth defects or other reproductive harm.
Compatible with the available Ocular Docking System (O.D.S.) to give your non-superpowered eyes perfect vision
Floating foam membrane keeps your glasses from creating permanent indents in your temples
Turbo Fan moves air at super-speed to keep your vision clear. Runs for over 50 hours on a single AAA battery
I am thinking of splurging and buying goggles with a fan. I don't wear glasses, but every single time I ski in Vermont all my goggles get foggy. I cant ski if I cant see! I have lots of goggles but none with a fan. The smith goggles are pretty ugly but if they work I, buying! Which model do u recommend? Does it really work I have gotten mixed reviews. My eyesight flatlines I the afternoon and what lense works in sunlight and shade? I don't believe is switching lenses .. who wants to take off mittens ,liners , and dropping my hand warmers . I wont even answer my phone. Thanx, and awaiting ur response , an avid skier waiting for snow
Debbie
Best Answer
Debbie,



I do wear glasses and have the Smith Knowledge Turbo Fan goggles and completely happy with them. Having owned the first Smith turbo model, the new ones are much more quieter and do the job intended, keeping you fog free and clear vision.



You may want to check out the Smith Phenom Turbo Fan googles ( http://www.backcountry.com/smith-phenom-turbo-fan-goggle? ) as they have a smaller frame and a better design for women. For multi purpose lens the Rc36 or Ignitor are your best choice.



Stay warm and enjoy the upcoming season!



Scooter
Scott Sowle - Scooter
Debbie I gotta say, I hated my goggles with a fan. They still fogged up and I wasnt hiking in them which is what I really wanted to do. Just skiing with them at Deer Valley caused them to fog. Oh and the buzzing sound, seriously its like a swarm of bees are constantly chasing you, so you might ski faster. These probably wont sell out, I would wait to buy them until you can actually try them out. You will have 30 days to give them a try and if they work for you GREAT! If they don't at least you can send them back to us for store credit. I actually cut the battery pack off, just use the goggles.
Bill Porreca
I tried these as well as the IOX Turbo.



I never ended up boarding with these so my feedback should be taken with that context.



For me the buzzing sound was quite noticeable. Might have been different out on the mountain, but I found it distracting.



I went with the IOX Turbo instead. Those are SILENT and the fan works well. The issue with those is there is a design flaw that leads the fan to stop functioning from time to time...supposedly Smith is fixing this. But when working it worked well and was very quiet.



I havent heard of this issue with the Prophecy goggles so my guess would be if you are OK with the buzz level you may be happy with the performance.
Liron G.
I've been using fan goggles for a few years now, and if you ever plan on finding yourself hiking and skiing a lot each day in stormy weather you can get yourself some bonus laps while your buddies are cleaning goggles, or digging themselves out of tree wells due to foggy lenses. They're spendy, but worth every cent when you realize how cool they are.
Bucket
WIsh they would have worked
I dont wear glasses, I wanted something to keep me fog free for the bluebird days when skinning up. However this was not the answer first upper left builds fog i crank the fan to high which does nothing. Then the upper right starts to fog up and from there on you've got condensation build up and it's a losing proposition from there on if you wipe the fog it gets water all over the inside of the goggle and you've got blurry goggles. If they wanted to have me as a fog free product tester I'd love to do it but these goggles just dont work for me.
David L.
I just bought the Knowledge OTG turbo fan...
I just bought the Knowledge OTG turbo fan goggles, but they push my eyeglasses into my face, not comfortable. Are these likely to do the same and I need a different brand?
Stacey D.
Best Answer
The OTG goggles are meant to fit over your glasses comfortably so you may find the same problem with the the Prophecy. It is also possible that the size/shape of your glasses do not work well with OTG goggles generally.
Arthur Debowski
Hey, I have a similar question to...
Hey, I have a similar question to dra4bux2002053's which is not yet answered.

I'd like to wear Prophecy Turbo Fan over my glasses. I want to do daytime skying (in the northwest, average sun conditions) and at nigh time. So I'd like to know how easy it is to change the lens? I'd like to buy one for day time and one for night time and change them while waiting for the lift. Is that feasible, or is it a fiddly process that required good light and non-cold hands? :)

Also - are these the same fit as the Prophecy without the fan?

Thanks!!
Gragus
Lens changes with this frame style will take some practice. However, it will get a little complicated if you are outdoors, with cold hands, in dim light. If you get good at it, you could easily change out the lens in under a minute, but that would be under ideal conditions.

Yes, they are similar to the prophecy, but a little deeper.
Duncan Poling
Sensor or RC36 lens for snowing, flat light...
Sensor or RC36 lens for snowing, flat light conditions?

Are replacement lenses available for turbo fan model?
dra4bux2002053
Replacement lenses are out there. Have a peak at the Smtih Optics website. For flat light, the best lens option according to Smith is the sensor mirror, although the RC36 is not that bad. I have the RC36 in my frames all the time and I love it. A real all purpose lens.
Duncan Poling
The goggle I've been waiting for!
Anyone who doesn't wear glasses would never understand the struggle to keep them from fogging up. I use to obssess over the anti-fog cloths but on a stormy day, they never worked. After a white out day where I could barely see my way down, I kept thinking why no one had never invented a goggle with a fan. Bottom line - these goggles are awesome! When the vision starts getting a little foggy just hit the switch and in about a minute it's gone! Flipping the switch was pretty easy with gloves. The battery life is great - I accidentally left the fan on overnight and it still worked all day the next day. One minus is that if you have wider frames, these goggles might not fit over too well (they are not as wide as the Scott Storm OTG). I had to switch to my slightly narrower back up pair to make it work but still well worth it. I bought these with the sensor mirror and love the lenses - excellent vision in all conditions.
snow_woman