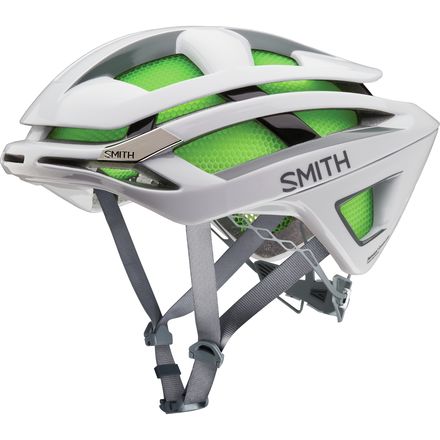 Colors

Detail Images
Safety first.
With its futuristic Koroyd layer and innovative MIPS lining, the Smith Overtake MIPS Helmet might make your older relatives think that you're dressing up for some kind of space-themed party when they first see it, muttering "that's the style nowadays" when you correct them that you're just going out for a ride. Protecting your head on a ride is serious business, and the tech Smith uses for the Overtake represents some significant steps forward for mankind. Take the Overtake MIPS out on your next ride knowing that in the event of a crash, you'll have some of the best protection available on your side, with the added comfort of a light, airy design that's a far cry from the cumbersome helmets of decades past.
To start, MIPS, or Multi Directional Impact Protection System, refers to the technology added to the helmet in the form of a thin inner lining that rotates slightly upon impact to absorb the brain-damaging rotational energy generated by side-angle crashes. The lining is barely perceptible, but it represents a big change in angled-impact protection. Smith then uses a combination of lightweight EPS foam and honeycomb-like Koroyd to construct the inner layers of the helmet, with Koroyd adding ventilation and allowing for more vents to keep you cool as you ride. An aerodynamically-shaped plastic shell wraps across the top of the helmet, guarding against more straightforward impacts, and even with so many pieces working together, the Overtake MIPS manages to weigh in at a pro-approved 250g.
MIPS protection
AEROCORE construction
21 vents
Optics perch
Cooling X-Static lining
VaporFit Adjustable Fit System
Carbon fiber structural reinforcements
Great Fit
Familiarity:

I've put it through the wringer
I always love helmets that while you're wearing them, you can't even tell they are there. Smith's seem to always be that way for me. Really light weight and comfortable fit. I'd say the only down side is that the air flow isn't good as some as the other ones I've had in the past but I'd still recommend it.
Brian
So far so good
Familiarity:

I've used it several times

Fit:

True to size

Size Bought:

Medium
I decided to spend the extra money on this helmet because of the MIPS technology. I had a bad crash years ago and felt lucky my brains weren't scrambled. This light helmet should offer me the added protection if I go down again. I was pleased to learn that the helmet is cool on the head in warm weather and neutral temperature during the colder days. I have used this helmet half of a dozen times so far and am very pleased.
Joe Kent
Height:
5'7"
Weight:
160lbs
it is a really cool helmet, well built and i with mips you are safer on the rode, i would recommend that if you are at the edge of a size, go a bigger size
Javier Meza
Close but no cigar
Familiarity:

I returned this product before using it

Size Bought:

Medium
I really wanted to like this helmet. The MIPS plus the Koroyd make the design exceptionally safe, and it's beautifully made--the workmanship, materials, and look all mark it out as a premium helmet. But it sits very high on the head (a feature of the new MIPS insert, perhaps?) and I just couldn't get it to feel secure, even though I got the right size (medium for a 57cm head circumference). My Giro and Kask helmets both sit a little lower/have a deeper interior, and do a better job with this. I don't think this would be too much of a problem for riding without a cap/beanie underneath, but living in the Pacific Northwest means that kind of riding occupies about 5 months of the year. So back it goes, unfortunately.
Mark W.
Height:
5'8"
Weight:
160lbs
It fits much better than other Gears I have used so far. I am really satisfied with my purchase. Highly recommended.
REMY
No more askew helmet head
Familiarity:

I've used it several times

Size Bought:

Medium
I've worn many a helmet...Giro, Mavic, Bell, Laser and none of these fit my head like my new Smith Overtake. All other helmets sat on my head like I was doffing my chapeau and I took no end of ribbing about it.
The Overtake is light and I don't experience any hot head issues. Finally, a helmet I really like and it's MIPS to boot.
Jeffrey G.
This helmet is amazing its light weight i almost forgot i was wearing a helmet because of how light weight it is differently worth getting
Bryce Galloway
Great helmet
Familiarity:

I've used it several times
I have used smith for skiing and when I read about the mips decided to give it a try. True to the smith brand, comfortable and worth it. Never going back
Lisa L.
Smith Overtake MIPS Helmet
Familiarity:

I've used it once or twice and have initial impressions
This is a great helmet. I was worried about sweating too much with a bike helmet but this one is so lightweight and breathable. The dial on the back of it also allowed me to tighten it to fit snug around my head. Def recommend this helmet!
Diana Seung
Extremely Happy
Familiarity:

I've used it several times
I was looking for a different cycling helmet other than all of those Giro helmets that I see and I was very happy to find this one.

It's very lightweight and fits really well. They don't show you in the pictures above, but there is a dial on the back that you can crank to further tighten/loosen fit of the helmet (VaporFit Adjustable Fit System).

All-in-all, very happy with this purchase! And it looks great!
AKN4BKN
Not as nice as expected
Familiarity:

I've used it several times
This Helmet is extremely hot on my head. I don't like that when i have an itch (from sweat or dirt) that i can't stick my finger in a vent hole and be done with it. I have an orbea and it fits secure. If i wrecked, I'm not 100% confident that it will stay in place and protect me. I also don't like the gap above my ear. Again, my orbea or bell doesn't have this vulnerable area exposed.
Laura M.
Best review for a bike helmet?
I don't know it's even there...
Tim L.
The Absolute Best Helmet I've Ever Owned
Familiarity:

I've put it through the wringer

Fit:

True to size
After 20+ years of burning through various helmets and never actually loving any of them, I've finally found the Smith Overtake. It's got a perfect fit, and doesn't look like a big goofy unproportional piece of foam and plastic. Instead, it's low profile, stylish, aero, and even has a design that allows you to clip your Smith sunglasses on it, which is quite easy to do while you're riding if you want to take them off.
Michael D.
I love this helmet
Familiarity:

I've put it through the wringer
Worn mine since Oct 2016 almost daily. It is a great helmet. Breathes well. Light enough to not be aware of it. great retention system. Only issue is that the little honeycomb things are a pain to clean muddy road muck out of after rain rides. (Mine is the black matte one, so the dirt is super obvious if I don't clean it)
NOLACyclist
Great Upgrade
Familiarity:

I've put it through the wringer
Very comfortable and easy to adjust to fit a woman's head & hair. I am definitely reassured by the construction and the protection the helmet offers for if and when I fall.
Georgia S
Can this helmet be used for mountain biking, or is it road specific only?
Chris Green
No problem for mountain use. Many times the only difference between a mountain and road helmet is a visor. If you are racing XC then a visor is so amateur. Haha. If you are an Enduro Bro then a visor obviously keeps you maximally stoked at all times.
NickG
5 stars for smith overtake mips helmet
Familiarity:

I've put it through the wringer
Helmet is th most comfortable that I have worn. I have own numerous helmets from, Giro Prolight, Atmos helmets, Bell helmets, laser and kask helmets. Now in all honesty I have yet to ride it in high temperatures so I cannot say how it handles in extreme heat, but I have ridden it in 70's and below thus far it is by far the most comfortable helmet I have worn. And unlike other helmets it is easy to forget that your wearing the helmet. With all that being said, if you find the helmet comfortable then you'll find that you will be wearing it when it is most needed.
David S.
Saved me from a concussion
Familiarity:

I've used it several times
This helmet with MIPS saved me from an almost certain concussion. I struck the ground (large gravel surface) with enough force to break the shell of the helmet and ring my bell as I could not remember exactly what or why I was on the side of the road. My riding companions were concerned enough at my repeating of phrases to call for SAG and an ambulance. We felt that certainly I had sustained a concussion but were amazed when the CAT scans at the ER showed negative. Great helmet and SMITH offer a replacement for helmet at 30% off if you damage it within 2-years of your original purchase. I will be buying another one.
Kevin L.
Great fit, awesome looks
Familiarity:

I've put it through the wringer

Fit:

True to size
Probably one of the few helmets that fits me really well on my bald head. Feels fantastic under the hyper-humid 90 degree weather of Washington DC. I also like the concept of MIPS. Obviously, I can't say how it feels against the ground but, I can tell you that putting aside all the technology talk and why it protects you better; it will definitely take you a bit to get over the initial impression of taking this helmet out of the box. The design is just amazing. Beautiful. The smith logo on the sides is a nice touch too.
Wolfish
Fits Great, Breathes Great
Familiarity:

I've used it several times
Love it. I've now had the opportunity to wear it quite a bit and have been vey pleased with its adjustability for a great fit. I wanted MIPS and breathability... this helmet is excellent. I would have to say the airflow exceeded my expectations. I recommend it; you will not be disappointed. On a long ride in blistering sun, you will be glad you bought this helmet.
aspenyeti