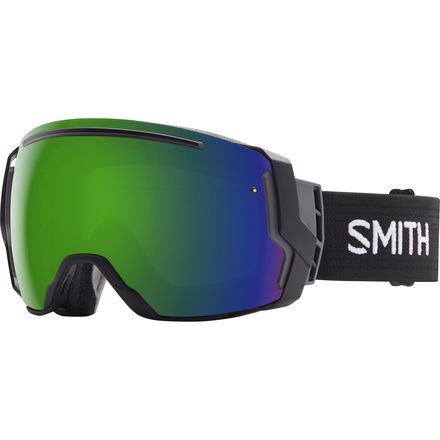 Colors

Detail Images
See the mountain like never before.
When you're staring down an intimidating line, you need to be able to pick out every little detail to ski it with confidence. The Smith I/O7 ChromaPop Goggles with Bonus Lens make your vision sharper and clearer so you can charge with confidence and react to changes more quickly.
ChromaPop technology increases contrast to make colors more vivid, so you can pick out your lines more accurately, make quicker adjustments mid-run, and push your limits with greater confidence. A quick-release lens change system lets you swap out lenses in just seconds when clouds move in unexpectedly, and Smith threw in a bonus lens to get you started. Dual-axis outriggers pivot in multiple directions to ensure a comfortable fit, even with a helmet on. The 5X anti-fog inner lens and AirEvac venting system work together to keep your vision crystal clear, so there's nothing getting in the way of a great day on the mountain.
Proposition 65 Warning for California Consumers: This product contains chemicals known to the State of California to cause cancer and/or birth defects or other reproductive harm.

Optimized performance and fit for skiing or snowboarding
ChromaPop tech increases contrast and makes colors pop
TLT lens tech for crystal clear vision
Single-pivot quick release lens change system
5X anti-fog inner lens and AirEvac venting
Three-layer DriWix face foam wicks sweat
Porex filter prevents optical distortion
Adjustable strap is helmet-compatible
Lens doesn't stay on securely
Familiarity:

I've used it several times
Not great. The lens doesn't stay on securely on the top of the goggle. I'm constantly fidgeting with it to keep them on.
Gil Gonzalez
No Fog Clarity
Familiarity:

I've used it several times
There are incredible goggles, from their very accommodating field of view to the ventilation, these goggles are great for anyone who's willing to spend the money on something that will last.
Josh Repman
You'll love em
Familiarity:

I've put it through the wringer
I have been a Smith I/O fan for many years and decided to upgrade the I/O 7. These goggles are amazing! The combination between the 5X anti-fog lens and AirEvac venting makes it nearly impossible to get goggle fog. I also really enjoy the single pivot quick release system that makes interchanging lenses quick and easy. These goggles are definitely worth the investment.
Hayley Radel
Do these I/07 come with an extra lens?? It doesn't clarify in the desription.
Alan
Hey Allan, each model of Smiths will describe the strap, main lens and if it comes with a second lens last. Sofor example when looking through the options on this model the first option describes the googles as the "Sunburst Split" which is the strap, Chromapop Sun Black is the primary lens and the bonus lens is Chromapop Storm Rose Flash. This is common among most other googles as well so if you see 3 color descriptions separated in the drop down they will have a bonus lens. I hope this helps. If you have any other questions feel free to reach out via the information listed above.
Wesley Eads
Comfy On Da Face
Familiarity:

I've put it through the wringer
I have multiple pairs of these goggles and can say, they are a great fit for someone with a medium width face. They never fog on me and the band really holds its elasticity. No complaints here. Will likely stick with these and snag another pair when I'm ready for a new pattern/color.
Natalie Ramon
No Fog, Love the interchangeable lenses
Familiarity:

I've used it several times
I bought these goggles as a gift for my dad as an upgrade to his ~15 year old goggles. He loves them in comparison and frequently makes use of the interchangeability of the lenses which is extremely simple.
I've used these on a couple storm days and am impressed with how well they function in conjunction with my Smith Vantage. No fog even during high exertion runs. I have a larger face so typically prefer an oversize goggle, but these adequately cover my face while still providing a good field of view if you aren't into the larger goggle look.
Calvin A.
Exactly What You Are Looking For
Familiarity:

I've put it through the wringer
We bought 3 pair of the Smith I/O Series goggles to use last season and absolutely loved them. With no fogging or distortion to speak of coupled with a lifetime warranty and spare lens, these goggles quickly became a group favorite.

We recently did a full review (with more photos) for those which can be accessed at the link below.

https://www.expeditionrecreation.com/gear-blog/smith-i/o7-goggles
Expedition Recreation
Weak latching mechanism
Familiarity:

I've used it once or twice and have initial impressions
I really wanted to like these. I received a defective pair of goggles where the latch would vibrate loose while skiing. Even if it hadn't been defective, the latch on the I/O7 just feels cheap. Skied one day with them before swapping 'em for the I/OX and haven't looked back. There's a reason Smith hasn't brought the lens attachment system from the I/O7 to the rest of their goggle line despite it being the newer of the two designs...
Daniel F.
These just make you beter
Familiarity:

I've used it once or twice and have initial impressions
I see better, look better, and ride better while wearing these. Treat yourself!
Asa P.
No fog
Familiarity:

I've put it through the wringer
These goggles are everything I expected them to be and more. I bought my girlfriend a pair for Christmas and she loved them so much that I went out and got myself a pair too. I've always struggled with foggy lenses and these have yet to fog up on me once whether I use a face-mask or not. The low-light lens is perfect for Alaska skiing considering the sun doesn't emerge until Spring for us. These goggles are a bit pricey, but are absolutely worth it.
Ben E
Good product, weak lenses
Familiarity:

I've put it through the wringer
Product build quality and functionality are great. The lenses, both of them, could be significantly less modulating, and therefore less distorting. I was surprised to find lense defects in goggles at this price point.
Taylor Bentz
Pretty cool
Familiarity:

I've used it several times
Smith Optics are great lenses! The frames make it so easy to switch out mid-day with changing conditions. I like the lens shape as well. These are better than the regular I/O's but smaller than the X's. If you want to have a fun ride and see what you are doing at all times, get these.

PS. The warranty for Smith is pretty good. Hit them up if you experience any problems.
Travis Flitton
Nice!
Familiarity:

I've used it once or twice and have initial impressions
As an entry leve skier these goggles were perfect for my ski weekend! I never had any probelms with fogging or glare. I could see clearly. Love these! Now if I could find sunglasses that are on the same level!
Erin G.
Prefer the IOX or IOS
Familiarity:

I've put it through the wringer
First off, I'm not a big fan of how the lens change. My wife has the IOS and a few friends have the IOX, and both seem to have a much more secure mounting. The IO7 has the nose slots and a single lock on top, while the other two models have 4 locks plus the nose slots. I already feel like I'm wearing out the IO7's lock after a half dozen days of riding. The IOS is too small for me, but if I had to do it again I'd order the IOX. When trying them on it felt like the 7 had the right height for my face & helmet combo, but I suspect these won't last as long.

Also I don't think I like how these goggles are frameless. It looks cool, but I struggled a bit with fogging in wet (rain) conditions. It seems like water got into the space between the inner and outer lens, even with a brimmed Bern helmet. I think goggles with frames don't have that problem (I'm replacing Anon Figments).

Overall I think they're OK, but I'm not sure they're a huge upgrade over what I'm replacing and I would have rather bought something else. My previous goggles lasted me well over 150 days of snowboarding. I have a feeling these might get me 60 or so and then I'll be in the market for new ones again.
Kevin S.
Take backcountry extra 20% OFF Coupon from coupon-code.info
catin111
Comfortable, stylish and extremely functional. I wear them from morning until night. Light enough on my face that I forget Im wearing them. The chromopop does an excellent job of shielding the sun without making the whole world look red or green.
Shafik Tadros
Style and function
Familiarity:

I've put it through the wringer
Love these goggles! They are very comfortable and very durable. They are super easy to switch out lenses and the goggle profile fits well with almost all helmets!
Jack Hall
Long Time Fan
Familiarity:

I've put it through the wringer
I've used Smith I/O goggles for years--and for good reason--awesome lens quality, visibility customized for varying conditions, comfort, and killer looks. This IO 7 is even easier to change out the lens than the traditional I/O (which isn't at all difficult to begin with). Both lenses are great for conditions frequently experienced, so no wasted lens that sits in a box year after year. Fantastic field of vision!! This IO 7 is great for my medium sized face. Compatible with many helmets (not just Smith). Still in the Fan Club.
Karen Lindsey
Don't Even Realize You're Wearing 'Em
Familiarity:

I've used it once or twice and have initial impressions
I got these as a gift for my gf, and she has said the following:
"Man, after about five minutes of wearing them, I totally forget they are even on. My vision feels super clear with great periphery, and and they are really comfortable so I could easily just walk around like a doof and never take them off when I'm not skiing. I did notice that if I'm breathing into a mask or buff on a super cold day, they will fog for a bit. But since I've only used them a couple times, I might just be positioning them weird. But overall I'm really happy with these goggles."
Robert Lindsen
Let Me Tell You About The I/07..
Familiarity:

I've used it once or twice and have initial impressions
I got these as a Bday gift for my GF to replace the gaper day goggles she wore on the reg around the mountain..Kodak Black would have made fun of the tunnel vision she had in those things. Hello peripheral vision, where have you been for the entirety of my snowboarding life. She loves the size of the frames and how much she can see when riding, along with much easier it is to change the lens when it decides to get cloudy halfway through the day. She enjoys the look of them, and how well they with her helmet as well.
Eli Harrison